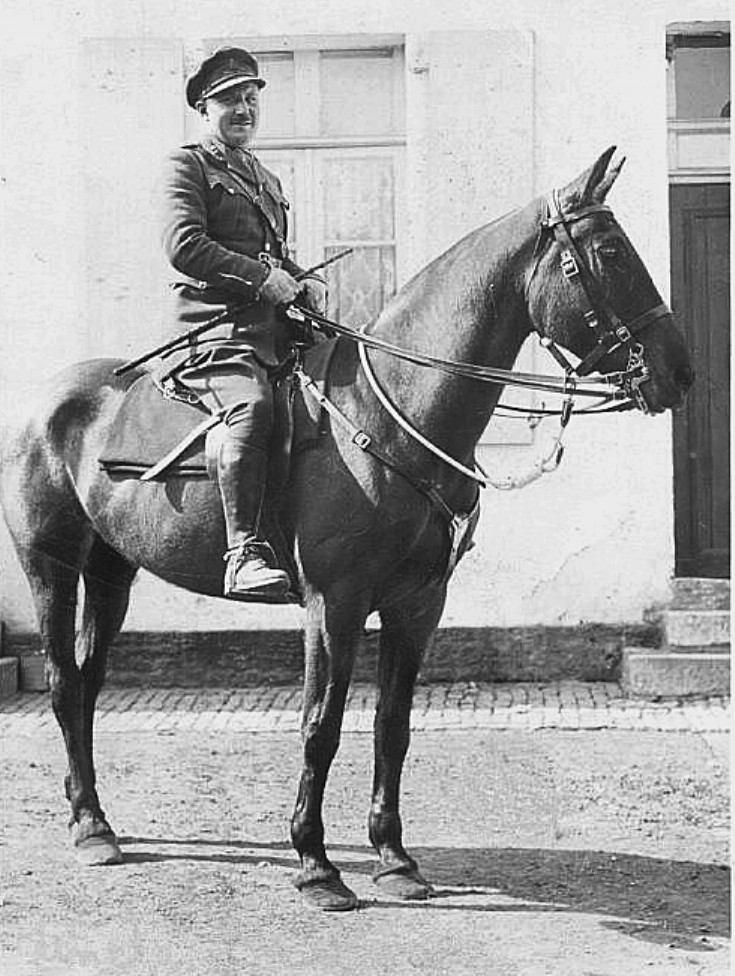 The Glenbuchat Image Library
123 Col James Barclay Milne
Milne James Barclay
Colonel, Royal Field Artillery. Son of
Florence Barclay
and
Col. George Milne
later Laird of Glenbuchat which he inherited on the death of his father Col George Milne in 1939.
Click to search for more details and pictures of Col James Barlcaly Milne Comments from Family Trees produced by TK Greenfield and George Thomas May Family Tree in Family Tree Maker
James Barclay Milne, my mother's Uncle Barclay, as he was usually called - and we children also referred to him as Uncle Barclay. When my grandmother's Couper husband died, it is my understanding that Uncle Barclay effectively took charge of her affairs. It was then that she moved to Logie. I never completely understood the ramifications of the property of these people. Some years ago (about 2000) my mother made some notes for a family tree album in which she remarked that as a child she had been told that they were left badly off. This is hardly likely. When I visited my grandmother in Scotland in 1954 she was living in what we in Rhodesia would have described as a degree of affluence. Nevertheless, I understood that Logie somehow belonged to Uncle Barclay. So quite what he did with all her money I do not know. The first time that I actually met him was on that visit in 1954. He was a very stout, genial old gentleman with a red face and a small bristly moustache. He was very kind to me, supplying me with a .410 shotgun and unlimited quantities of cartridges for the purpose of shooting as many rabbits as I could. There was a major myxymatosis epidemic on, and everyone was trying to cull as many rabbits as possible. I also went and stayed with him at his shooting estate at Glenbuchat. That year had been very wet and there was no organised grouse driving, but I took part in a shoot, walking up on grouse. I also went out with my Cousin Bo for a deer stalk (unsuccessful); to my chagrin I was not allowed to take a rifle - these people had no idea that a Rhodesian boy of those times was accustomed to all kinds of shooting from a very early age. After Uncle Barclay's death, his eldest daughter Jean, who inherited the estate, sold Glenbuchat except for a portion on which she built a new house. Pat I visited her there in 1979. His main house, Kinaldie, was inherited by Bo, whom we also visited there on that trip to Scotland. Uncle Barclay went up in my estimation when he presented me with a French silver cornet made by Courtois that he had played in the Eton College Brass Band. Foolishly, I sold this to a friend at university. It was way off tune from modern instruments, and in spite of having a shank made that broadly speaking got the main harmonic intervals in tune; the keyed notes were never in tune. Shortly before he died, Uncle Barclay visited us in Africa and either after that visit or maybe on his death, I cannot now remember, I received £1000 from him. This was very useful to us because it came just about the time of UDI, when Pat and I moved to Domboshawa for a year, and it enabled us to buy a very fuel efficient Renault 750 that was a great help during fuel rationing. I often wondered why he sent me (and I think also my siblings) this money. His sister Frances (Gog) who visited Bo in Rhodesia, told Pat that my mother had been diddled out of her full inheritance by the Milnes. Gog was a sprightly but rather malicious old lady, who clearly did not like my mother.
James Barclay Milne Family Tree
(See Under
James William Barclay
full family tree
James Barclay Milne
Birth 31 October 1886 in Aberdeen
Death 3 Apr 1966
Parents
George Milne (1857-1939)
Florence Barclay (1864-1927)
Spouse
Jessie Stewart Young (1899-1960)
Children
Jean Barclay Milne. Died 27/3/2010
Florence Barclay Milne (1927-1998)
1891 Age: 5 Residence Kinellar,
1966 3 Apr Age: 79 Death Kinellar MI 56
1891 Age: 5 Residence Kinellar, Aberdeenshire,

Jean Barclay Milne
Died 27/3/2010
Married Thomas Sole
Children
Janey Sole
Annie Sole
David Sole
Present Owner of Glenbuchat estate

Florence Barclay Milne
Born 1927
Died 1998
Married Colin Watson
Inherited Kinaldie
Children
James
Alison


Picture added on 06 November 2011 at 20:52
This picture is in the following groups
people