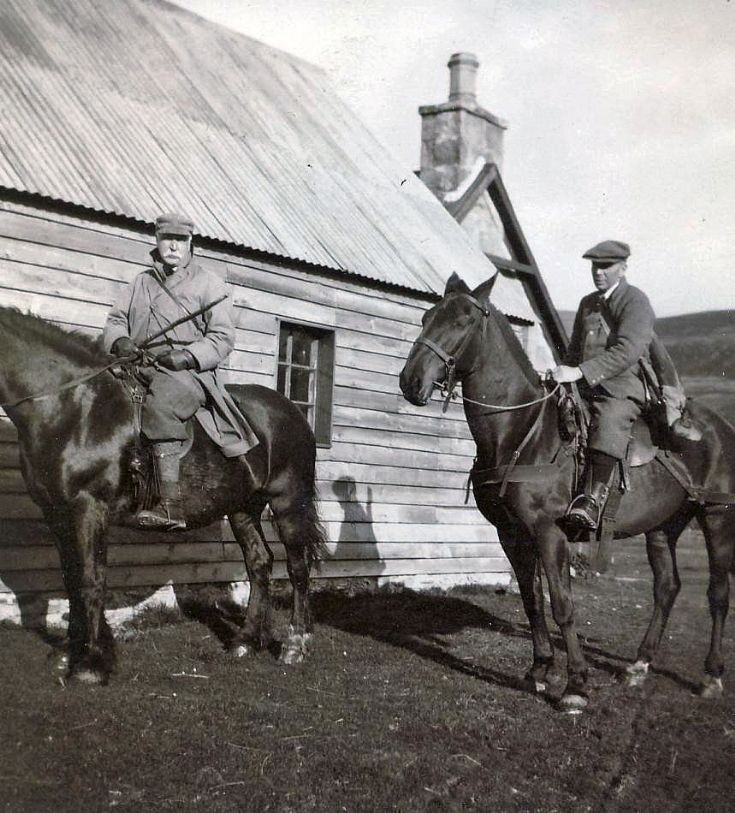 The Glenbuchat Image Library
122 Col. George Milne
Col. Gorge Milne (on the left above) was the only son of James Milne of Aberdeen. In his marriage certificate James Milne was described as a timber merchant, residing at 4 Springbank Place, Aberdeen.
On 6/2/1883 George married
Florence Barclay
who inherited the Glenbuchat Estate from her father in 1907. On the death of Florence in 1927, Col. George Milne inherited the estate.
Click to search for more details and pictures of Col George Milne Comments from Family Trees produced by TK Greenfield and George Thomas May Family Tree in Family Tree Maker
George Milne
"My mother notes that his main interests were shooting, stalking, fishing and reading. However, he was also a soldier. He served for a long time in the Volunteer Forces, and in 1911 (when an article was written about his seat, Logie) he was in command of the 1st Highland Brigade, Royal Field Artillery, in the Territorial Army. Later, as Temporary Lieut.-Colonel, he commanded the 157th Brigade, RFA, at home and in France during the Great War, from 1 February 1915 to August 1916, when he relinquished his commission. He held the Victoria Decoration (not to be confused with the Victoria Cross).
According to the article, he acquired the Logie property in 1903 and set about improving it. The lands must have been quite extensive then, as it included a portion of Bennachie. When I visited Bennachie in the early 1980s there was some kind of memorial to him there. I think that he was instrumental in having the mountain become part of the National Trust for Scotland, or some such. Bennachie, incidentally, is sometimes suggested as the famous Mons Graupius where a decisive battle between the Romans and the ancient Britons was fought. One of the pictures I have annexed shows him in the background, kitted out in kilt and with his shotgun, with
Lady Forbes
s in the foreground. This picture comes from a Scottish recipe book that was enlivened with characteristic photographs, and it was given to me by my cousin Bo, who described him as "the old warrior"
Milne Family Tree
With comments from Family Trees produced by of TK Greenfield and George Thomas May Family Tree in Family Tree Maker
William Milne
Address Blackhills of Skene
Children
William Mine
John Milne

William Milne
Married Janet Donald Daughter of cotton merchant in Kintore
Worked for his father in law

John Milne
Married daughter of tenant famer of Hillbrae Bourty Inverurie
Worked for his father in law.
Has spent some time as a Dragoon soldier and therefore had no trade
Children
John Milne d. 1798
George Milne d. 1823
James Milne (1774-1794)
Janet Milne unmarried
Nancy Milne unmarried

There is an alternative family tree at this stage and it is unclear which the correct one is although I suspect the one above is the right one.
David Milne
Birth 11 Oct 1741 in Dundee, Dundee City, Angus
Spouse
Isabel Cuthbert (1743-)
Children
James Milne (1774-1794)
1741 11 Oct Birth Dundee, Dundee City, Angus



James Milne
Birth 2 OCT 1774 in Rescobie, Angus
Death 1794 in, Aberdeenshire, , Scotland
Parents
David Milne (1741-)
Isabel Cuthbert (1743-)
Spouse
Elizabeth Davidson (1774-1794) daughter of William Davidson cotton merchant Kintore
Children
George Milne (1794-1871)
1774 2 Oct Birth Rescobie, Angus
1794 Age: 20 Death , Aberdeenshire



George Milne
Birth 9 July 1794 in Inverury, Scotland
Bought Kinaldie about 1850
Death 23 September 1871 in Kinellar, Aberdeenshire, , Scotland
Parents
James Milne (1774-1794)
Elizabeth Davidson (1774-1794)
Spouse
Margaret Mortimer (1801-1886) of Brux Strathdon
Children
Margaret Milne (1831-1884) married Cousin John Cook
James Milne (1833-1923)
Alexander Milne (1836-)
Mary Milne (1838-1881)
John Henderson Milne (1842-1871)
Ann Milne (1845-)
1794 9 Jul Birth Inverury, Scotland
1829 26 Apr Age: 34 Marriage to Margaret Mortimer Old Machar, Aberdeen
1871 23 Sep Age: 77 Death Kinellar, Aberdeenshire

George Milne
"In the birth certificate of his son James, George Milne is described as a "road maker". I do not think this means a lowly labourer with pick and shovel! In documents relating to the purchase of Kinaldie he is described as a railway contractor "presently residing in Dunse." In "Aberdeenshire epitaphs and inscriptions" by John A. Henderson, 1907, the following paragraphs appear: "The Milnes of Kinaldie A granite monument built into the outer wall of the church bears the inscription:- In memory of George Milne of Kinaldie Born 9th July 1794, died 23rd September 1871 and Margaret Mortimer his wife Born 18th April 1801 died 14th April 1886. George Milne was a successful railway contractor, and afterwards a timber merchant in Aberdeen. The members of his family are James, who is now in possession of Kinaldie and has practically rebuilt its mansion house; John Henderson of Craigellie; Mrs. John Cook of Ashley; Mrs. George Jamieson; and Miss Milne." George Milne is said to have built the canal between Inverurie and Aberdeen. At the time of the birth of his first three children, George & Margaret Milne were living at 5 Bon-Accord Square, Aberdeen. From the Register of Sasines, Aberdeenshire, we know that in January 1849 he was residing in Dunse. In the 1851 Census they were living at Kinaldie Mansion House, Kinellar. There his profession is described as "landed proprietor, JP". His son James is described as a timber merchant. The 1861 Census gives them as residing at Kinaldie Cottage. He is recorded as a proprietor occupying 328 acres and employing 9 servants. His children Mary, John and Ann are present. In the 1871 Census, just before his death, he is recorded as a landowner and farmer of 380 acres employing 8 labourers, 2 women and 1 boy. Only John and Agnes (previously Ann) were at home. From the roll of honour of the Milne's sailing ships, George must have bought at least 5 ships prior to his son James reaching his 18th birthday, viz. Harvest Home, 1838; Essex 1843; Admiral 1846; Matagorda"



James Milne
Birth 16 February 1833 in Old Machar,
Farmer at Kinaldie
Death 1923
Parents
George Milne (1794-1871)
Margaret Mortimer (1801-1886)
Spouse
Agnes Martin (1838-1922)
Children
George Milne (1857-1939)
1833 16 Feb Birth Old Machar, Aberdeenshire
1856 19 Aug Age: 23 Marriage to Agnes Martin Springbank Terrace, Aberdeen
1923 Age: 90

"James Milne's father was alleged to have built the canal from Aberdeen to Inverness. JM lived at Kinaldie. His only child was George. In his marriage certificate James Milne was described as a timber merchant, residing at 4 Springbank Place, Aberdeen. According to a newspaper cutting: "It is stated that Mr J. Milne of Kinaldie has acquired the estate of Logie-Elphinstone, situated in the parish of Chapel of Garioch, was for many years in the hands of the Baird Trust. The price paid by Mr Milne is stated to be 80,000. The rental is about 2,300." However, I think that the purchaser was actually his son, Col. George Milne."



George Milne
Known as Col George Milne of Logie and Tilly
Birth 23 September 1857 in Aberdeen,
Death 8 January 1939 in Logie House, Aberdeenshire
Parents
James Milne (1833-1923)
Agnes Martin (1838-1922)
Spouse
Florence Barclay (1864-1927)
Children
Agnes Ida Milne (1885-1967)
James Barclay Milne (1886-)
Florence Beatrice B Milne (1888-1975)
Frances Milne (1890-)
Margaret Isobel Milne (1893-1985)
1857 23 Sep Birth Aberdeen, Aberdeenshire, , Scotland
1939 8 Jan Age: 81 Death Logie House, Aberdeenshire,











Picture added on 06 November 2011 at 20:35

This picture is in the following groupspeople