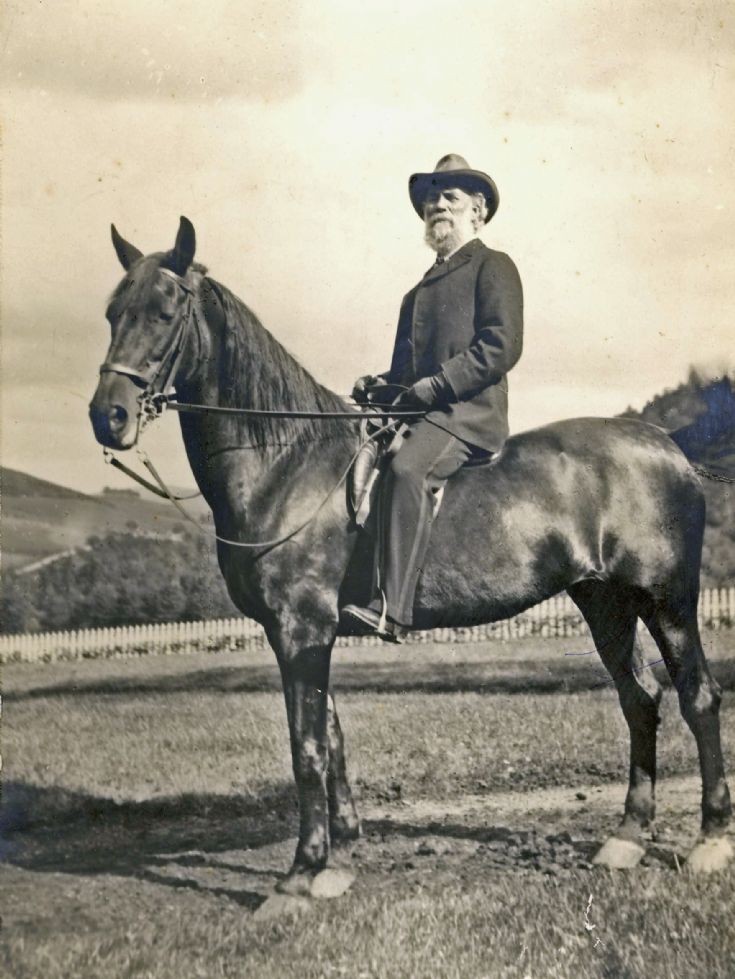 The Glenbuchat Image Library
115 James William BarclayJames William Barclay
Glenbuchat was purchased in 1901 by James W Barclay form Henry Burra's estate. A keen reformer he replaced many of the old farmhouses during the early years of the 20th century.
Adapted From Wikipedia, the free encyclopedia
James William Barclay
(1832 – 26 February 1907) was a Scottish businessman, farmer and politician. For nineteen years he was Member of Parliament for Forfarshire.
He was the son of George Barclay of Cults, near Aberdeen and his wife Margaret née Massie of Maryculter, Kincardineshire.
He was educated at Aberdeen Grammar School and the University of Aberdeen. He entered business as a manure merchant, and was also a major landowner and farmer. He farmed in Forfarshire, which had large amounts of grazing land for cattle. He was involved in the innovation of importing store cattle from the United States and Canada.[4]
In 1864 Barclay was elected to the town council of the royal burgh of Aberdeen. He continued to a member until 1871, and was leader of the "Progressive" grouping, allied to the parliamentary Liberal Party, that controlled the council.
In June 1872 Colonel William Sykes, MP for Aberdeen died. Barclay was chosen as the official Liberal candidate. However, his reputation as a Radical led to a split in the local party, and John Farley Leith was also nominated as a "Moderate Liberal". In the event Leith was successful and Barclay was defeated.
In January 1874 a general election was called, and Barclay was nominated as Liberal candidate for the Forfarshire constituency. He was elected, and held the seat for the party at the 1880 and 1885 elections. He was described by the Marquess of Huntly as "a thick-set man of medium height, dark-haired and swarthy. He had the misfortune to speak through his nose with a twang, and was not a success in the House of Commons as a speaker".
In 1886 the Liberal Party split over the issue of Irish Home Rule and Barclay joined the break-away Liberal Unionist Party. At the ensuing general election he was returned as Unionist MP for Forfarshire. He was unseated at the next general election in 1892, when John Rigby regained the seat for the Liberals.
Barclay did not run for election again, but devoted himself to agriculture. In 1901 he purchased the Glenbuchat Estate, where he pioneered experiments in new scientific farming methods. He was also an enthusiastic supporter of the Aberdeen Agricultural College.
In 1901, the Glenbuchat Estate was sold to James W. Barclay, he was appalled by the condition of the farm properties "only a few dwellings were slated, the rest were thatched and mostly in a condition more or less unfit for human habitation. The housing of the livestock was correspondingly bad. On many farms the land was in the lowest state of cultivation, with the outlying fields no longer ploughed but lying as pasture without grass". By that time Barclay began to make improvements
By the 16th century Glenbuchat had become Presbyterian and the name changed from the ancient Glenbuchat to Glenbucket. When James W. Barclay purchased the estate in 1901 he liked the name Glenbuchat and succeeded in having the government officially recognize that name.
He developed the grouse shooting and "probably the record bag over dogs was the 10,600 grouse killed at Glenbuchat in 1872, where Mr. James W. Barclay (the owner) very kindly informs the author that driving was not started until after that year, whereas the greater number were killed by that plan at Delnadamph in 1872."
He was three times married. In 1863 he married Jane Smith daughter of J. Smith of Strathdon, Aberdeenshire, who died in 1865. His second marriage was to Lilian Alice Novelli daughter of the late A.H. Novelli of Hyde Park Square London in 1882. She died in 1887. His third marriage was to Agnes Clifford Smith daughter of Rev H. Smith
James William Barclay died in February 1907, aged 74, while on a visit to Nigeria.
Barclay Family Tree
With comments from Family Trees produced by TK Greenfield and George Thomas May Family Tree in Family Tree MakerJohn Barclay
Birth 1745 in Fetteresso, Kincardineshire,
Death 4 Jun 1828 in Maryculter, Kincardineshire
Spouse 1
Isabella Hogg (1750-)
Children
John Barclay (1778-1779)
Margaret Barclay (1780-1862)
Robert Barclay (1783-)
George Barclay (1785-1858)
James Barclay (1790-1861)
Isobel Barclay (1793-)
Jean Barclay (1793-)
Alexander Barclay (1798-)
1745 Birth Fetteresso, Kincardineshire, Scotland
1777 21 Sep Age: 32 Marriage to Isabella Hogg Durris Parish, Kincardineshire
1828 4 Jun Age: 83 Death Maryculter, Kincardineshire

George Barclay
1785 in Banchory Devenick, Aberdeenshire
Death 29 May 1858 in Cults, Banchory Devenick, Kincardineshire
Occupation Builder
Parents
John Barclay (1745-1828)
Isobel Hogg (1759-)
Spouse
Margaret Massie (1794-1866)
Birth 07 Jun 1794 in Maryculter, Kincardineshire,
Death 25 Jun 1866 in Cults, Kincardineshire,
1851 Age: 57 Residence Banchory Devenick, Aberdeenshire,
1866 25 Jun Age: 72 Death Cults, Kincardineshire,
Children
George Barclay (1818-)
Isobel 'Isabella' Barclay (1820-1889)
Jane Jean Barclay (1823-)
John Barclay (1825-)
Alexander Barclay (1827-)
Margaret Campbell Barclay (1830-)
James William Barclay (1832-1907)
Morison Barclay (1835-1906)
1785 Birth Banchory Devenick, Aberdeenshire,
1817 Age: 32 Marriage to Margaret Massie Banchory Devenick, Kincardineshire
1858 29 May Age: 73 Death Cults, Banchory Devenick, Kincardineshire



James William Barclay
Birth 6 May 1832 in Banchory Devenick, Aberdeenshire,
Death 1907
Parents & Siblings
George Barclay (1786-)
Margaret Massie (1794-1866)
Spouse 1
Jane Smith (1831- 1865) Daughter of J Smith Strathdon Married 1863
Children
Florence Barclay (1864-1927)
Spouse 2
1882, Lilian Alice Novelli, . (d. 1887) daughter of late A. H.Novelli, of Hyde Park sq.
Spouse 3
1896, Agnes Clifford Smith, daughter of Rev. Hy. Smith, h.m.i.

1832 6 MayBirth Banchory Devenick, Aberdeenshire, Scotland 4 source citations Hide source citations
1841 Scotland Census
1851 Scotland Census 1861 Scotland Census Ancestry Family Trees 1841 Age: 9 Residence Aberdeenshire, Scotland 1 source citation Hide source citations 1841 Scotland Census
1851 Age: 19 Residence Banchory Devenick, Aberdeenshire, Scotland 1 source citation Hide source citations 1851 Scotland Census
1861 Age: 29 Residence Lumphannan, Aberdeenshire, Scotland 1 source citation Hide source citations 1861 Scotland Census
1863 25 Jun Age: 31 Marriage to Jane Smith Edinburgh, Midlothian, 1907 Age: 75 Death 1 source citation

Jane Smith (Spouse 1)
Birth 1831
Death 1865
Spouse
James William Barclay (1832-1907)
Children
Florence Barclay (1864-1927)
1863 25 Jun Age: 32 Marriage to James William Barclay Edinburgh, Midlothian,


Lilian Alice Novelli (Spouse 2)
Birth 6 May 1859 in London, England
Death View her family tree
Parents
Augustus Henry Novelli (1821-1887)
GrandfatherPhilip Novelli from Italy
Sarah Helena James (1820-1880)
Spouse
James William Barclay (1833-1907)
No Children
1859 6 May Birth London, England
1859 15 May Baptism St Marylebone, Middlesex, England
1861 Age: 2 Residence Bloomsbury St George, Middlesex,
1871 Age: 12 Residence Paddington, London,
1881 Age: 22 Residence Paddington, London,
1882 12 Apr Age: 22 Marriage to James William Barclay Westminster, Middlesex

James William Barclay
"J.W. Barclay was a Member of Parliament for Forfarshire in 1873 and appears to have held his seat for some considerable time. Prior to that he had represented the 1st Ward in Aberdeen town council from 1864-1867 and the 3rd Ward from 1868-1871. He was a ship-owner. He stood as a second, but unsuccessful Liberal candidate in the 1872 Aberdeen by-election, caused by the death of the sitting MP, Col. Sykes. John Farley Leith, also a Liberal, was successful. As noted, in 1873 Barclay ultimately succeeded in becoming an MP, but in a different constituency. It is not at all clear to me why Barclay stood against another candidate who was of the same party. The University of Aberdeen has a website called The Voice of Radicalism, which exhibits two items relating to Barclay. The first is his election poster for the 1872 by-election, which I will scan into this family tree. The second is a song called "The Electors Lament" sung to the tune of "Will ye no come back again" - apart from reading it on the website, you can actually hear it being sung! It is quite difficult (to me, at least) to make out the sentiment of the anonymous balladeer. There are references a'plenty to Barclay being in the China trade, which is interesting, given the subsequent union of his grand-daughter, Agnes Ida Milne, with J.C.O. Couper, also a descendant, of the China trade. I have tracked down two other internet references to Barclay. The first is a reference to a Parliamentary debate in 1873 about a Report from the Select Committee of the House of Lords on Land Improvement. Barclay, who is described not only as a MP but also as a farmer in Aberdeenshire, complained that the proposals for building labourers' cottages were unduly expensive, saying that "the houses of the Inclosure Commissioners are rather what I should consider suitable for the next generation than for the present one." His point was that they should build more cottages rather than a smaller number of superior quality. It says something of the times that the "superior quality" consisted in each cottage having a sink and that there should be no bed in the living room! Barclay also turns up in a paper by David Smith on "The Agricultural Research Association, the Development Fund, and the origins of the Rowett Research Institute. Barclay had something to do with the establishment of the Aberdeen Agricultural Association, later named the Agricultural Research Association, in 1875. I also found that a noted artist, Thomas Woolner, had made bronze medallions in 1885 of James Barclay MP and of Mrs Barclay.
My mother's notes concerning him say that his first wife, Jane Smith, died when their child Florence was still very young. Florence was brought up by two aunts who lived in Cults. JWB subsequently married "an Italian beauty" and thirdly another woman who my mother knew only as Mrs Marlowe. "She called herself my step great-grandmother, very ancient, lived in London". I wonder whether the Italian beauty was the subject of the oil painting of a young woman in vaguely Italian costume which I sent to my brother Tom in America and which was subsequently lost in the fire at his home in the Berkeley Hills, San Francisco. My mother also noted that Florence had a brother who died young, and no sisters.
Additional information - 17 June 2008.
I have been doing some more poking about on the internet, and it is clear that there is quite a lot of information about Barclay as a politician. Wikipedia shows the election results for the Forfarshire Constituency, and it seems that Barclay held the seat from 1872 to 1892. He stood as a Liberal Unionist against both Liberal and Conservative opponents. I have already noted that he figures in accounts of radicalism in Scotland. Another document from the University of Aberdeen, "The Voice of Radicalism" notes that one William McCombie of Tillyfour, 'The Grazier King', was a popular big tenant farmer who spoke up for small farmers and farm servants against the landlords. He became the Liberal MP for Aberdeenshire from 1868-1876. His supporters included.....J.W. Barclay, an Aberdeen merchant and farmer; MP for Forfarshire and vice-president of the Farmers' Alliance....." The article also notes that after 1868 it was almost impossible to be an MP in the North East without agreeing to support the demands of tenant farmers. This was not his only political interest. An article in the New York Times of 21 September 1884 discusses a "monster" meeting in favour of the Franchise Bill held in Dundee. Speeches were made inter alia by J.W. Barclay. There is an interesting note in the Marquis of Huntly's "Milestones". Writing about Barclay about 1871, Huntly says: "Barclay was a thick-set man of medium height, dark haired and swarthy. He had the misfortune to speak through his nose with a twang, and was not a success in the House of Commons as a speaker. He had independence of character and considerable ability. The Forfarshire magnates were very satirical about the great country of Forfar being represented by an Aberdeen manure merchant, but he held the seat through several contested elections. One of his opponents had called a meeting in the south end of the county, over which a Colonel Sandeman of Stanley, a strong Tory laird, presided. Barclay mingled with the crowd to hear what was said, and described the scene to me. There was a great deal of booing and interruption from the audience while the candidate was speaking, which exasperated Sandeman, who kept shaking his fist at the loons. One of them called out, "Fu did ye no gie us a footba' field?" Up jumped Sandeman and roared out, "I will not give you a football field, but I will be glad to give you a cemetery!"" Following back some hints in Ancestry.com, I think J.W. Barclay's parentage is fairly clear, as is his grandpatentage. However, there must be an element of doubt without more detailed work, because Kincardineshire was a veritable hotbed of Barclays (one document I read said that Barclay was a common name in the area. To what extent these people were related to the leading Barclay clan people seems open to question, but there must be some connection. The main possible source of error, it seems to me, comes with his great-grandparents, becaused there were three George Barclays all born within a space of 7 years and all in Kincardineshire parishes. The one I have chosen was born on 23 November 1718, in the parish of Kinneff and Catterline, which is not exactly where they ended up, but it is closest to Banchory. What clinches it for me is that this George's father is John, a clearly preferred family name. But the others might well have been connected too. I have made no progress with J.W. Barclays second and third marriages."



Florence Barclay
Birth 22 September 1864 in Old Machar, Aberdeenshire,
Death 24 February 1927 in East Peterculter, Aberdeenshire
Parents
James William Barclay (1832-1907)
Jane Smith (1831-)
Spouse
George Milne (1857-1939)
Children
Agnes Ida Milne (1885-1967)
James Barclay Milne (1886-)
Florence Beatrice B Milne (1888-1975)
Frances Milne (1890-)
Margaret Isobel Milne (1893-1985)
1864 22 Sep Birth Old Machar, Aberdeenshire, Scotland, UK
1871 Age: 7 Residence Banchory Devenick, Kincardineshire,
1883 6 Feb Age: 18 Marriage to George Milne Westminster, Middlesex, England
1891 Age: 27 Residence Kinellar, Aberdeenshire
1901 Age: 37 Residence Aberdeen Ferryhill, Aberdeenshire,
1927 24 Feb Age: 62 Death East Peterculter, Aberdeenshire



Col James Barclay Milne
Birth 31 October 1886 in Aberdeen
Death 3 Apr 1966
Parents
George Milne (1857-1939)
Florence Barclay (1864-1927)
Spouse
Jessie Stewart Young (1899-1960)
Children
Jean Barclay Milne Died 27/3/2010
Florence Barclay Milne (1927-1998)
Jessie Barclay Milne (1930-1992)
1886 31 Oct Birth Aberdeen,
1891 Age: 5 Residence Kinellar,
1966 3 Apr Age: 79 Death Kinellar MI 56

James Barclay Milne
My mother's Uncle Barclay, as he was usually called - and we children also referred to him as Uncle Barclay. When my grandmother's Couper husband died, it is my understanding that Uncle Barclay effectively took charge of her affairs. It was then that she moved to Logie. I never completely understood the ramifications of the property of these people. Some years ago (about 2000) my mother made some notes for a family tree album in which she remarked that as a child she had been told that they were left badly off. This is hardly likely. When I visited my grandmother in Scotland in 1954 she was living in what we in Rhodesia would have described as a degree of affluence. Nevertheless, I understood that Logie somehow belonged to Uncle Barclay. So quite what he did with all her money I do not know. The first time that I actually met him was on that visit in 1954. He was a very stout, genial old gentleman with a red face and a small bristly moustache. He was very kind to me, supplying me with a .410 shotgun and unlimited quantities of cartridges for the purpose of shooting as many rabbits as I could. There was a major myxymatosis epidemic on, and everyone was trying to cull as many rabbits as possible. I also went and stayed with him at his shooting estate at Glenbuchat. That year had been very wet and there was no organised grouse driving, but I took part in a shoot, walking up on grouse. I also went out with my Cousin Bo for a deer stalk (unsuccessful); to my chagrin I was not allowed to take a rifle - these people had no idea that a Rhodesian boy of those times was accustomed to all kinds of shooting from a very early age. After Uncle Barclay's death, his eldest daughter Jean, who inherited the estate, sold Glenbuchat except for a portion on which she built a new house. Pat I visited her there in 1979. His main house, Kinaldie, was inherited by Bo, whom we also visited there on that trip to Scotland. Uncle Barclay went up in my estimation when he presented me with a French silver cornet made by Courtois that he had played in the Eton College Brass Band. Foolishly, I sold this to a friend at university. It was way off tune from modern instruments, and inspite of having a shank made that broadly speaking got the main harmonic intervals in tune, the keyed notes were never in tune. Shortly before he died, Uncle Barclay visited us in Africa, and either after that visit or maybe on his death, I cannot now remember, I received £1000 from him. This was very useful to us because it came just about the time of UDI, when Pat and I moved to Domboshawa for a year, and it enabled us to buy a very fuel efficient Renault 750 that was a great help during fuel rationing. I often wondered why he sent me (and I think also my siblings) this money. His sister Frances (Gog) who visited Bo in Rhodesia, told Pat that my mother had been diddled out of her full inheritance by the Milnes. Gog was a sprightly but rather malicious old lady, who clearly did not like my mother.



Jean Barclay Milne
Died 27/3/2010
Married Thomas Sole
Inherited Glenbucket
Children
Janey Sole
Annie Sole
David Sole
Present Owner of Glenbuchat estate

Florence Barclay Milne
Born 1927
Died 1998
Married Colin Watson
Inherited Kinaldie
Children
James
Alison

Jessie Barclay Milne
Born Feb 6, 1930.
Died 1992 age 62
Married Adam Hugh Deane. Children
Christopher Barclay Deane
Damian Barclay Deane



Milne Family Tree
William Milne
Address Blackhills of Skene
Children
William Mine
John Milne

William Milne
Married Janet Donald Daughter of cotton merchant in Kintore
Worked for his father in law

John Milne
Married daughter of tenant famer of Hillbrae Bourty Inverurie
Worked for his father in law. Has spent some time as a Dragoon soldier in Lihioniers Truop and therefore had no trade
Children
John d. 1798
George d. 1823
James Milne
Janet Milne unmarried
Nancy Milne unmarried

There is an alternative family tree at this stage and it is unclear which the correct one is although I suspect the one above is the right one.

David Milne
Birth 11 Oct 1741 in Dundee, Dundee City, Angus
Spouse
Isabel Cuthbert (1743-)
Children
James Milne (1774-1794)
1741 11 Oct Birth Dundee, Dundee City, Angus



James Milne
Birth 2 OCT 1774 in Rescobie, Angus
Death 1794 in, Aberdeenshire, , Scotland
Parents
David Milne (1741-)
Isabel Cuthbert (1743-)
Spouse
Elizabeth Davidson (1774-1794) daughter of William Davidson cotton merchant Kintore
Children
George Milne (1794-1871)
1774 2 Oct Birth Rescobie, Angus
1794 Age: 20 Death , Aberdeenshire



George Milne
Birth 9 July 1794 in Inverury, Scotland
Bought Kinaldie about 1850
Death 23 September 1871 in Kinellar, Aberdeenshire, , Scotland
Parents
James Milne (1774-1794)
Elizabeth Davidson (1774-1794)
Spouse
Margaret Mortimer (1801-1886) of Brux Strathdon
Children
Margaret Milne (1831-1884) married Cousin John Cook
James Milne (1833-1923)
Alexander Milne (1836-)
Mary Milne (1838-1881)
John Henderson Milne (1842-1871)
Ann Milne (1845-)
1794 9 Jul Birth Inverury, Scotland
1829 26 Apr Age: 34 Marriage to Margaret Mortimer Old Machar, Aberdeen, Scotland
1871 23 Sep Age: 77 Death Kinellar, Aberdeenshire

George Milne
"In the birth certificate of his son James, George Milne is described as a "road maker". I do not think this means a lowly labourer with pick and shovel! In documents relating to the purchase of Kinaldie he is described as a railway contractor "presently residing in Dunse." In "Aberdeenshire epitaphs and inscriptions" by John A. Henderson, 1907, the following paragraphs appear: "The Milnes of Kinaldie A granite monument built into the outer wall of the church bears trhe inscription:- In memory of George Milne of Kinaldie Born 9th July 1794, died 23rd September 1871 and Margaret Mortimer his wife Born 18th April 1801 died 14th April 1886. George Milne was a successful railway contractor, and afterwards a timber merchant in Aberdeen. The members of his family are James, who is now in possession of Kinaldie and has practically rebuilt its mansion house; John Henderson of Craigellie; Mrs John Cook of Ashley; Mrs George Jamieson; and Miss Milne." George Milne is said to have built the canal between Inverurie and Aberdeen. At the time of the birth of his first three children, George & Margaret Milne were living at 5 Bon-Accord Square, Aberdee. From the Register of Sasines, Aberdeenshire, we know that in January 1849 he was residing in Dunse. In the 1851 Census they were living at Kinaldie Mansion House, Kinellar. There his profession is described as "landed proprietor, JP". His son James is described as a timber merchant. The 1861 Census gives them as residing at Kinaldie Cottage. He is recorded as a proprietor occupying 328 acres and employing 9 servants. His children Mary, John and Ann are present. In the 1871 Census, just before his death, he is recorded as a landowner and farmer of 380 acres employing 8 labourers, 2 women and 1 boy. Only John and Agnes (previously Ann) were at home. From the roll of honour of the Milne's sailing ships, George must have bought at least 5 ships prior to his son James reaching his 18th birthday, viz. Harvest Home, 1838; Essex 1843; Admiral 1846; Matagorda"



James Milne
Birth 16 February 1833 in Old Machar,
Farmer at Kinaldie
Death 1923
Parents
George Milne (1794-1871)
Margaret Mortimer (1801-1886)
Spouse
Agnes Martin (1838-1922)
Children
George Milne (1857-1939)
1833 16 Feb Birth Old Machar, Aberdeenshire
1856 19 Aug Age: 23 Marriage to Agnes Martin Springbank Terrace, Aberdeen
1923 Age: 90

"James Milne's father was alleged to have built the canal from Aberdeen to Inverness. JM lived at Kinaldie. His only child was George. In his marriage certificate James Milne was described as a timber merchant, residing at 4 Springbank Place, Aberdeen. According to a newspaper cutting: "It is stated that Mr J. Milne of Kinaldie has acquired the estate of Logie-Elphinstone, situated in the parish of Chapel of Garioch, was for many years in the hands of the Baird Trust. The price paid by Mr Milne is stated to be 80,000. The rental is about 2,300." However, I think that the purchaser was actually his son, Col. George Milne - see the entry for him."



Col. George Milne
Known as Col George Milne of Logie and Tilly
Birth 23 September 1857 in Aberdeen,
Death 8 January 1939 in Logie House, Aberdeenshire
Parents
James Milne (1833-1923)
Agnes Martin (1838-1922)
Spouse
Florence Barclay (1864-1927)
Children
Agnes Ida Milne (1885-1967)
James Barclay Milne (1886-)
Florence Beatrice B Milne (1888-1975)
Frances Milne (1890-)
Margaret Isobel Milne (1893-1985)
1857 23 Sep Birth Aberdeen, Aberdeenshire, , Scotland
1939 8 Jan Age: 81 Death Logie House, Aberdeenshire,

George Milne
"My mother notes that his main interests were shooting, stalking, fishing and reading. However, he was also a soldier. He served for a long time in the Volunteer Forces, and in 1911 (when an article was written about his seat, Logie) he was in command of the 1st Highland Brigade, Royal Field Artillery, in the Territorial Army. Later, as Temporary Lieut.-Colonel, he commanded the 157th Brigade, RFA, at home and in France during the Great War, from 1 February 1915 to August 1916, when he relinquished his commission. He held the Victoria Decoration (not to be confused with the Victoria Cross). According to the article, he acquired the Logie property in 1903 and set about improving it. The lands must have been quite extensive then, as it included a portion of Bennachie. When I visited Bennachie in the early 1980s there was some kind of memorial to him there. I think that he was instrumental in having the mountain become part of the National Trust for Scotland, or some such. Bennachie, incidentally, is sometimes suggested as the famous Mons Graupius where a decisive battle between the Romans and the ancient Britons was fought. One of the pictures I have annexed shows him in the background, kitted out in kilt and with his shotgun, with Lady Forbes in the foreground. This picture comes from a Scottish recipe book that was enlivened with characteristic photographs, and it was given to me by my cousin Bo, who described him as "the old warrior"


Glenbuchat Roll of Honour 1914 1919
They Fought For King and Country
Sons and Daughters of Florence Barclay and Col. George Milne later Laird.
Colonel in WW2
Milne James Barclay, Major, Royal Field Artillery.
Milne Margaret, Voluntary Aid Detachment (VAD)
Milne Florence, Voluntary Aid Detachment (VAD)
Milne Frances, Voluntary Aid Detachment (VAD)
Picture added on 07 October 2011 at 22:13
This picture is in the following groups
people
Comments: