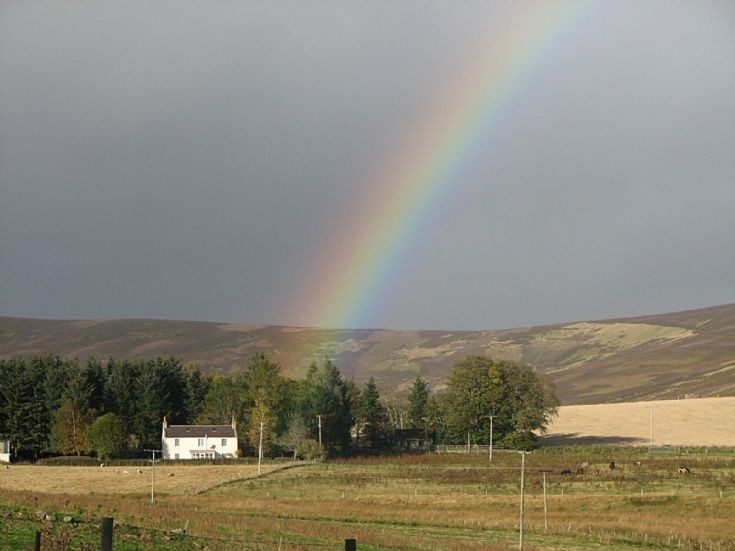 The Glenbuchat Image Library
59 The Old School House
The Old School House opposite Whitehillock at the top of the Belnacraig Hill was one of a number of schools in Glenbuchat.
Search on 'School'
for more details and pictures of Schools
Click for details on the History of Education in the Glen and 1850 map of School House
Glenbuchat has had a number of schools over the years. In 1882 the Gazetteer of Scotland states that Glenbucket had three school and 140 pupils. In 1834 it was stated of the glen that 'There is not an individual but can read and write'.
Initially from 1496 there was a responsibility on the parish to provide education until 1546 when it was taken over by the established church. In 1870 the state took it over under a Board of Education.
Glenbuchat therefore first had a Parish School; the date of founding is unknown. Sometime in the 1820s the Parish Schoolhouse on Belnacraig was burnt down, and at a date unknown, a new Schoolhouse was built further up the hill, where the present Old Schoolhouse stands opposite Whitehillock.(Photo Above)
Following the Disruption in the Church of Scotland in 1843 the Church split into the Established Church and The Free Church of Scotland. This also split the education system and Glenbucket had three Schools. These were the Parish School, A small Free Church school at Bowiebank Belnacraig possibly a girl's school, and another Free Church School at Dulax.
Also in 1868 the Balloch School was built by the Scottish Society for the Propagation of Christian Knowledge to serve the children of the upper Glen and of Glen Nochty. It finally closed in 1948.
In 1868 the new Glenbuchat Parish School built (previously the pupils had been taught in the Schoolhouse). The school was closed in 1960 and is now a private house (Whitehillock) as is The Old Schoolhouse.
1841 census
Schoolhouse
William Reid 20 Schoolmaster .
John do 15 .
Gordon do 9 .
Margaret Calder 25 F.S. n.
1851 census
Schoolhouse William Reid Head U 31 Parochial Schoolmaster
Elspet Milne Serv U 36 House Servant
Mr. James Cameron (M.A., 1864) died at his residence, Rosebank, Crathes, Kincardineshire, on 19 March, aged eighty-four. He was schoolmaster at Glenbuchat, Aberdeenshire, from 1866 till 1897 — thirty-one years.
View Large Version
Picture added on 30 November 2010 at 22:21
This picture is in the following groups
school