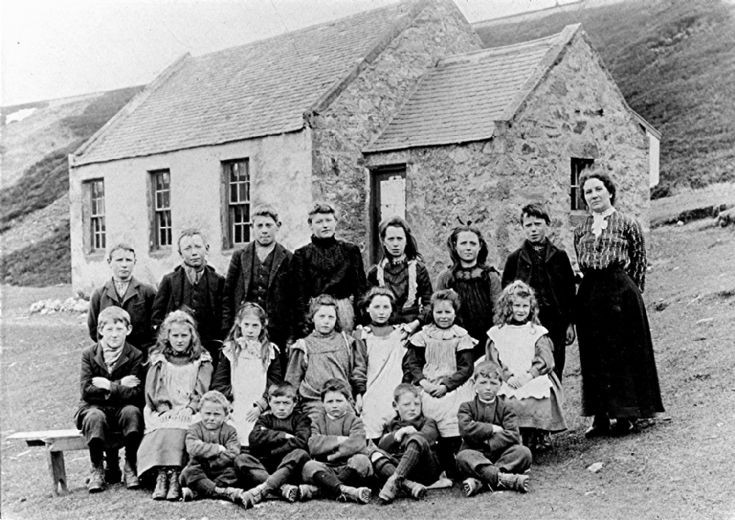 The Glenbuchat Image Library
31 Balloch School
old b&w photograph of the school teacher with her class, outside the school house.
Photograph supplied by Mrs Campbell of Dingwall, grand-daughter of Miss Singer.Balloch Public School, 1907, Upper Strathdon.
All 19 pupils of this remote Aberdeenshire School are present for the photographer, along
with their one teacher, Miss H. Singer. Depopulation led to its closure after the war; the
building has long since become overgrown by foliage.
"I reckon that the education I got at my little school was as good as any
in Britain ". The speaker is Billy Duncan, aged 82 and looking back on
the nine sessions – his only ones of formal education – he spent at the
now derelict Balloch School , high up in the Glen Nochty hills. The
establishment he recalls was a tiny one-roomed, one-teacher school on
the road which rises up from Bellabeg to the Glenbuchat Lodge. Billy
was the son of the head-keeper on the estate there, a position which he
grew up to fill himself. Now living in retirement at Corgarff, he
reflects with satisfaction on the long years which have, almost all of
them, been passed in his remote upland spot: To this day I'm not very
fond of crowds, I couldn't abide to live in a town.
From collected Oral History by David Northcroft author of the book 'Grampian Lives' and reproduced with his permission.Balloch School: the first seventy years
Balloch School opened in 1868. The northern part of Glen Nochty fell within the parish of Glenbuchat, where the parochial school had long been operating. The government's education survey of 1834 describes an establishment with more than 90 on its books and a syllabus which ran to Latin. Its site was, however, over in the Glenbuchat itself and to reach it required a challenging trek of more than four miles for those who lived in the Nochty area.
The life of both glens was dominated by the interests of the parish's sole landowner, the Earl of Fife, and these were confined to its use for seasonal sporting activity. Most of the upland terrain was given over to the pheasant and the grouse, while the more fertile valley spots were let out to small scale tenant farmers who were otherwise left to their own devices.
Although the Fife family generally continued to pursue a policy of absentee neglect, the coming of the railways opened up Donside, as far as Alford, and led to an upsurge in shooting party activity. This, in its turn, gave rise to the employment of gamekeepers and estate workers, who lived and worked in the vicinity of the Lodge which, in 1840, had been erected at the head of the Glen Nochty road, rather than in the glen which gave the parish its name.
By the 1860s there were sufficient families settled in that corner of Glenbuchat to make the institution of an additional school a feasible as well as a convenient proposition. Representations were made; the Earl was persuaded to supply a plot of land; the people themselves provided the labour and the new school was built. The site was chosen not because it was beside any habitation but because it made for a handy equidistant between its two main suppliers of pupils: those who lived around the Lodge at the head of the road and those who came from the farmsteads down in the Nochty valley.
The Society for the Propogation for Christian Knowledege- a British wide organisation which had been set up in the 18th century with the primary aim of planting schools in the more remote areas of the country- gave a grant and by the end of the decade Balloch School began its service to its isolated upland community. Following the national Education Act of 1872, ownership passed into public hands, its administration now the responsibility of the newly formed statutory Glenbuchat School Board.
In its first years, the roll at Balloch was up in the fifties, sufficiently numerous to attract the appointment of a Headmaster and a female assistant. But in an environment where employment was largely seasonal and the agriculture no better than marginal, this high mark could not be maintained.
By the turn of the century, Balloch School was settling down to the pattern which would run through the rest of its existence: a newly qualified female teacher forced to stay in lodgings, often in the spare cottar house room of the family of one of her pupils, and working her apprenticeship with some dozen shepherd, gamekeeper and crofter children whose rudimentary dwellings lay scattered out over the surrounding six miles of rough upland country. Once her two years had been endured, she would inevitably depart to some larger and more sociable situation, or into that other form of escape, marriage.
Once a year Her, then His, Majesty's Inspector would come to examine the jotters, to hear the children read and recite, to go through their paces with pounds, perches and gills, to get them on their feet to inform him of the date of Waterloo or the correct way to spell the river Euphrates. Invariably he would find much to commend but would also fuss over the privations to be endured in such a lonely outpost. His 1900 report stated:
'The site of the school is in a gloomy pass and the buildings are primitive…. In such unpropitious circumstances the scholars are few and shy. …It would be absurd to expect a high proportion of attendance in such circumstances here of elevation, isolation and climate,…'
Attendance, indeed, was a constant worry. In December, school might have to be dismissed before 3 o'clock because it had become too dark for either work or safety. During January and February, the road through the glen could fill up with a snow that might lie a fortnight. Winters in that upland are lingered on. The entry for 23rd April 1917 informs us that, 'For the first time this year the road is fairly clear of snow'. That of the 17th October 1913 tells of a different threat: 'The attendance was not good owing to the scholars harvesting'. Although in the short summer months it could be warm enough for lessons to be held out of doors, the teacher then would have to accept another of the hard facts of rural life as children were kept at home in order to assist with the sowing or the reaping or the lifting, or simply to cover for a sick parent in jobs about the house or on the croft.
The strains were not merely professional ones. The sense of isolation for young single women frequently living in digs away from home for the very first time and at an age when, in a later period they would still be students, alongside the need to maintain a social respectability at all times in a community where each person's business was everyone's business, must have been crippling. Billy Duncan, a gamekeeper's son who went to Balloch during the interwar years, recalls that his first teacher was a Miss Helen Macdonald and that she had her lodgings in his own house up by the Lodge. There she would keep herself shut up in her own bedsit room, meals served to her on a tray. In the schoolroom she struck him as fiery tempered and unpredictable. She was, he noted, 'a frequent migraine sufferer'. Yet Jessie Matthew, then the policeman's wee daughter at Strathdon, can recollect her as Nellie Macdonald, the pleasant and pretty young woman who would seek the refuge of a weekend stay at the bobby's house down at the foot of the glen.
Paid no more than £180 or so per annum, stuck away up there in some constricted, unheard of glen, and armed with no more than their two years at the Training Centre in Aberdeen, these were the Miss Singers and the Miss Nobles, the Macdonalds and the Thomsons, who were called upon to march the two miles each day into the narrow pass, there to take sole charge of a dozen reserved and watchful country bairns, who, when they could be coaxed into utterance, answered in a slow broad Doric, and who, after their daily prescription of vulgar fractions, of parsing and of the Book of Genesis, would return to their reality of feeding hens, of skinning rabbits and getting in the sticks for the fire. In that place, and to all ages from five to fourteen, the one lone teacher would be required to cover the full range of the nationally prescribed curriculum, to dispense not only the three Rs, Geography and History but also conduct singing round the old harmonium in the corner, do drill, survey the British Empire, run through the rules of elementary hygiene, needlework and artwork and, if they could rise to it, perform a spot of algebra and Parisian French.
Shut off, underconsidered and underpaid, and not long out of school themselves, these were the young women who ensured that the boasted standards of Scottish education would be upheld even in such far-flung outposts as Balloch, as Cabrach, Edenglassie and all the other upland parishes that were scattered over Aberdenshire's looming hinterland. The standard of education, and the people they served, are caught by the testimony of Billy Duncan, native and life-long resident of the area.
William Duncan : Corgarff, June, 2003
I was born at the Lodge of Glenbuchat on the eleventh day of May, 1923. It was in the middle of a snowstorm- in May. My father had to clear the way of snow for the doctor to get through. I had one sister but she is now dead. She was born in 1920. I was the second to come- in the middle of a snowstorm in May. My father was the head-keeper on the Glenbuchat estate.
I spent my childhood alone and to this day, I'm just not so very fond of crowds. I couldn't abide to live in a town. All my life I have felt this way. I think, maybe, I'm a shy person. I'm all right when I get acquaint but I don't make friends very easily. It's the way I've been brought up, I suppose.
The house we lived in was adequate for the time. There was no hot water though we did have running water in the house. There was an old grate which had a side boiler and this is where you got your hot water from. But we did have electricity. There was a private plant which lit the Lodge and also our home. I suppose we and the Lodge were the only places in the Glen to have that luxury. But it was only a small plant, only enough to give you light. But then there weren't the appliances you have nowadays- no washing machines, no refrigerators for us! The cooking was done on the range.
For the period we had a very good diet. Being head-keeper that was one of my father's perquisites. He could go up the hill and shoot a hind for our own use. We had rabbits, whiles hares. Father kept a cow- he had a little croft along with the job. A good healthy diet; always fresh milk. And there were plenty of travelling vans at that time. They would bring you everything you needed. If it wasn't on the van that particular week, then you would say the word and it would arrive shortly. Davidson kept the shop at Glenbuchat and his van came twice weekly. He was a general merchant and you could get everything through his shop- screws, nails, and drapery. If you asked for it, he had it!
For the women of the house life was very hard. Everything had to be done by hand: the washing and the cleaning. No hoovers then, only brush and shovel. When you look round this room that we are sitting in now- the fitted carpet, the TV in the corner, all the furniture, the change is…well, it's just a different world, a different world altogether. Actually I'm not sure whether my mother would have changed, she was very set in the old ways. She was 86 when she died; she never owned a TV set.
You had to entertain yourself then. You just improvised. The outdoors was our entertainment. I did a lot of fishing when I was a boy. I'd fish for trout in the burn. Then, my father taught me to shoot and I abandoned the rod for the gun. Rabbits, hares and- I suppose I was twelve when I shot my first hind. That was a great moment. I could show you the very spot where I did it. You can see it yet: when you go up the road past Balloch towards the Lodge you see a wood behind the Lodge and then, just beyond the edge of the wood up a hill, a patch of bracken. Well, the hind was standing in that bracken. It was well set up for it. I brought it down with the one shot. A very proud moment. For me it was a moment of coming of age.
I remember the first rabbit too: at the Lodge; by the light of the moon. There was a lot of snow on the ground, a lot of light. I asked my father if I could shoot and he said, 'Go ahead'. I got him!
What I'm talking about here is a whole way of life. It was a very good one- for me. I was quite content with my childhood. I often wonder, though, whether my mother wasn't lonely. She could go for weeks without seeing another female. She never said anything, but she must have found it lonely. The only means of transport was a bike. When I was a boy there were only two cars in the Glen- the Laird had one, of course, but he was only a seasonal visitor. One belonged to the shop, the other to Mains of Glenbuchat. The Laird would come for the season, which began on the 12th August. The season ended the 20th October and then he was gone.
I would have been coming up for five-and-a half when I started the school. There were 14 on the roll when I started and the one teacher. We just walked. Two of the pupils came from Tolduqahill and that was a three-and-a half mile walk each way. They just did it, through all weathers, though the winters were much more severe then and the school would be closed when there was a blizzard. The attendance would go down then and the school had to open a certain number of days in the year. Some years it might have to open up on a Saturday morning to make up for the missing days. Only one pupil might come but that would count as an opening.
My first teacher was Miss Macdonald. Her father had been head-keeper at Haddo House. I think she might have been about 25. She was rather temperamental; I think she suffered quite a bit from migraines and that didn't improve her temper a lot. And being locked up in that little school with those bairns… She actually stayed with us at the Lodge. We would try to avoid going down the road with her to the school and would leave a few minutes after her. In the house she had her own bed-sitting room and kept herself locked up in that. We never really saw her. She never went out. No young men to come to call! She had to keep her position I suppose- you see, she was the teacher at the school.
Then a Miss Noble arrived. I liked her. She was a more docile character! But Miss Noble got more out of us her way. She created a different atmosphere in the school, a more friendly, relaxed atmosphere. She had been a teacher at Inver- between Braemar and the Linn o' Dee. She had a boyfriend at Inver, too. He was a stalker on an estate over there. After she came to Balloch he would come and visit her and stay the weekend sometimes. But he never got to go in the same room as the teacher- not in those days! She married him, not while at Balloch but later. I did hear through the grapevine that it turned out to be a stormy relationship.
Then Miss Thomson arrived. She was a local; she belonged to Glenbuchat. She would cycle the 7-mile round trip each day from her home at the Mains. She was well received by us all and turned out to be a good teacher. She left to get married- to a London policeman. Her brother had been working down there as a policeman and her husband was the pal he brought up with him for the holidays. She was replaced by Miss Walker. She was from Maryculter and she married a farmer from over there.
So, all in all, we had a succession of teachers. Although each one had to attend to all the ages, with the numbers being so small, we did receive individual attention. From the first day till the day I left, the school did not change one iota. When you are five years old you don't take much notice anyway- Balloch was just 'the school'- and that's how it remained. We sat at old-fashioned two-by-two desks with lids and fold-up seats. It was the one small room- I simply can't imagine how they squeezed everyone in when numbers were up over the 40 mark. In the winter it could get pretty cold. For heat there was only the coal fire at the end of the room. The walls had three or four maps on them- the world, with the British Empire clearly marked in pink, Scotland, England and Wales, Ireland. There was a blackboard set up on an easel.
The teacher would give us all something to get on with while she saw to one age group at a time. We would start off the day with a hymn and a bit of prayer. Then down to the allotted tasks. We used slates and those horrible squeaky pencils. You were meant to keep it clean with a sponge but often enough we just spat on them. We were quite well supplied with books and with jotters.
I loved the reading. I'm an avid reader to this day- I don't talk much, you see! I reckon that learning to read books was the best thing that ever happened to me. But I wasn't just so fond of the arithmetic. I could do it but I didn't enjoy it. We'd get one session a day of mental arithmetic, and we'd have to chant out our tables. I can do that yet. I don't know why they ever did away with that, even if it did just turn us all into parrots.
History and Geography and the reading often went together. I was rather good at both of them, especially Geography, which I enjoyed. I expect that the Geography we learnt was the same as anywhere else for the time. We knew every country and every capital of every country. We also knew the name and the whereabouts of every hill, of every burn, of every wood in the area- but that was nothing to do with the school. What we got was strictly World Geography. It was the same with the History- it was 1066 and all that. We had to get up the various kings and queens and all the battles. It was all general stuff.
It was a basic building: a little porch on the end for our coats; two toilets at the back, one for each sex. And a coal and stick shed at the end. All very basic. School meals were unheard of in our time. You just took your piece. The teacher would boil up the kettle and make cocoa- but kids being kids, we would often mix it up and just eat it, as chocolate. The doctor came once a year, as did the dentist. The district nurse also. But we were a healthy lot. There wasn't even any lice on us
At playtime we might play rounders or throw a ball up against the wall. No football team of course, not even a five-a-side! I do remember some of the literature we got, especially from Miss Thomson. She had us reciting Shakespeare: 'Hath not a Jew eyes/Hath not a Jew hands…'There you are, 'The Merchant of Venice'! I remember it yet. So you see, for a little place, we did quite well. Mark you, quite a lot of what I learned there was not very much use to me in later life! But I will say that we got the basics, that we could all read and write and count. And we did get things like drawing- we had drawing books supplied by the authority.
The teacher had to be an all-rounder: we also had singing. There was an old beat-up organ, with the canvass at the back of it tattered and torn. It was a real relic; I haven't the faintest idea where it came from. All I do know is that each time a new teacher came she had enormous difficulty in mastering it, after the piano. They just couldn't manage to work their feet along with hands. We knew quite a lot of hymns- we had to learn them off by heart at home and recite a verse or two the next day. Apart from that there was very little homework, just this learning off of some piece for the next day.
Some of the parents were keen on their children doing well, but not all of them.. We knew- our parents knew- we would go to the school, we would leave on the due date and then we would go straight into work, basically doing what our parents had been doing. I can't think of any of them with me at the school who did anything else. None of them finished up as teachers or lawyers or went into the professions. Going on in that sense was not part of our picture.
For me the pattern was always going to be: school, leave school, become a keeper like my father. I spent a year at home helping my father- no pay, just my keep- and then he said to me, 'Right, now you'll have to work on a farm'. 'Bugger that', I thought, 'I want to be a gamekeeper!' So I got a job at Drummuir Castle as an under-keeper- that's between Keith and Dufftown. I stayed in a bothy by myself; I hated every minute of it, not because of the loneliness or anything but because the head-keeper was such a funny, awkward fellow- and his wife was even worse.
However, I wasn't there long. After nine months I got a job at Glenmuick and I loved it. It was a big place, even though some of them were away at the war, there were still five keepers there. The head-keeper and I got on perfectly. Of course, his daughter took a liking to me and that helped!
Then I was called up to the army. Into the Gordon Highlanders, Sixth Battalion. This was in '44. Then, in '44 I landed up behind wire in Germany as a POW. I'd been taken prisoner at Anzio. I was there for fifteen months. The Germans treated me well enough; as a prisoner I can't complain. Then I came back to the UK and went before a Medical Board. They told me that I wasn't fit for any more infantry service.' Thank God for that!' I then returned to Civvy Street and got married. Then I came here as under-keeper. Eventually I was made head-keeper. This was in '54- so I've been almost 50 years here.
In the Army you had to mix with people from all over and from a range of backgrounds. I coped pretty well. I considered myself anyone's equal. Some of those Junior Officers, well you just couldn't work out how they ever got selected for their position. I had a friend- he was in Burma and he was a sergeant, mind- and he wrote a letter home in which he commented, 'Some of the officers we have out here think they have the brains of a Field Marshall, but really they haven't even got the brain of a field mouse!' Well, the letter was censored and he was hauled up in front of the Colonel and he said to him, 'Well, McNicol, probably what you have written is quite true but you can't write things like that, you know. You are to be reduced to the rank of Corporal for a term-but you'll get your stripes back later. In the meantime I must make an example of you'. That McNicol had actually been born in the same room and the same house as I had been. His father had been the head-keeper at Glenbuchat before my father was. And he'd been at the Balloch too. He's dead now.
So, I feel my education fitted me out quite well. I mixed with people from Shetland to British Columbia, from Glasgow and from London. I got on well with the majority of them. I reckon that the education I had got at the Balloch- up to the age of 14 anyway- was as good as any that was available anywhere in Britain.
Really, my education was very sound. In this job I've had to deal with people who have had a much 'better' education than I could ever have received; I've had to deal with visitors from the south and I've always managed to hold my own. I've shaken hands with the Duke of Edinburgh and with Charles and found them both easy people to speak to. I must admit that when I was speaking to the Duke of Edinburgh or to Charles I would put on a bit of the pan loaf. The Queen's English- his wife's English- that's what I speak to him! But, you know, he's a man who calls a spade a spade.
You'll never make your fortune game-keeping but it will give you a good life. Mark you, you have to be cut out for it. But there are outsiders who come in and make a go of it. There's a lot of publicity just now about this 'first female gamekeeper' but that's not strictly true. There used to be one on the Balmoral estate. But this recent one has been to the college at Thurso and what makes all the difference nowadays is if you have that little piece of paper. Nowadays, in my job the little bit of paper does help; it can make a hell of a difference. In my day you had to learn it all on the job. You had to work your way up through the various stages. You got to know it all inside out; you had to prove yourself.
Balloch School: the last ten years
'As good as any in Britain': yet the one who made this claim left school at fourteen. It is clear that what Billy Duncan meant by a 'good education ' was something more basic than what a later age would understand by that term. What he had received was what was commonly known as a good grounding, one that was made up of a solidly general content, which had been thoroughly inculcated. There could be nothing 'advanced' about a schooling, which had been confined to the same one-teacher place. For this intelligent and sharply thoughtful man there had been no realistic opportunity to go on to the Leaving Certificate, no prospect of University or an entry into the professions. When he left school, he moved straight into the ways of his father, as gamekeeper's assistant.
Most likely he had wanted little more- he has, in his own testimony, had pretty well the life he had always seen himself as leading. Nevertheless, his is a situation which shows us the extent of the opportunities which were open for his generation in his and other upland glens. In theory, he could, at the age of twelve, gone on to receive a full education at his nearest Secondary school. But for him 'nearest' meant first Alford for three years and then, for the final two of the Secondary course, Inverurie. In either case lengthy travel and living away from home was necessary and for the children of the glen this would be just as great a test as any which the 'Qualy' could throw up. For a young girl like Elspeth Webster (Dey), living up by the Lodge, the prospect at the age of twelve was to seek out digs in Alford, to bicycle the six miles down the lonely glen road early on a Monday morning to pick up the bus, then on the Friday to make the return journey, but now uphill and loaded with the weekend's homework which weighed down the bag that rested on the handlebars- and to do this through all that the upland winter could throw in her gritted teeth. Nor was that the end of it: after three years of that, she had to quit the familiar Alford lodgings and find somewhere new, 40 miles away in unknown Inverurie, the school bag all the heavier as the Highers approached.
The mechanism for advancement was in place but for those who lived in the further outposts of the Scotland's educational realm, the challenges were as much a matter of emotional and physical endurance as they were of academic promise. Few took it up, or having done so, stayed the course, not when employment on the family croft or up at the Lodge was always available and that, in any case, is what your own parents had done before you. No doubt social expectations played their part in this curtailment of ambition but that, too, was the product of a system which conveyed to those who inhabited its margins that academic advancement could only be won by voyaging beyond the hills and shifting off to some other, lowland place.
By the end of the Second World War, however, the concept of a 'good education' had become enlarged to match the current spirit of postwar social reconstruction. The call went out for schools which were themselves light and airy and which were furnished with accommodation that was purpose built for art, for games, for music- and for hot midday meals and the daily bottle of milk. It was a movement that subjected the continued existence of the small rural one school to a pitiless examination. And it was Balloch which was picked out as its most vivid representative. In November 1946, the Press and Journal ran a series of pieces which asked the headline question, 'What is to become of our Rural Schools?' Each one featured a photograph of Balloch, taken against its bleak moorland setting, and set up to provide an image of the archetypal isolated rural school. The articles themselves condemn such places as 'old-fashioned, with inefficient lighting, outside sanitation, no facilities for drying wet clothes, no accommodation for cookery or handwork classes'. Balloch itself was written off as the obvious example of 'the drab little prison schools' to which rural children had been too long forced to march, at the end of 'a solitary tramp of several miles along field paths or over heathery tracks'.
Posed in such terms, it was clear that the debate was really about the future of the rural community as a whole. Although the weight of argument fell on the transference of the children to larger modern schools, there was also recognition that it had been the small school which was holding the district together. With its closure would come the disappearance of its devoted teacher, 'the one person in the whole village who is interested in every single one of its children… She was the one who ran the Cubs, who organises concerts, who acted as the secretary to this and to that'. Her removal would mean that ' the keystone removed. The whole close structure of rural life will begin to come tumbling down'.
But the process of desertion was happening anyway. Gradually, inevitably, the efforts became too much. The farmers and the tradesmen continued to move away from the glen and with them, went its young life. Families became smaller; the motor car, and the bus, made for other possibilities. At the time of the Education Act in 1872, the parish's population had stood at 550; by the 1940s it had fallen to fewer than 200. In 1948, the final Balloch school photo shows the nine-year-old Elspeth Webster, surrounded by no more than five other pupils. On 30 June came the last Logbook entry: 'The Secretary of State has sanctioned the discontinuance of Balloch School in terms of Section 22A(1A)(a) of the Education (Scotland) Act, 1946. The school closed today at 2.30 p.m.' 
Elspeth Dey : Kingussie, July, 2003
I was born 10/9/1939, at Peatfold, Glenbuchat. Game-keeping had been in the family for generations. My grandfather was a keeper, as was my great-grandfather. It was just the way of life, which the family carried on through the generations.
We all had to develop practical skills. When I was young we kept the family cow and always had fresh milk. Mother made butter and cheese; we also had tatties in the field and carrots and cabbages. The garden was half flowers and half vegetables. We had a good home-grown diet. We had venison, we had fish- father used to go down to the Don because the Glenbuchat estate owned a run of the river just at the foot of the glen. And then there were pheasants and grouse and hares and rabbit. We lived off the land. In the winter-time there would be oatmeal; we kept a girnel of oatmeal. We used it to feed the dogs from it; we'd make up a big pan of porridge and that would do the dogs as well.
It was not a lonely life, ever. We lived beside the Lodge and there were always people coming and going there. In the season-time we would go to the church with the Laird; then my sister and I would be dressed up in navy nap-coats and Fair Isle berets on our heads. No, it wasn't a lonely life. At least we didn't find it so. If you've never had anything else or known any different. well, what you've never had you never miss. There was a burn that ran past the house and in the summer-time we played there for hours at a time. And we fished in it, too. My sister was only two years younger than myself so we always had each other. My second sister didn't arrive till 1948.
The laird was very important in the community. He was the Laird. They were lovely people. He was an ex-Army colonel. The Laird provided employment but he also gave the community activities. At the end of the season he would hold the Laird's Social; everyone would come and do a party-piece. Mum was a singer and she would sing; Dad was a fiddler and he had his own band. He would play for the dancing. The Laird would lay on a great spread. The Laird's Social was a great event which everyone looked forward to. Then there would be the Burns Supper and everyone went for the haggis. There would be dances in the hall. The homes were scattered but there was a community life, very much so.
The postie would bring the paper every day and get his cup of tea. He would do his round on his bicycle and would deliver the local gossip along with the mail. And we had the wireless. Every Saturday and Monday nights there would be dance music and we would have to sit there quietly and listen. The batteries would always be charged up for the dance music on the wireless. Father was very, very musical, as was mother, too. They would sing to us. I knew all the words of all the songs of the day, all the war-time songs. We had our breakfast, dinner and tea to music. Dad was a fiddler who had his own band. He made fiddles, too.
Really, it was a very self-sufficient life. I had a wonderful childhood. It was very warm and secure. It ran on disciplined lines. My dad would look up at the clock at 9 p.m. prompt and we would know it was time to go to bed. He didn't say anything. We would go through and then, 'Have you brushed your teeth? Yes? Well off you go then!', and that was it
School was very important to my parents. If you didn't pass the 11-plus then you had to go to Towie and that was reckoned to be a bad thing. It was important to do our lessons and to get on in that respect. Our parents followed what we were doing in our home lessons. And we had to do our music lessons. It was the piano and you would be sent to the room if you hadn't done your practice each night and on Saturday, too. We never ever spoke back to our parents; you just didn't do that. It was a well disciplined childhood. My dad was strict but he was very fair with it. That was the general pattern in those days.
I was at Balloch for the three years till its closure in '48. It was a one-room school with a little porch as you went in and that's where you would hang up your coats. The toilet was round the back- a dry toilet. I can recall someone who had gone out from the glen to Canada and who sent a box of powdered drinking chocolate to the school so that each day, along with the piece that we took to the school - there were no school dinners- we had warm chocolate to drink. There was also a fireplace and an organ, that stood in the corner; a pedal organ.. Every morning, Mrs Fraser would play it; we sang 'the Old Rugged Cross' Then there were the desks which had lift-up lids, a blackboard, and eventually a telephone that rested on the window-sill. There were cupboards at the back. Letters of the alphabet were kept in an Oxo tin. You could describe it as a bare, austere place. I can remember that Mrs Fraser used to do the floor herself and that she had this stuff called 'Does-mo'. She would sprinkle it on the floor and then sweep it up- she had a special 'Does-mo' broom for that.
Mrs Fraser was an Englishwoman. She was an independent woman who lived up at Backies in one of the crofts. She lived there by herself. We would take milk up to her, from our cow. Dad used to call her 'Glory hallelujah', because she was forever pumping the Bible into us. She was rather lame and, I think, was in her 60s. How she landed up at Balloch I have no idea. Nor can I really tell you how well she fitted into the community. You see, there was no real 'community' to fit into- there was our family, there was the old gentleman and the old lady, and that was about all within the mile, mile and a half of us. The school itself only had about ten at the most on its roll. The shepherds and their families would come and go; there were two boys who lived on a tenant farm. There was the one schoolroom and that was it. Really, Mrs Fraser was simply one of the odd people who were dotted around the landscape of the glen.
We used to go and visit old John Begg. He made pancakes. I say 'old' but he was probably only in his 50/60s - he just seemed old to us then. Then there was Jean Farquharson and she was a real character. She lived into her 90s. She taught us to dance; Dad made swords and she taught us how to do the sword-dance. These were people who made out with their little croft and their few sheep and one or two cattle. I can remember her tea-pot: she would use this black old kettle to fill it up and then would push it into the ashes to keep it warm; the teaspoon would stand up in it. She also made scones and pancakes. I can remember once how my sister went missing and Dad couldn't find her anywhere. Eventually she was tracked down at John Begg's where she was being entertained with pancakes. In those days children were felt to be quite safe; there was no feeling of any danger from other people. We would just call out to our parents, 'We're just off to visit Jean, to visit John Begg' and they would reply, 'Fine- off you go!'
We learnt a lot at Balloch, things I can still remember to this day. Geography- I learned all the countries and their capitals and products. History, too- from Julius Caesar onwards. While only young we were taught all the Books of the Bible, the Ten Commandments, the Beatitudes. We got all the Old Testament stories- Noah and Abraham and so on. Then there was the arithmetic- we would chant out the tables and the measurements: 12 pence to the shilling- 20 shillings to the pound' and so forth. And we did composition- we had to tell the story of what we had been doing at the weekend and in the holidays. We did Art, with chalk on our slates. Really, Mrs Fraser did everything.
I was quite happy at the school. You just had to get on with it; the school is what we had and we knew we had to accept that as our school and that was that. We all got on well enough in our little school together.
Then, in 1948, the school closed down. I passed the 11 plus. Going to Alford meant staying in digs. I stayed with the local butcher's van-man, Bob and Mrs McIntosh. They had two boys and a girl and lived in one of the prefabs in the village. He was the van-man who drove up to deliver to the Glen, so there was already a connection. Otherwise, it was left to people to search out their own digs. During the week I stayed with the McIntoshes and went home for the weekends. I had to cycle the five miles up the glen on my old bike. I would cycle back on the Sunday evening to catch the bus at Bellabeg or sometimes wait till the Monday morning and cycle down to the Bridge of Buchat and catch the bus there.
The digs cost a pound a week and the county paid for that, along with the season ticket for the bus. I didn't enjoy being away from home. I always swore that none of my own kids would be subjected to that experience, no matter where I ended up. The arrangement lasted four years. You just had to go through with it; there was no option if you wanted a full Secondary education. But it was a huge adjustment, especially for a young girl. It was two years before my sister came to join me- she got a bike provided by the county as well. At the start Dad had no transport; later, if it was stormy, he would drive down and the bikes would go in the back of his jeep.
The school at Alford meant lessons and more lessons. It was a continuation of what we had already had but now with new subjects like Geometry and Algebra- and French and Latin. We also got hockey and netball. The methods were much the same: the blackboard, the teacher talking and writing, the pupils sitting there and listening quietly. And there were books and more books. You needed a bigger bag to carry them in. We had lots of homework- the weekends would mean three hours or so of the stuff. I had to take all that home and my suitcase on the carrier of the bike. In the winter-time it would be dark before I got home. I had a torch on the bike. I used to carry this load all the way in the dark up the glen by myself. That's how it had to be; you just had to get on with it by yourself. But there's many a night I would be cycling up that glen in tears and in the dark, anxious to get home!
I certainly did my homework! Dad would see to that. We used to sit there for 2/3 hours, especially at weekends. Pages and pages of it. They don't seem to get it like that now. You might get a poem to learn off by heart. It might be 'Ulysses' by Tennyson or the Ode to this or the Ode to that by Keats. There was always a lot of learning off by heart, right from the Primary stage upwards. I can still remember most of them.
I was at Alford for three years. Then I had to go on to Inverurie. If you wanted to go on to take your Highers that was where you had to go: Alford was only a Junior Secondary in those days. Then came my year at Inverurie. That's where I went to do my Fourth year- and I was still only 14. They wanted me to repeat the Fourth year, but I said, 'No'. So I left. My father and I had a big battle over it, but I left.
I do regret it now but then I was fed up with having to live with other people and being shifted about. I was now going to a school 45 miles from my own home. There was all that cycling home at weekends. I'd had enough. I left school in the summer-time; the people on the estate asked if I would like to go and work for them. I went to Tornashean; the people were called Thessinger. I worked the season there and then I went down to London with them. They had a house in Cranly Gardens. London was just wonderful. I had Saturday afternoon and all day Sunday off. I was the sub-parlourmaid with another girl who was sub-housemaid. She was from Northumberland. My immediate superior was Miss Nora Philpott and the head parlourmaid was Miss Bridget Meenie- she was Irish and used to go around the house singing all these Irish songs. There was a kitchen maid there, too, and she was from Udny- her father was cattleman at the Mains of Cairnbrogie. Both married Strathdon boys. We'd all go to watch the Changing of the Guards, then go home, have lunch and go off to St James's Park for the afternoon. Just wonderful!
Then they came back up for the following season and I went to be nanny to the factor's children at Candacraig. I did that till I got married and, well, here I am! Bill was an under-keeper for a while with Bill Duncan at Edinglassie. We moved from there when our boys were still at the infant stage to go to Tomintoul. Instead of £5 a week we were now getting £7:10shillings, lived in a farmhouse and got 5 tons of coal. That's when we got a Landrover: MSP 787- I still remember the number. You know, I've had a wonderful life!
Once, every glen would have its own little school - like Balloch- and its church. All within walking distance of wherever you happened to live. But that's changed now. I was very happy with my education. I think the Scottish system is a good one. It used to ensure that, wherever you were and whatever your background was, you got the basics firmly into you. But that's changed, too. Nowadays, they don't seem to be able to spell, even! Do you know, there was this advertisement in the paper the other week and it was for a keeper-stalker- 'Keeper-stocker'! And words like 'permanant' …no-one seems to be able to spell even the ordinary words any more. I was really taught these things, and punctuation, too. The children don't seem to be so thoroughly taught now. And there's the problem of discipline. Kids know they can get away with anything nowadays. It's not just the school- I'm talking about a general social problem here. We're friendly with some teachers and they just shake their heads over it all: 'What can we do?'
Picture added on 20 December 2009 at 22:52
This picture is in the following groups
school
Comments: