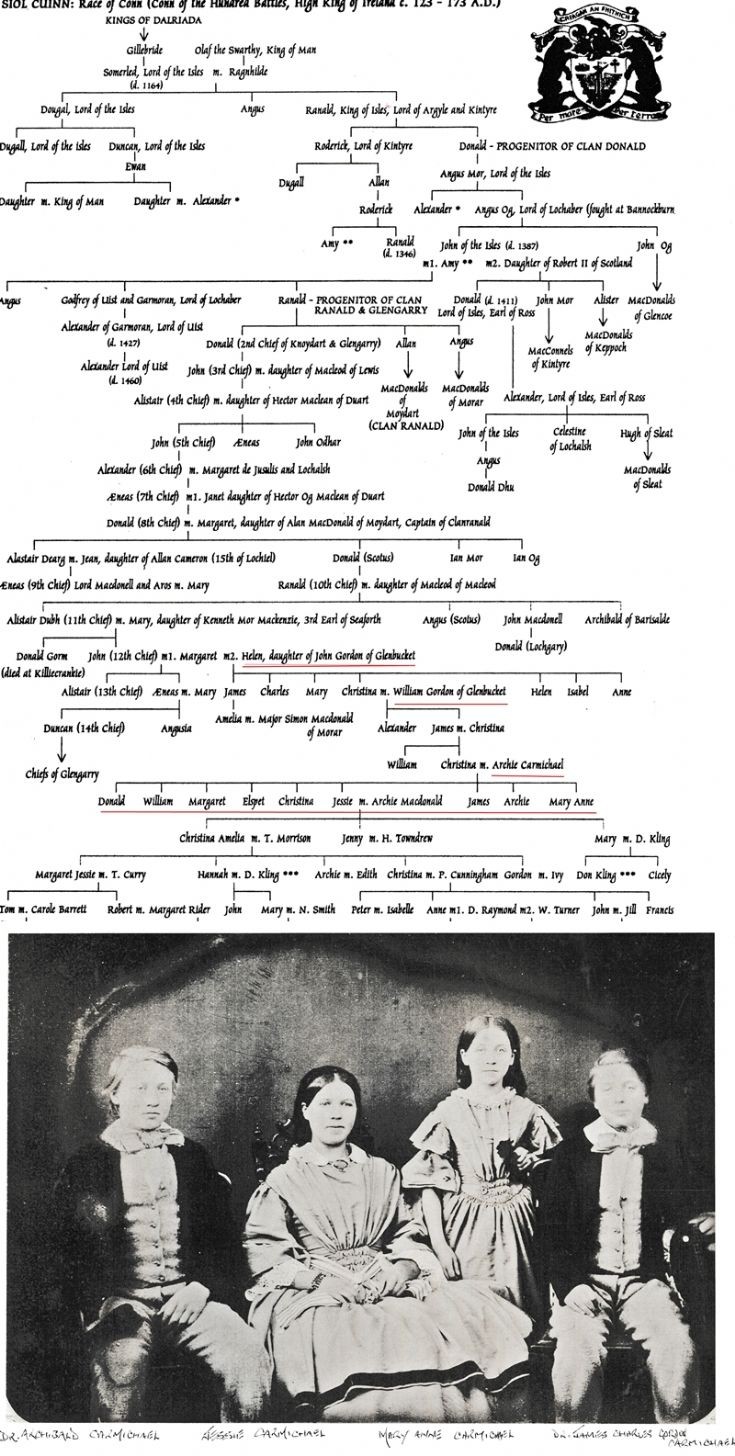 The Glenbuchat Image Library
197 Carmichael Family, Glenbuchat ConnectionsCarmichael Family, Glenbuchat Connections.
This enquiry started with the discovery of a
grave stone in the Aberdeen Snow Kirk
with one of the 'Gordon of Glenbuchat' descendants commemorated on a gravestone
In response to this I was contacted by Robert Curry who is a distant relative of the Carmichael family. Robert has kindly supplied the photograph of Archibald Carmichael's painting (shown on the page with the gravestone) and has now supplied a family tree (shown above) connecting the family with John Gordon 'Old Glenbucket' and photographs of the Carmichael family both sons and daughters.
Pictures above show:
1. The Carmichael family tree with the Glenbucket connections, as researched by Robert Curry's niece Dr Lisa Curry?
2. Group Photograph of the four younger children.
Subsequent pages have details of the
sons
and
daughters
of Archibald Carmichael
The family connection with Old Glenbucket is twofold.
Firstly' Old Glenbucket's' daughter Helen married John MacDonnell 12th of Glengarry in 1727-1728. He was the 12th chief of the clan 1721 until 1754.
Secondly, they had a daughter Christina who became the second wife of 'Old Glenbucket's' grandson William.
The family trees are below:
Some information from 'Patricks People' web site
John Gordon, Laird of Glenbucket
Jacobite 1715 and 1745
Baptised: About 1675
Marriage: Forbes, Jean
Died: 16 June 1750, Boulogne, France
Spouse
Forbes, Jean
Children:
Gordon, John younger of Glenbucket, Jacobite, 1745
Gordon, George in Jamaica, Dr
Gordon, David of Kirkhill, Jacobite 1745, residing in Delavorar
Gordon, Alexander
Gordon, Helen
Gordon, Isobel
Gordon, Christian
Gordon, Jean
Gordon, Clementina
Gordon, Cecilia
Gordon, Henrietta

John Gordon, younger of Glenbucket,
Jacobite, 1745
Born: 1693
Marriage: Ann Lindsay,
Died: Before 1755
Spouse
Ann Lindsay,
Children:
Gordon, Jean
Gordon, William Jacobite 1745, Captain



William Gordon, Jacobite 1745, Captain
Baptised: 23 December 1725, Aberdeen,
Spouse 1.
Hellen Reid,
Children:
Gordon, John
Spouse 2.
Christina Macdonell,
Children:
Gordon, Alexander
Gordon, James Charles



James Charles Gordon,
Born: About 1769
Marriage: Stewart, Christina
Spouses
Stewart, Christina Born: About 1775 death 1874
Children:
Gordon, Christina Amelia
Gordon, William Alexander
RC Priest, Very Reverend Dean
"Christian's brother, William Gordon, was also a priest (they had five other siblings who did not survive childhood) and he is occasionally referred to in Carmichael's letters. William Gordon was educated at Aquhorties and Valladolid and was ordained in February 1831. He spent much of his career at St Andrew's, Glasgow, before moving to Greenock, as detailed in letter five. He died on 15 December 1880, aged seventy-three."



Christina Amelia Gordon,
Born: Abt 1805, Tomintoul, Banffshire,
Marriage: Carmichael, Archibald Wright on 7 January 1833 in Kirkmichael Parish, Banffshire,
Died: 5 August 1874 at 7.00 am, Blairs, Kincardineshire,
Spouses
Carmichael, Archibald Wright
Children:
Carmichael, Donald Rector of St Peter's Seminary, Bearsden, Glasgow, Canon
Carmichael, Margaret
Carmichael, Christina
Carmichael, Elspet
Carmichael, William RC Priest, Reverend Mr
Carmichael, Jessie
Carmichael, James, Dr
Carmichael, Archibald, Dr

Archibald Carmichael,
Born: Cargill, Perthshire,
Marriage:, Christina Amelia Gordon on 7 January 1833 in Kirkmichael Parish, Banffshire,
Died: 27 June 1885 at 10.30 pm, Roslea Villa, Bellshill, Lanarkshire,
In the 1851 census, Archibald was recorded as a house carpenter by occupation. He is also referred to in My Dear Nephew as a stonemason who took over the building of the RC Church at Tomintoul after the departure of Father Donald Carmichael in 1839.

John Gordon Laird of Glenbucket,
Jacobite 1715 and 1745
Christened: About 1675
Died: 16 June 1750, Boulogne, France
Spouse:
Forbes, Jean
Children
Gordon, John younger of Glenbucket, Jacobite, 1745
Gordon, George in Jamaica, Dr
Gordon, David of Kirkhill, Jacobite 1745, residing in Delavorar
Gordon, Alexander
Gordon, Helen
Gordon, Isobel
Gordon, Christian
Gordon, Jean
Gordon, Clementina
Gordon, Cecilia
Gordon, Henrietta

Helen Gordon,
Born: About 1705
Spouse:
John Macdonnell, 12th of Glengarry in 1727-1728
Macdonald, James Of Glenmeddle
Macdonald, Charles, Captain
Macdonnell, Mary
Macdonell, Christina
Macdonnell, Helen
Macdonald, Anne
Macdonald, Isabella



Christina Macdonell,
Born: About 1740
Died: 1800
Spouse
Gordon, William Jacobite 1745, Captain
Children
Alexander Gordon
James Charles Gordon


Picture added on 19 July 2015 at 23:10
This picture is in the following groups
people