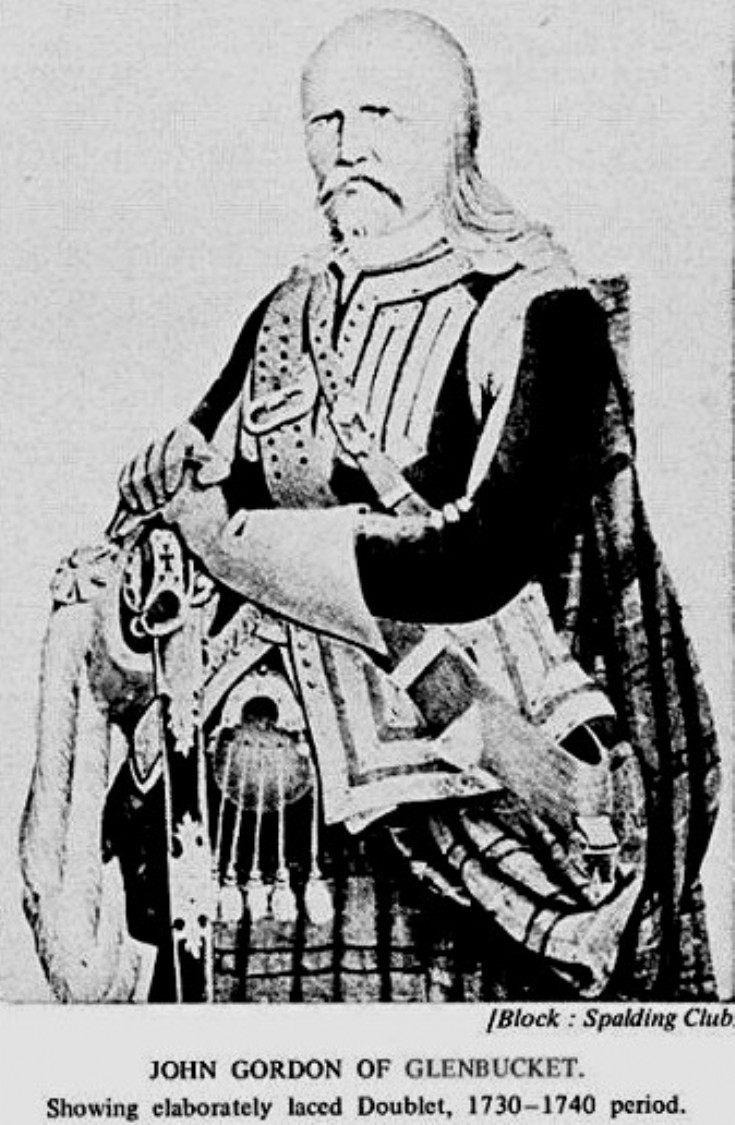 The Glenbuchat Image Library
5 John Gordon Laird of Glenbucket See entry 40 for more details on the Glenbucket Regiment See entry 39 on attempted murder of Glenbucket
· Christened: 22 May 1675, Old Machar Parish, Aberdeenshire, Scotland
· Marriage (1): Mary GORDON of Badenscoth [5269] on 2 June 1691 in Fyvie Parish, Aberdeenshire, Scotland
· Marriage (2): Jean FORBES [5377] on 13 March 1743 in Glenbucket Parish, Aberdeenshire, Scotland
· Died: 16 June 1750, Boulogne, France
John Gordon was the laird of the tiny estate of Glenbucket in Aberdeenshire near the Banffshire boundary. He was described by his contemporaries as a craggy old man of seventy two, his body twisted by rheumatism. He was a man of little property, living in Strathbogie, liked highlanders and had married his many daughters amongst them. However he was bailie to the Duke of Gordon and this increased his status greatly. He stayed at
Glenbuchat CastleJACOBITE
Described as an inveterate Jacobite, he had been out, as a sixteen year old, in 1689 with Dundee on the braes of Killiecrankie, and, in the 1715 Jacobite rebellion, he commanded a battalion of Gordons at Sherriffmuir when he was about forty two years of age. In the '45 uprising he held the rank of Major General, but due to his age and infirmity he did not exercise his rank. Although, he did lead his regiment at Culloden, where he is described as sitting at the head of his regiment on a grey highland pony.
Despite his age, he still had a considerable reputation with the government troops. In February 1746, a raid on Corgarff castle by a government force of 300 foot and 100 dragoons was abandoned due to a rumour that Glenbucket and his men were in the area. He supposedly gave King George nightmares; during the march to Derby, King George is said to have exclaimed in alarm "De great Glenboggit is coming!"
THE '45
In the 1745, Glenbucket led 300 men for Charles Stuart. According to some sources, Glenbucket might just have made it to Prestonpans, as he was a member of the official council consisting, amongst others, of the Duke of Perth, Lord George Murray, Lord Elcho, O'Sullivan etc. who met at Edinburgh after the battle and decided to stay there for the meantime.
Yet other sources maintain that Glenbucket with one hundred and fifty of his men was with the Prince shortly before he set out to raise the standard at Glenfinnan on the 19th August 1745, and that Glenbucket even brought the Prince news of the first Jacobite victory. After the disastrous defeat at Culloden, Old Glenbucket actually survived and managed to escape from the battlefield and gathered with others like Lovat, Lochiel, the MacDonnel chieftains etc. at the head of Loch Arkaig, hoping to re-launch the 1745. He finally escaped on a Swedish sloop on 25th November and was expressly exempted from the Act of Indemnity of June 1747.
INFLUENCE
In 1737 Glenbucket sold his tiny property for £700, and by 1738 he was with the Pretender in Rome with a demand for the Royal Presence in Scotland. He failed in Paris, on the way, to sell the idea of a Franco-Jacobite invasion of Britain to Cardinal Fleury. Though scarcely even a laird, Glenbucket was an impressive personality. His three daughters were married to significant highland chiefs: Forbes of Skellater, Macdonald of Glengarry, and Macdonnel of Lochgarry.
On the Prince embarking after Culloden, Glenbucket went with him, and a few others, to France, where they landed but made a short stay at Versailles, living incognito, until they left the castle of St Antoine in three coaches. The first coach contained the Lords Ogilvie and Elcho with the venerable Glenbucket and Mr Kelly, his secretary, in the second was the Prince with Lord Lewis Gordon and the eldest Lochiel, who was master of the horse, in the third were four gentlemen of the bedchamber, ten footmen and two pages, and these were all the retinue his Royal Highness had
In 1739, more or less as a result of Glenbucket's journey to Rome, a group of Jacobites formed an association to forward the cause. The Associators, as they were known, were a curious crew, being the Duke of Perth, described as "a foolish horse-racing boy, his uncle Lord John Drummond of Fairntoun; Donald Campbell the younger of Lochiel; his uncle Sir John Campbell of Auchenbreck, a rarity among Campbell lairds for his Jacobitism, as also for his maybe not unconnected "desperate fortune and little interest"; the Earl of Traquair; his brother the Honourable James Stewart and Simon Fraser Lord Lovat.
Glenbucket is said to have received his rank of Major-General from the Prince himself.
The material here is reproduced, with thanks, and with one or two small alterations from a fine website which you should visit at:
From: Scotwars.com
Full details about Glenbuckets life from
"The Gay Gordons : some strange adventures of a famous Scots family"
By J.M.BULLOC THE GREAT GLENBUCKET
The "General" — a "very old man," and "much crouched." He rode on a 'Mule grey Highland beast." He wore the '' Highland dress," sported a white cockade, carried pistols, and marched in a hostile manner "at the head of a little army."
You might think this part of the "descriptive" writing of a modern war correspondent; with some emendations it might answer to Cronje after Paardeberg. As a matter of fact it is a collection of phrases from the evidence given in his absence at the Southwark trials of the Jacobite rebels against John Gordon, the laird of Glenbucket — by far the most determined of all the Gordons who followed the flags of the Fifteen and the Forty-Five.
He belonged to an obscure branch of the Aberdeenshire Gordons, who were intimately connected with the ducal line as factors or "chamberlains" of the Strathbogie portion of its enormous estates. His grandfather, George, started life on the farm of Noth, and then purchased from an older family of Gordon the estate of Knockespock. George's son John purchased in 1701 the lands of Glenbucket from another family of Gordon, who having become too big for their position smashed up. This John reinforced the Gordon blood in his son, the famous Jacobite, by marrying a Mary Gordon (belonging to the Badinscoth family) ; which accounts for much in the General's career.
Born in 1673 or 1676, he was educated at King's College, Aberdeen, where he had the notorious Lord Lovat as a class-mate, and started his career loyally as a little laird. The parish of Glenbucket, which abuts on the hilly frontier of Banffshire, and its neighbouring parish the Cabrach were then and remained for many years afterwards out-of-the-way, wild places, inhabited by a particularly Independent race of people, so that the men who ruled them were leaders of great force of character. Thus the laird became a power in his district, and though but a vassal of the ducal Gordons, ''Glenbucket," as he was called, showed himself superior to his "superior" by his attitude to the Jacobite risings.
When the first of them broke out, the reigning Duke of Gordon was too old, too chary, and too closely watched to join. He had had quite enough of rebellion — in 1689 he had tried to hold Edinburgh Castle for the Stuarts — and had so little stomach for more adventure that he showed great disinclination to have any parleyings with the adventurous Colonel Hooke in 1705 and 1707, all the more perhaps because the Duchess, with whom he had parted company, was hand-in-glove with Louis's envoy. His son, the Marquis of Huntly, did join the rebels, but so half-heartedly that his name became a by-word. From the very first, however,
Glenbucket remained staunch to the Stuart cause, and Major-General Alexander Gordon of Auchintoul also did much for the honour of the house.
The die was cast on August 27, 1715, when Lord Mar held his historic meeting of the chiefs at Aboyne, one of the cradles of the Gordon family, and Glenbucket, who attended, was soon in the thick of it. The people in Deeside, Cromar and Strathdon refused to join the standard, so Glenbucket was requisitioned " for cureing of this " —
If you send but one hundred men (wrote Mar, September 9) it will do a great deal of good here (Deeside) and elsewhere too, and it will not only occasion my getting more men out of this country than otherwise I will do, but it will make them go with much better heart, and prevent desertion. . . . For God's sake make dispatch. . . . I'll be impatient to hear from you.
With the best will in the world, however, Glenbucket found the utmost difficulty in recruiting. The vassals of Lord Huntly would not condescend, he says, to give a man, and he adds — ''without laying their insolence no man will willingly march from the country." At last he managed to get a following of 300, and joined the Jacobite army at Dunblane.
He came in after a hard march complaining ''griveouslie of his men's being fatigued, and of all their powder and armes being poyson'd with rain." They were a lawless lot — Glenbucket himself describes them as a ''rabble" — for no sooner were they quartered in the church and town house than they set about breaking the benches to make a fire, Gordon being unable to hinder them.
Glenbucket was ordered to march to Dunfermline on October 22, and execute a series of movements which so undisciplined a battalion would have found next to impossible. As a matter of fact Colonel Cathcart surprised Glenbucket's men in their beds at Dunfermline and took several of them prisoners, including Gordon of Craig, and young Gordon of Aberlour. Indeed, the whole expedition was mismanaged, ending disastrously at Sheriffmuir, where
Glenbucket fought in the first line and presumably came off as badly as his master Huntly, who became the butt of the ballad-mongers.
Glenbucket, as the Marquis's right-hand man, was sent north with his rabble to checkmate the Earl of Sutherland, who, though a Gordon himself, threatened to harry the lands of his chief the Cock of the North. Major Eraser describes Glenbucket's appearance on
the scene as "all bragg," but it was sufficiently fearsome to make the magistrates of Banff pay cess to him, and led Keith folk to call his men "monsters of wickedness " when they looted the town.
Early in January 1716, Glenbucket again went south to kiss the '' King's " hand at Scone ; but the game was up within a month, for the '' King" left his realm in February, and Glenbucket surrendered to the laird of Grant in March. He was taken to Edinburgh Castle, from which he was ordered to march out with other prisoners on September 5, apparently on agreeing to put away his Stuart proclivities. At any rate. General Carpenter, who says he had ''great power with all the Duke's followers and tenants," was quite satisfied with his protestations
During the next thirty years he led the life of a local worthy, siding with his chief in all things. This devotion nearly cost him his life in the spring of 1724. The Duke set him a particularly difficult task — to tackle the Macphersons. His Grace never quite understood the Highland temperament, and both he and his father, the first duke, greatly incensed the Macphersons of Badenoch, who took a special dislike to Glenbucket as the instrument of the Duke's wishes. So as he was preparing to go to bed one night in March, 1724, five or six of them broke into his house. At first they wished bygones to be bygones. They would pay their rent if he would withdraw the legal process he had taken out against them. Gradually edging near Glenbucket, who was ill at the time, they suddenly fell on him with their dirks and inflicted some wounds. But ill as he was, Glenbucket managed to get his broadsword, and, laying about him, as he doubtless did at Sheriffmuir in 1715, drove them out of the place. The incident roused the wit of Alexander Pennecuik, who wrote —
May that accursed clan up by the roots be plucked.
Whose impious hands had killed the good Glenbucket.
Villains far worse than infidel or Turk
To slash the body with your bloody dirk —
A fatal way to make his physic work
Rob Roy and you fight 'gainst the noblest names,
The generous Gordons and the gallant Grahames.
His submission to the throne began to show signs of wavering. General Wade began to doubt him as " a dangerous fellow " — an opinion not shared by old Murray of Broughton, who though on the same side thought him a man of '* very mean understanding with a vast deal of vanity." He sold Glenbucket in 1737 to Lord Braco, the ancestor of the Duke of Fife, and went to live at a farm called St. Bridget. Apparently part of the purchase money he lent to the Duke of Gordon, who borrowed ;£2o,ooo from him in September 1742 ; the other part he spent on a journey to Rome, whither he went in 1738 with a scheme to raise arms for the '' King." His Majesty, however, did not think him well advised, but gave him a major-general's commission, which was burned in his house by the rebels eight years after, greatly to his grief. Finally, the ''King" dispatched him with instructions to "converse" with the leaders of the movement in Scotland.
When he came home he found he was closely watched by the Government, for the Duchess of Gordon gave Sir Robert Walpole warning. The Duchess, who was the daughter of Charles (Mordaunt), Earl of Peterborough, was a strong Protestant, and changed the whole point of view of the ducal family, which had hitherto been Roman Catholic in spite of many presbyteries. But as soon as the breath was out of her husband's body in 1728 she dismissed his domestic chaplain, the Rev. Robert Gordon, who translated the New Testament into English, and brought up her children as Protestants. When the Rebellion broke out she was in receipt of a pension from Government ; her eldest son, the third duke, was all for the House of Hanover, two of her sons were in the Army, and another, Lord Lewis, was in the Navy, which he abandoned to follow the Stuart flag.
Whatever devotion went to the Jacobites came from Glenbucket, who had precisely reversed the process of his ducal master, although the instrument was again a woman's power, for his daughters had married real Highland chiefs, whose sympathies were pro- Stuart, and in some cases strongly against the ducal house. His eldest daughter, Helen, married, about 1727, John Macdonell of Glengarry, and thus became the step-mother of the Alastair whom Mr. Lang has described as "Pickle the Spy" — greatly to the indignation of some of Glenbucket's living descendants. She was a very capable woman, and proud of her descent, for, as her husband wrote to the Earl of Sutherland in April 1745, she was "delighted with your clanship to the family of Gordon." James Roy Macgregor describes her as "a lady of great spirit." Her sister Isobel married her husband's first cousin, Donald Macdonell of Lochgarry, in 1737.
So old Glenbucket kept the flag flying. '* "I made it my business," he wrote to Edgar, "to keep up a spirit among the King's friends until the Prince came, who I had the happiness to wait off when he arrived (old and infirm as I was) amongst the first, and continued with him till that fatal and unhappy day at Culloden." Although he was seventy, if not older, he threw himself into the movement with the energy of a young man, so that the list of
rebels shows 71 men of the name of Gordon as against 60 Macdonald and 57 Grants.
It was a proud day for Glenbucket when he was able to deliver into the Prince's hands at Glenaladale (August 18), Captain Swetenham of General Guise's regiment, who had been captured four days previously when on his way from Fort William to Ruthven. He received the Prince at Glengarry later in the month, and then began to recruit. Here, however, he found considerable difficulty, as he wrote from Huntly to the Prince on September 14, 1745 —
"I did beleive when I parted from ye armie that I would mete with no difficulty in raiseing ye countries I should come into on ye least advertisement when I had your highness' orders for that effect ; but, contrair to expectation, by advyce of some unthinking people, I have had great difficultie to get some few togither, and designe to march Munday next, but farther delay, if some unseen accident does not happen. I have not faill[ed] both by word and writ to use all endeavours to prevaill with great and small to joyne ye royall standart, and all pretences cane be used for delays I dayly gett. It would be troublesome to your Royall Hyghnes to give an long detaill of what has happened or I yet come, since ye bearer, Collonell Stewart, knows a good daill, as I have informed him to inform your Highnes, I waite here to have intelligence of two compannies of foott in their march to joyne Cope, and, if practicable, I inclyne to stope their march. Iff I faill or fynd it not convenient, I have advyce that I will fynd some horses and arms with some disaffected persone ; and without loss off tyme shall have ye happines to waite of your Royal Highnes. I wish success and prosperity to your Royal Highnes, and ever remaine, with all dutiefull respect.
May it please your Royall Highnes, your Highnes most humble,
most devoted and most obedient servant, "
John Gordon.
Glenbucket's methods of getting recruits were frequently conscriptlve. Thus a boy of seventeen, Charles Gordon, son of the farmer of Binhall, near Keith, told the judges at Southwark that he was seized by Glenbucket when on the way to a fair with his father's cattle. The father offered money, but Glenbucket said he wanted men not money, and
damned him. So he was carried off on a hussar's saddle " surrounded by forty," and all his father, who had previously been imprisoned for protesting against Glenbucket's interference with the Duke of Gordon's men, could do, was to say, " Perdition catch the old villain ! " John Burnett, another prisoner, also declared that he had been forced by Glenbucket to take up arms. He had fled from his house, but had been tracked down by the old man and "taken
away with drawn swords and bound." Charles Gordon, the laird of Terpersie in the parish of
Tullynessle, declared in a petition to the King that he had been press-ganged by Glenbucket, "who by force and violence forced every person residing in that country to join in that horrid attempt " ; but this did not save him, for he was hanged at Carlisle. Terpersie's son James, though only a fifteen -year-old school-boy, was "seized and forcibly carried into the
rebellion " by a party of Highlanders, under the command of Glenbucket's son David. He was
made a lieutenant in the artillery, which helps you to understand why Prince Charles never became king, and though so young was transported for his pains. A near kinsman of this boy, Alexander Gordon, of the Auchlyne family, who had been in Aberdeen when the old Pretender was proclaimed in 1715, attacked the rebels who were performing the ceremony, and wounded some of them. "It was the first blood that was draven — the first advantage gained in Scotland for His Majesty's cause," he afterwards stated in a petition to King George. Another example of Glenbucket's conscriptive measures occurred in the case of a tenant in Strathbogie named Leith, for he declared in his petition that Glenbucket threatened the neighbour- hood where he lived with "fire and sword" if the people did not join him. Leith '' fled his own house as long as there was any part to fly to in that country and showed all manner of reluctance to join."
Nor did he stop at poor tenants. Being in want of cavalry, he raided the studs of several lairds, and even seized some of the Duke of Gordon's horses, which made Sir Harry Innes of that ilk send his own horses for safety to the laird of Grant.
Having at last mustered enough of men, Glenbucket marched south to join the Prince, which he did on October 4, no doubt sorry that he had not been able to take his part at Prestonpans. He supplied a hundred men to the Prince's guard, and took a prominent part in the march into England on his ''little grey Highland beast." Lord George Murray says he carried a targe. "It was convex and covered with a plate of metal, which was painted. The paint was cleared in two or three places by the enemy's bullets."
At last Derby was reached in the beginning of December, and the old man must have been glad to get a rest. He was put up in Alderman Smith's house, and his men were billeted over the town. A remarkable account of their manners was sent to Sylvanus Urban by a Derby correspondent —
What really did afford me some mirth for an unavoidable laughter was to see these desperadoes, from the officers to the common men, at their several meals, first pull off their bonnets and then lift up their eyes in the most solemn manner, and mutter something to themselves by way of saying grace, as if they had been so many primitive Christians.
Their dialect seemed to me as if an herd of Hottentots, wild monkeys in a desart, or vagrant gypsies had been jabbering, screaming, and howling together ; and really this jargon of speech was very properly suited to such a sett of banditti.
The melancholy retreat to the north found the old man as active as ever. On February lo his men blew up the castle of Ruthven, and summoned the garrison to surrender — which, however, it did not do without terms. After harrying his district he went off to Culloden, fighting in the second line. Old as he was he managed to escape. "Is that a
man or a beast ? " asked a child in Auchindoun as it saw the retreating figure of the old man '' crouching '' over his pony — perhaps the little grey Highland beast which carried him to Derby.
For the next six months he led a miserable life lurking. While hiding in the neighbourhood of his home he saw his house pillaged and burned, and had to take refuge in the house of the Gordons of Croughly, a family which has produced an amazing number of notable soldiers, including General Sir Benjamin Lumsden Gordon, R.A. He gives a vivid description of his misfortunes, bitter even from the distance of France, nearly eighteen months after the battle—
The damned Government of England had such spite and malice against me that when all was burnt, and taken away (her back clothes and children's), she got into a poor cottage, a tenant's house, there came a party to burn it, and did burn the next, which obliged her in the melancholy situation the children were. I had come out of a desert that morning, twelve miles from any country; where I had lain forty-eight hours under a rock, and had travelled terrible rocks and mountains in a prodigious rainy night ; and after I had got a bit of meat, such as my wife had to give, I laid myself down on a little straw to rest ; but behold, I was not lain three minutes, when I was told there was a party within half a mile, which obliged me to make off in haste. The party came before I got to a hill on the other side of a river, and burnt a house at the door where my wife and children staid, which obliged them to remove in all haste. I retired to a little wood, and continued there till night, when I travelled till daybreak, and lay in a hill all the day. Some parties were near me searching ; however, I was not found. When the night came I went to a poor man's house and changed my clothes with his rags, prevailed with the poor man to go along with me, and he put me down to the coast in the low country and returned, where I turned beggar, and allowed my hair to grow on my face, but that could not save me. Whatever disguise I put myself in, I had the misfortune to be suspected. Parties were sent from all places to search all the shires of Aberdeen and Banff for me, and not spare money to find me.
The Government grew particularly bitter when it was known that the Prince had managed to
escape. "Our future care," wrote Lord Albemarle to the Duke of Newcastle on October 15, 1746, "must be employed in apprehending those chiefs that remain behind," among whom he names "old Glenbucket." But the old man managed to give them the slip. On November 5, in company with four other Jacobites, he smuggled himself aboard a Swedish sloop on the coast of Buchan and was landed in Norway. He never saw his native land again.
He had become so used to ''lurking" that he skulked about Norway till March ( 1747). "Through great mountains, rocks, and woods, in stormy, snowy weather," he plunged on and on, until by the time he reached Stromstad in Sweden he was able to go no further, and took to bed with fever. '* Nobody," he wrote, with a shudder at the memory of these dreadful months, "expected life for me — people sitting by me every night, still expecting when I should breathe my last ; yet it has pleased God to recover me. ... I hope to see the King restored, and more heads go off or mine goes."
One thing troubled him greatly. His commission as major-general, granted by the ''King" in 1738 on the occasion of his visit to Rome, had been burned up when the Government troops fired his house, and he felt the loss of it acutely. So he wrote to Edgar from St. Ouen on August 21, 1747, to get another copy of it for him —
If it is my good fortune [to get the duplicate] — for I esteem the honour more than anything this side of Time — I would beg the commission should be writ on parchment, because paper cuts and even loses the seal.
Edgar duly sent a copy of the commission, which had been dated January 28, 1738, so that the old man was made happy — only it was sent on paper, not on parchment, " on which I have never writ any commission of that kind."
Glenbucket moved in 1749 to Boulogne, which had become a great " howff " for the exiles, but they were all in poor spirits, and he flickered out on June 16, 1750, at the age of ". His name and fame, however, long Hungered in Aberdeenshire, where the legend still goes that George H sometimes would waken from his sleep in terror lest "de greet Glenbogget vas goming."
The rebellion proved a fatal blow to the family. By his wife, who was a Forbes, he had four sons and six daughters. The eldest, John, '' younger of Glenbucket " as he went on being called, was blind — he had" drunk " himself into that state according to a manuscript in Mr. W. B. Blaikie's possession. He was taken prisoner at his own house, carried to Inverness, and placed on board the transport Pamela, which took him to the Thames, where he was
captive for months, undergoing " great hardships." His "inclinations," he told the Duke of Newcastle in a petition of September 6, 1746, "Med him to remain quiet and peaceable," and he enclosed a certificate from his parish minister to bear witness to his total blindness. He was not released, however, till June 1747, when he was sent home with a solatium of ten guineas. His son William was also ''out" in the rebellion. Old Glenbucket's second
son, David, of liirkhill, was his right-hand man. A third son, George, who was a lieutenant in the old man's regiment, was captured at Culloden, and died as a doctor in Jamaica. The fourth son, Alexander, was killed while fighting in the Russian service against the Turks in the Black Sea. In 1740 old Glenbucket wrote to Admiral Thomas Gordon, the Governor of Kronstadt, about '' my son Sandie."
The estate of Glenbucket remained in the hands of the Duff family until 1884, when it was sold to a Sussex banker, whose trustees sold it in 1901, when its new owner reverted to its earlier name of Glenbuchat. But the old warrior who rode into England on the" little grey Highland beast" will undoubtedly go down to history as Glenbucket.
From
Epitaphs ans Inscriptions North East of Scotland
THE church of Kirkmichel in Banffshire, was a mensal church of the Bishops of Moray ; and the district belonged, in property, to the McDuffs, the old Earls of Fife. S. Michael's Well adjoins the church where, at one time, " the winged guardian, under the semblance of a fly, was never absent from duty," and which the superstitious invoked to their aid on all emergencies, whether of life or of death !
The church, a plain building, erected in 1807, stands upon the haugh, on the south side of the
Aven. It contains five monuments. One is of freestone, and thus inscribed : —
"Here lies the body of Ann Lindsay, spouse of John Gordon of Glenbucket, and daughter of the Right Hon. Sir Alexander Lindsay of Evelaek, who departed this life on the 9th day of June 1750 aged 50 years. Also Hellen Reid, spouse of William Gordon, Esq. of Glenbucket, and daughter of the Right Hon. Sir John Reid of Barra, who died on the 5th of May 1706, aged 52 years ; and Lilias McHardy, spouse of John Gordon, Esqr. of Glenbucket, and daughter of William McHardy, late in Delnilat, who died May 30, 1829, aged 78 years.
And of Elspet Stewart, spouse of Charles Gordon, Esq. St Bridget, and daughter of William Stewart, Esq. BaUentrewan, who died 2d February 1856, aged 03 years".
— A slab in the churchyard, which has disappeared within the last year or two, bore the following epitaph to the lady first-named in the above inscription : —
Here lies the body of M Lindsey, lady Glenbucket, d to the Hon. Sir Alexander Lindsay . . Evelick, who in the 50th year of her . . . departed this life on the 9th of June 1 . . . : —
Her stately person. Beauty, Great,
Her charity and lowly heart ;
Her meekness and obedience ;
Her chastity, and her good sense,
Do all combiue to eternise,
Her fame ami praise above the skies.
—The Gordons of Glenbucket were descended of those of Rothiemay, whose grandfather was of the family of Lesmore (Nisbet). The Lindsays of Evelick (Perthshire), were descende:! of a younger brother of Sir Walter of Edzell. In I666, a baronetcy was created in the Evelick branch of the Lindsays. The Reids, who bought Barra about 170 years ago, were created baronets in 1707.
Picture added on 19 January 2010 at 15:27