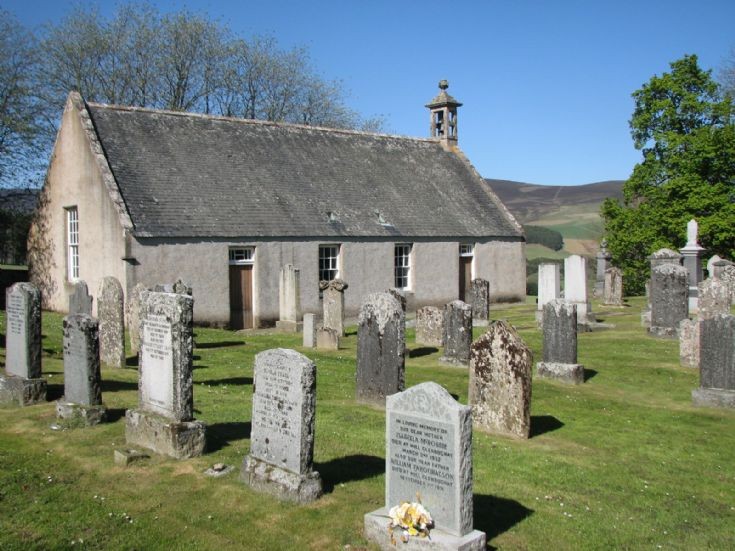 The Glenbuchat Image Library
1 Glenbuchat Kirkyard ProjectGlenbuchat Kirkyard Graves Project
Starting in autumn 2014 a project is underway to record the details of the gravestones in the Glenbuchat Kirkyard. The project will be carried out gradually over the next few months.
The project aims are:
1. To protect and preserve the grave stones
2. To Photograph all the stones and display them on the web site
3. To record the texts on all the graves.
4. To link the people recorded in the stones with the family histories contained in the Glenbuchat Heritage Web site.
At the time of writing, the fallen gravestones have been lifted and restored and now look as good as new. The Forsyth grave/monument which was in many bits is being restored. The graves have been photographed and it is hoped to clear and identify the worn flat stones.
In the following pages are:
Background information on the Old Glenbuchat Kirk and Kirkyard
2015 Plan of the gravestones with text itemising the graves and eventually linking them all up with a photograph.
1907 Graveyard map and 1855 details of Epitaphs
Finally there will be many pages of photographs to which it is hoped to add text from the stones and family linkage to other web site pages.
The grave photographs are in some cases indistinct partly due to wear and tear but also due to the angle of stones to the light. In some cases techniques have been used to enhance the view of the writing which may not reflect the true colour of the stones.
Picture added on 02 October 2014 at 22:54
This picture is in the following groups
church
Comments: