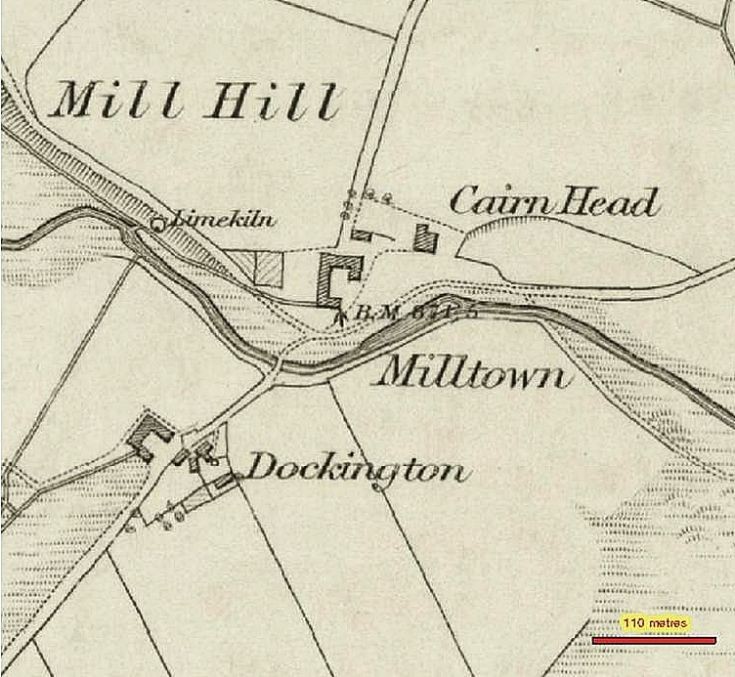 The Glenbuchat Image Library
94 The Milton 1850 Map
The Milton is a farmstead at the centre of Glenbuchat just beside the river Buchat.
Milton comes from Mill Town implying there was a mill there previously. In fact the Roy map of 1750 records the place as 'Mill of Glenbucket'. This must have preceded the existing Glenbuchat Mill further up the Glen which was built in 1829. The map indicates that the buildings were on both sides of the road, unlike today
(
Note the comment below about the 1696 census shown a 'walker' possibly someone who worked in a Waulkmill. Also note the comment about the mill lade and mill wheel axle.)
Noe the Ordinance survey abbreviation
BM
. "The abbreviation 'BM' stands for Bench Mark. A bench mark is a mark, the height of which relative to Ordnance Datum has been determined by spirit levelling. They usually take the form of a horizontal line, with an arrow pointing up from below, situated about one metre above the ground's surface level. Occasionally bolts, rivets, studs and metal plates or brackets are used."
Today there is a house for workers on the Glenbuchat estate and farm buildings.
Click for picture of The Milton today
Click for 1750 map of Milton
In the past the Milton was occupied by:
1696 Poll Book
MILNTOUN OF GLENBUCKET.
Item, Robert Milne, tennent, and his wife, generall poll £0 12 0
Item, John Bmnach, his servant, his fee is £8 per annum, fortieth pairt wherofis 4s., and generall poll 6s., both is 0 10 0
Item, Elspet Watson, his servant lass, her fee is £4 per annum, fortieth part whereof is 2s., and generall poll 6s. both is 080
Item, Arthur Rainy, weaver, and his wife 0 18 0
Item, George Alexander, walker, and his wife 0 18 0
£3 6 0
1841 Census Milton 1+1 unocc.
John Reid 85 Farmer y.
William Wattie 13 y.
Ann Galishand 15 F.S. y.
Mary William 35 F.S. y.
James McPherson 35 Ag. Lab. y.
James McHardy 20 Ag. Lab. y.
John Anderson 14 Ag. Lab. y.
1851 Census Milton
John Wattie Head Mar 47 Farmer of 95 acres (empl 2 Lab) Aberdeenshire, Kildrummy
Charlotte Reid Wife Mar 42 do, Glenbucket
Charlotte L. Wattie Daur U 18 Farmer's daughter do, Old Machar
John Wattie Son 12 Scholar do, Glenbucket
Jean Wattie daur 11 Scholar Banffshire, Gamrie
Helen Wattie daur 8 Scholar Banffshire, Gamrie
Charles Wattie Son 5 Aberdeenshire, Glenbucket
William Forbes Serv U 18 Farm Labourer do, Strathdon
William Moir Serv Mar 43 Farm Labourer do, Tarves
From the web we have more information about some of the above tenants:
Milton was the home of
John Reid (1755-1844)
and the birthplace of his son the Rev'd William Reid (1804-1882) Minister of Auchindoir and Kearn for 46 years
From
The Reids of Rinmore site
we have more details about the Reid family also highlighted in the
Baltimore page
John Reid William (1804-1882) gained an M.A. and became minister of the united parishes of Auchindoir and Kearn: he in turn married Elizabeth Mary Scott (1814-1890) and they had 9 children, three of whom are detailed below:
Third son Alexander John Forsyth Reid KCB, MA, LLD (1846-1913) became a Major General in the Indian Army and Hon. Col of the 29th Punjabis., marrying Alexandra Catherine Dyce Stewart (1863-1928) eldest daughter of Sir David Stewart of Banchory, Devenick and Leggart: they had no children.
Fourth son was Robert William Reid MD, LLD, FRCS (1851-1939) Professor of Anatomy at Aberdeen University 1889-1925. John died on 5th October 1844 and is buried in the churchyard of the Old Kirk of Glenbuchat.
Fifth son was Dr William Reid MD (1854-1918). Doctor of psychiatry at The Royal Asylum in Aberdeen.
From
Strathdon Vital Records
Catherine Chree, Retired (single)
Died 1945 September twenty-ninth 7h 10m AM
Milton, Glenbuchat
F: 76 years. Parents: Alexander Findlater Chree, Farm Servant (deceased) & Elizabeth Chree ms Forbes (deeased)
cause: Carcinoma mammae 2 years, Pulmonary Oedema.
As cert by Douglas McBain MBChB Strathdon
informant: L.E. Ness, Niece, Gate Lodge Glenkindie
1945 September 29th at Glenbuchat. Walter C Davidson, Registrar
John Wattie, Farmer (Married to Charlotte Reid)
Died 1890 February Seventeenth 11h 0m PM
Milltown, Glenbucket
M: 86 years. Parents: William Wattie, Gardener (deceased) & Helen Wattie ms Ronald (deceased)
cause: Old Age, 2 years. As certified by Peter Rough MB CM
informant: John Wattie, Son
1890 February 24th at Glenbucket. Alexr Callam, Registrar
From
The Kildrummy Families siteJohn Wattie
1804 - 1890
Birth 10 May 1804 Kildrummy
Died 17 Feb 1890 Glenbucket/Glenbuchat
Family Charlotte Reid, b. 27 Mar 1808, Glenbucket/Glenbuchat
Married 27 Nov 1830 Glenbucket/Glenbuchat
Children
1. William Wattie, b. 25 May 1828, Glenbucket/Glenbuchat
2. Charlotte Reid Wattie, b. 02 Oct 1832, Old Machar
3. John Wattie, b. 12 Dec 1837, Glenbucket/Glenbuchat
4. Jean Wattie, b. 27 Sep 1839, Glenbucket/Glenbuchat
5. Helen Wattie, b. 21 Aug 1842, Glenbucket/Glenbuchat
6.
Charles Wattie,
b. 05 Mar 1846, Glenbucket/Glenbuchat
7. Mary Forsyth Wattie, b. 31 Jan 1852, Glenbucket/Glenbuchat
Histories census
1841 enumerated @ EasterMontBleaton, Gamrie (farmer) with wife and children Charlotte, John and Jean
1851 enumerated @ Milton, Glenbucket (farmer) with wife and children Charlotte, John, Jean, Helen and Charles
1861 enumerated @ Milton, Glenbucket (farmer) with wife and children Charlotte, John, Jean, Charles and Mary
1881 enumerated @ Milltown, Glenbucket (farmer) with wife and children Charlotte, John and Charles
Charles Wattie
1846 - 1888
Birth 05 Mar 1846 Glenbucket/Glenbuchat
Died 25 May 1888 Glenbucket/Glenbuchat
Father John Wattie, b. 10 May 1804, Kildrummy
Mother Charlotte Reid, b. 27 Mar 1808, Glenbucket/Glenbuchat
Histories census
1851 enumerated @ Milton, Glenbucket with parents and siblings Charlotte, John, Jean and Helen
1861 enumerated @ Milton, Glenbucket with parents and siblings Charlotte, John, Jean and Mary
1881 enumerated @ Milltown, Glenbucket (medical practitioner) with parents and siblings Charlotte and John
Dr Charles Wattie
is of interest; he was born in the glen and served as an army surgeon abroad. On his retirement with ill health he must have carried out some medical work in the Glen before his death in 1888. Below is his BMJ obituary
CHARLES LINDSAY WATTIE, M.D.,C.M.ABERD. 1888 (born about 1846)
DR. WATTIE, of Glenbucket, Aberdeenshire, who has succumbed to an illness from which he has long been suffering, was educated at the Grammar School and University of Aberdeen. On the outbreak of the Serbian war he went abroad as one of the volunteer surgeons sent out by the Marquis of Bute, and merited the special thanks of the Serbian Government. Dr. Wattie was also attached to the army in the Russo-Turkish war, under the command of Mahomet Ali Pacha, and was present at many of the principal engagements up to the time when Sofia was captured. On that occasion he was, along with another English surgeon, taken prisoner and confined for six weeks, but on the conclusion of then war he received the thanks of the Turkish Government, and was awarded the Third Degree Order of the Osmanieh by the Sultan. Since returning home Dr. Wattie's health has gradually broken down, and three years ago he had to retire from active duty. BMJ July 7th1888
Other snippets from the web
"The ox that gained the challenge cup at the Smithfield Christmas show in 1896 was bred on Milton by Mr. John Wattie ;"
"Moving on again, we came down to Milton, where we had the pleasure of an introduction to
Mr Wattie, who is not only a newspaper correspondent, but also a poet."
Click to see a
poem sent by John Wattie to the Peoples Journal entitled The Whistle
From the Book of Glenbucket
"The Glen turns out first-class Aberdeenshire polled cattle : Glenbuchat and Strathdon seem to be their native country. The ox that gained the challenge cup at the Smithfield Christmas show in 1896 was bred on Milton by Mr. John Wattie ..."
From the Lancashire and Cheshire Antiquarian Society - 1899
"On the Milton Farm of Mr. Wattie, in Glenbucket, equidistant from the two previously described, there is another Picts' house. It is in a field above the smithy. The entrance to it, I am informed, was stopped by the present tenant's father in consequence of damage to his crops by trespassers visiting it. It deserves to be chronicled that it is there."
Picture added on 25 January 2011 at 21:50
This picture is in the following groups
farm
Comments: