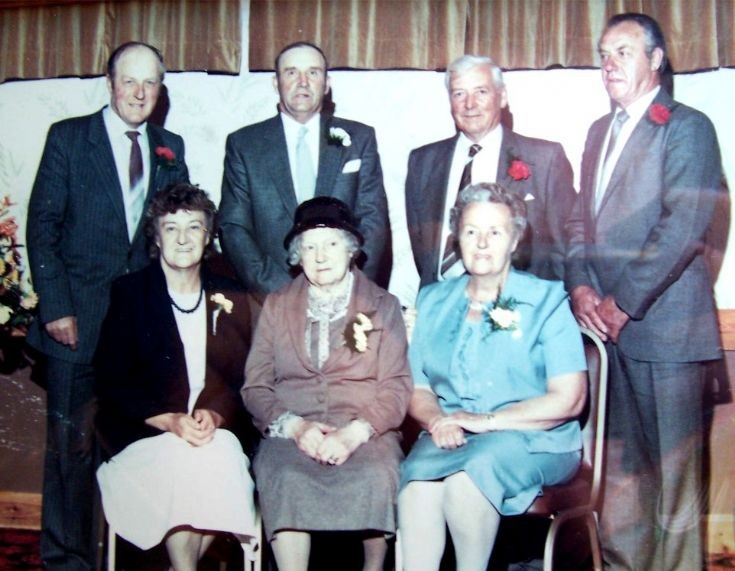 The Glenbuchat Image Library
69 Mrs Grant and Family
Mrs Grant with four sons three of whom farmed in Glenbuchat
Jim Grant (Smithyford and Beltimb); Bert (Sunnybrae and Belnaboth, also Toddyhill in Glen Nochty); Bill (Upperton and Netherton); George (who left the Glen to go to Brora),.
Front row: Mrs Grant and her two daughters, Agnes and Jessie.
From
"Demise of a Strathdon fermtoun"
When the estate gamekeeper was killed in the war, the laird had promised his widow, Mrs Grant, a cottage in Upperton and a farm for each of her three sons. Until about 1942 she lived in what is now the only remaining cottage, and when the sons grew up they took over the farms of Upperton, Netherton and Smithyford.
The following relates to Albert Grant from the above photo and gives his recollections of school and life in the Glen.
The life story of Albert Grant, Glenbuchat
(Transcript of an interview by Dr David Northcroft at Ballater, September 2003)
Reproduced with kind permission of David Northcroft
I was born in 1922. My father was keeper and an estate worker. This is what brought him to the Glen. He was making his way up the ladder a wee bit. He came as second keeper; he was under Alec Duncan- Bill Duncan's father. We stayed at the Cottartons, just beside the castle, Glenbuchat Castle. You can see the house right across from Willie Thomson's house. Willie's at the Mains; he's a bit older than me- 89, I think.
I lived in the Glen up until the time I left school. But when my father died in 1936 we flitted up, to that spot where that chap [John Nisbet] was about in the fields inquiring after the lime kilns. This was
Redroof cottage
; the laird gave it to us because the Third Keeper naturally moved up to take my father's place, you see. My father died of bronchial pneumonia at 36- the kind of thing that could be cured nowadays but then all you had was a couple of aspirins and a currant drink. My mother then had to bring us all up as a widow. There were six of us: I was the oldest- there were four boys and two girls. You can see us all in that photo over there.
( above)
That was taken at the wedding of my younger son at Westhill in 1982. That's my sister, the one in blue; she was in South Africa. It was an awful job getting us all together in the one spot. I'm second from the left; that's my youngest brother on my right. He's George; he was at Brora a long time, as manager of a farm up there. Then one of my other brothers had the farm at Upperton in the Glen; the other had Smithyford and I had Sunnybrae. So, the three of us had all three of the farms along that side of the Glen. Mary, the sister who went to South Africa- she was with her husband who was managing a factory in Johannesburg that manufactures motor parts.
After growing up in the Glen, I went over to Deeside to a farm there. This was just before the war started. To the Glen Tanar estate. My brother George went to Dee Castle the following year because the son had gone to the war and they were needing somebody to take his place. He got married and then went over to Torphins, then up to Brora. I left Glen Tanar and then went to a farm up here at Ballater, up Glen Cairn, to the grazing. I got married, then went down to Crieff in Perthshire for a wee while, then came back up, to the Forest of Birse. I was five years there. The laird then let out the farming and the man who came in…well…I then saw an advert in the 'Scottish Farmer's Weekly' for someone to bring out and rear up lambs. That's always been my great interest- sheep. I was working with the Wilfords- a famous name in sheep at that time. This was down in the West Calder area; I was there for ten years. But I'd always had the ambition to run my own flock and I came back up to the Glen when one of the farms was out to let.
By this time, I was 40. I had three boys and two girls by this time. Later, my legs started going, I needed a hip operation so I retired over here, in Ballater. My son is still in the wee bit land I settled for a start. A good few thousand acres of hilltop land, over at the top of Glen Nochty. Working that land used to take me past the Balloch School two/three times a day. I was doing that for twenty years. It was seven mile, up and down that glen. So I kent the
Balloch school
well enough, though my own education was at the Glenbuchat school.
What can you say about the
Balloch now
? It's a sad, sad sight. You'd have thought somebody could have bought it over and made a fine house if it. But I suppose there's the question of who it belongs to. It would have been built long before Aberdeenshire Education Authority came into existence. It's the same with the hall at Glenbuchat. This was built through local initiative- and maybe it's the same with the school. Some people held a meeting and had a collection to get things going. The laird gave the land for it and the folk of the Glen raised money for the building. £300- they built the hall and the dyke and then a separate place for making tea. It was maybe £350 altogether. I was the Treasurer and Secretary for many years. The first night's collection raised £50. Quite possibly the Balloch school came about in the same way, when they decided they needed a school for that side of the Glen, for the children the other side of Dulux and down the Glen of Nochty. It would have been too far for them to walk to the Glenbuchat school.
It's like our church. The local people raised it but now it's shut, the manse is sold and all the money's gone to Edinburgh. The hall still sits there but it's hardly used now. Community life in the Glen has gone right down. It's as if there's nobody there now. My son tells me that the folk who do live in the Glen hardly speak to you- except in the winter-time when their cars are stuck in the snow and they need some help to get it out! That's the only time they feel the need to speak! But when I was there it was so different. The
Glenbuchat Haggis
would be the great event at the hall and it would be famous for miles around. The Committee organised it. Then there was the Ghillie's Ball at the end of the season. Elspeth's father, Alec, [Elspeth Dey- Webster] had a
band
- the Camerons it was called- and they played at it. He used to make fiddles, too. And the
Christmas party
for the children, with Santa coming along. There'd be whist drives and the
Guild
had its meetings in the hall. There were a lot of dances, too.
Now I can't even tell you half the folk who live in the Glen. Most of them are just there to sleep; they work in Aberdeen. Once I knew everybody. Now they just drive by in their cars. There was a chap who did come in and try to take over the running of the hall; this scared the locals off- their attitude was, 'Just let him get on with it, then'.
When my father died, my mother flitted. Previous to that, I started going to Towie for my Secondary education. I got granted money for a bike- it was a five mile journey. But when she flitted up to Redroof that put another three miles on the journey. I had to go that road all through the year, including the worst of the winter. In the winter of 37, there was so much snow that I was off school for eleven weeks. When I returned after the Easter holiday it was if I'd been staying in a foreign country: I'd been out in the sun and the snow and my face was as brown as a berry. All the rest were as pale as anything, with sitting inside at the school.
That poem my father wrote about the Balloch we think is dated '1932', but that can only be approximate. My father would have known the families whose children went to the school; he would have worked with them when he was up at the Lodge for the shootings each season. Once when they were out grouse driving, they found this skeleton up on the hill. Presumably it was a tramp of some kind. He was found with a tin for tea in his jacket. The police came in, his remains were taken away with the tin and he was buried. My father wrote another poem,
(see below)
about the incident- 'The Unknown Tramp'.
I suppose the school took my father's imagination because it looks so remote. One of the most remote in the whole of Britain, I think. But once it would have served a lot of places- the Nochty families, those in the Glen from Dulux downwards, Badenyon, Ryntaing, the Sluggies where Michies, the chemists, came from, Newseat and so on. And there would have been a lot of little cottages in between. But at my father's time the roll could only have been a dozen or so. Yet according to the histories in 1880 or thereabouts, there would have been over 50.
For us in the Glen when we were growing up, it was like a foreign country, over there at the Balloch. They even got their summer holidays a month later than we did. They'd be run according to the grouse season. We had six weeks into August and then could fit in maybe three weeks beating on the estate. That would put the boots on your feet for the winter, that five shillings a day. You'd reckon to get £3 for your spell each summer. When I left school I went to the Kirkton to help with the harvest but I can't mind what the pay was for that. I do know that in the spring when I went to Kinclune to help the shepherd with the lambing, I got ten shillings a week plus food. For that you'd be up at five in the morning and not get back to your bed till night-time. Then when I went to Lost- I was two years there- I got £17 for my six months work. You'd get your food- you'd get as hungry as anything. They wanted me for a fee for another six months but by that time I just wanted to work with my own sheep so I said, 'no'. I did stay on till August and then I got the job at Glen Tanar. The wages there were 32/6 a week, but I also had to pay out 12/6 to the landlady for my lodgings. That left me £1 for myself. This was 1939 and the war was about to start. I was17 and a half.
I enjoyed my childhood in the Glen. The things that stick in your mind from the very early days are the Christmas parties and the three-mile trudging to school each day. I mind that my father would lay weasel traps on the tops of the dykes and we had to look at them as we passed to see if he'd caught anything, any stoat or weasel. Would also go out with him on a Saturday to snare rabbits. He had a great interest in bees and was something of an expert. He would cycle over to Towie and give lectures on the subject. He'd sell a hundredweight of honey each year. In those days everybody had bees in the Glen- the fields would be white with clover and then we were on the edge of the hills with their heather. But then the farmers stopped the clover and the bees went down.
So, my childhood was filled with work and jobs as much as it was the school. You used to think you were somebody to be out helping your father at his work. If ever there was sheep who needed shifting my brother and I would be out helping. The ewes and their lambs would come back for the summer grazings, up on the hills. They had to be driven up from Insch or Kinaddie, down that way. You'd walk miles with them. It was the same when I was at Deeside and I used to bring them down to Finzean and over at Ballogie for the grazings. It could take three days. Thousands of sheep would be coming along Deeside in those days and you took them by foot, with your regular stopping places for the night. You can't do that kind of thing now: now it's just a matter of a float driving up to a field and unloading the flock straight into the field.
When I was a boy, the school was a lot less important to me than the work on the farm. Saturday was my big day in the week. The school itself never bothered me much. I had a problem with my health when I started, at six. I was in the Sick Children's for about six weeks with these swollen glands. There they would rub this stuff into me and make my skin burn with it. All down one side, then the other. I mind when my father came in to fetch me home, they told him, 'You'll have to carry him- he's too weak to walk'. Six weeks- now they can scarcely wait a day before they get you out of the bed and home again! I had the usual children's illnesses too- measles and chicken pox. In fact, when I was at Glen Tanar I got the measles and had to return home. That was difficult because you had to take the dogs that I used in my work back with me as well.
I would also try to slip off school unofficially. There was a time when we were at Upperton and this old man died the first winter we were there and we went up to help the widow out. But generally my mother was quite strict- a sair heed would be no excuse for missing the school. But I'd get away whenever I could. The dominie at Towie knew how far I had to travel each day and often he would say to me, 'Grant, I've got these letters to post- you can go home now and post them on the way'. This was Dominie Smith. I liked him even if he did have his methods. First thing in the morning, he'd fire off these ten questions of mental arithmetic- 'To liven us up a bit'. Then he'd get us into the 'Line of Disgrace' as he called it, according to the number of answers we got wrong. This would mean a belting, down the line. Some of the girls would be greeting as they waited and he was reaching into the drawer for the strap. But he wasn't really all that bad. Certainly, though, if he went out of the room and found you yapping or fighting together with your deskmate when he came back he'd let you have it. I sat with this big lad called Young and his father was a keeper, too- the desks were two-by-two- and sometimes we'd be sparring away and then, my goodness, we'd get it all right. Three days into the war, that chap Young was dead. He'd joined the navy and got drowned.
School meant a long day for me. I used to bike it backwards and forwards to Towie and when I got home I was tired enough for my bed. But I started at the Glenbuchat school with
Miss Forgie (in picture)
. She would take you on her knee- I still mind that. She was a middle-aged woman, a granny kind of lady. There's two things I mind about that school; the cold feet and the hot cocoa. They gave us cocoa poured from this enamel jug which had a wee bit milk and hot water in it. We got cold feet because you'd walk all that distance to the school in your tackety boots with your feet getting a sweat up and then sit there with them getting cold again. The school was just the one room heated by a stove.
I also mind the dentist. That was a terrible ordeal. You could hear the rest of them howling away and if you were the last in the line it was sheer torture. The dentist would just appear at the school and start pulling out teeth. There wasn't much in the way of fillings; if the teeth were at all rotten then out they would come. I mind once meeting the old school dentist when I was with a flock of sheep over at Deeside and he came by in his car. I felt like taking my stick to the windscreen of his car. He put my mother into an awful rage as well. I'd had these teeth extracted and a few days later was still in absolute agony. What had happened is my mouth wouldn't stop bleeding and he'd just shoved this piece of gauze into the sockets and it had started to grow in. She felt she should have been told. But the dentist would just come along, pull out your teeth and then you'd have to walk home. Nobody thought much about it- except that time when my mother got angry at the gauze.
Then the school nurse would come along and examine our skin and our scalps for lice and for infections. There was this skin complaint- I can't mind the scientific name for it- that children who'd been with cattle could get. There was no real cure for it till a Dr Reid in Strathdon professed to find an ointment for it. I mind a whole family of kids got it- and one of my brothers too. It was the farm children who got it, sometimes whole families of them.
I was happy enough at the school. We would have had our share of bullies same as anywhere else, I suppose, but it was all right. At Glenbuchat we got our three Rs and then at Towie I got Geometry and Algebra- I never made much of that. I think if I'd known my father was going to die I would just have stayed on at the Glen- after his death my mind was too much on other things to make a success of the school. I had to do the garden at home. That meant an awful lot to my mother, having her own vegetables for the soup. That's what we had to exist upon- the garden vegetables and the hens. When I got that £17 for my six months fee I took it home to my mother; you'd get maybe a couple of shillings back for yourself on the Sunday night just before you went back to work. And then I started smoking so I needed money for that. I gave it up a long time ago but in those days everybody smoked- you couldn't be a man unless you smoked. In fact, just as I was waiting for you to arrive I was talking with this old lady and she was telling me how her husband had given up smoking six weeks before but got so grumpy that when the van came along she bought him 60 and threw them at him. When you were smoking and out with the sheep on the hills the worst thing was when you got down to the last two in the packet and you'd be wondering how you could get more. I mind once this shepherd who was going to Glenshee with the sheep and he stopped every car and asked, 'Have you a cigarette please?- I can't get to the shops for any'. By the time he was finished he had enough fags to last him till Christmas; some people were just saying, 'Here, take the packet and finish them'.
I got a bursary for Towie. I reckon James Thomson- Willy's uncle- had something to do with that. He was awful keen on education and was on the Council Education Committee. Whenever he was ill and had to go to his bed I had to visit him and tell him all that was going on at the school. He would do a lot of visiting into the schools. This uncle actually lived with Willy's parents, alongside his own wife. His marriage was barren and they had sorted it out between them. This uncle would look after the business side of things while Willy's father did the farm work.
The brother next to me did all his schooling at the Glenbuchat school. But after that they arranged transport and the rest of the family would travel to Towie at the age of twelve for their Secondary schooling. But it was possible to do all your schooling at the Glen. I think that's what I would have done if I'd known that my father was going to die. I would have avoided all that travelling and been able to help at home more. Really, I mind more about the going to the school and the coming back from it than the school itself. When I was a little chap still, I used to walk along behind this big girl
Mary Thomson(in picture)
. from the Dockington; I can mind putting my feet into her big footsteps in the snow. We had hard winters in those days, in the 30s, and in the 40s, too. I think the outside world meant far more to me than anything that could be going on in the school. Sheep, the horses, the beasts- that's where my interest was. I mind once coming home from the school and seeing this chap at the Mains shovelling neeps so I wanted to be in there doing it too. I got a shottie and went right down the field but then I found it very difficult, the aiming of the horse into the right drill for coming up again. But that's the kind of thing I wanted to do- always.
You mastered the reading, the writing, the counting and that was useful enough- but by the time you'd got on top of that you were still only 7/8, with more than half your schooling to come. I mind getting 2/6 prize money at the Glen for 'making the most progress in the year'- I shared that prize with a girl, Ella Stewart. I was bright enough, you see and my parents were thinking I could maybe go onto something- like a minister or a teacher. But then my father died and that sorted that out. In some ways that was a good thing because if they'd tried to make me go on, I just don't know what would have happened! That would have been terrible for me- I think I would have pined away. When it came to all this Geometry and Algebra at Towie…but I'd found the mental arithmetic no problem. Probably if I'd kept at it I'd have found the key to open it up but I just wasn't interested. And we got French, too, and that did nothing for me either.
Really, what I wanted was to get away from the school as soon as possible. I think that after those eleven weeks off because of the snow both the dominie and myself gave up on my education. In the end I couldn't get away fast enough. I'd had more than enough of the whole business. It wasn't so bad going down to the school but those 7/8 miles back, often into the wind and up all those braes. There were no 21-gear bikes in those days and with many of the braes there was nothing for it but to get off and push. There's this chap at 'number two' here and he was at Glen Tanar with me - he later came over to Ballater to start up a garage. Well, his dog had pups and we decided to take them home to my mother. He had a car but when we got to the foot of the brae leading up to my house he just said, 'Gee whizz…!' You see, there was still a good bit to go after the road was finished and it was all steep going. And I was doing this journey all by myself- I was the only one in my time to go on to Towie from the Glen and try for a proper Secondary education. I'd been picked out at 12 when I passed the Qualifying exam and been given this money for a bike to enable me travel. £3. 19 and 6 it was. So I was obviously doing quite well at the Primary stage and maybe was clever enough to have gone on. But that wasn't for me. Educating yourself in the way you want to go- and knowing what that is- that's what counts. I was aye lucky that no-one forced me into anything I didn't want.
I've no regrets about not going on with the schooling. Lots of times betweens I would be wondering if I'd ever get my own flock of ewes but I managed it in the end- and that was what I really wanted in my life. When I was down south at West Calder and working at the tupping, I was thinking that what I was doing for a boss I could be doing for myself- and in the end I got there. To me, that was completely satisfying. I realise that nowadays I would probably be expected to go on, take my Highers and go to College. That's what happens to lots of them but, really, maybe they'd be better off taking up a hammer and becoming a joiner or a plumber. We hear a lot about 'education, education, education ' but not everyone can get a collar-and-tie job. Today I might have got sucked into that system but fortunately I've been able to do in life what I've wanted to do.
It's been the same with most of my schoolmates. They left school at 14, they were farmers' sons and that's what they followed on to do. I suppose that if I'd really been set on going on I'd have had the chance to do so, but you need to be committed to what you find yourself doing. If you're in the school wondering about what you could be doing at the sheep or how you could be helping the shepherd with them, then the teachers will soon lose interest- it's the folk outside the school that'll take up the interest in you then.
I didn't hate the school but in the end I found it an irrelevance. I mind the great moment when Willie Ellison came up the park and my mother was standing watching him draw near and was wondering what was going to happen- and then he came up and asked if I could go and help the shepherd! Well, that was right into my barrow. I'd have been just 15 when that happened, and a year away from the school. At first, I'd gone to this place to help with the hairst. Then over the winter my mother sent me to help my granda and granny with their croft at Kingswells. But really, she was helping me- she realised what I wanted by then. Then I got this job with the lambing in the springtime and that took me up to May-time. Then Charlie Lawson up at the Lost farm had been to the feeing market but hadn't been able to get anybody and he heard there was this loon - that was me- and so I got taken on by him. That was my great education you could say, because he was such a nice man and he taught me a lot. There was a show at Strathdon I mind and he decided to enter his sheep and that really fired you up.
That's what I liked- out in the fields doing things, working towards something. It's the same when I was farming on my own account. You had to do the books and I could do them all right but they were always the last thing I wanted to be at. I'd look out anything to do before I forced myself to them. I just wanted to be out in the fields and on the hills. You could say that the school gave me the equipment I wanted for my particular life even though it ended at 14. Another thing it gave us was our manners and that's important. My parents were aye strict about manners, too, and so were the teachers. That's something you never forget, it's like your reading and your writing. I always had to respect my elders.
My own children have been a bit like me. I thought my youngest son - he was born in '59-would go into the sheep too, but no, he went to Alford and took his Highers. He started at the Inland Revenue but thought that would be a dead end. He said that he could see himself sitting at the same desk till he was 65. So he got out and started up a computing business- you can se his business card over there- 'Ian Grant', Hilton Drive, Aberdeen. He was very good at football; he was capped for Scottish schoolboys when he was at Alford. He went to Arbroath and did the rounds of most of the Highland League clubs. The crowd used to shout, 'Come on the Inland Revenue man!' I wasn't really all that interested in the game myself. I mind I once went to see him play at Forfar but I found myself more interested in the fighting in the stand than in the game. I'm not really a great football follower.
Alan was Dux at Towie but then he left and worked at home. He didn't go on to Alford. Albert, he went into sheep farming, like me. My wife's parents used to farm at Tulloch just near here. Agriculture's in my family's blood. When you got together what else would you speak about, think about? It's been our way of life. Like the calfie's milk that it sucks in from its mother; we drank in farming just the same when we were young. My Albert spent the first 14 years of his life when I was down in Lanarkshire and he would go to all the sales and get caught up in all the hullabaloo and the talk of the tups and that. He started at Lindsays at Glen Ogg and then when this farm came up at Glenisla - it's up in the Angus glens, the water catchment area for Dundee- he took it. His place is away up at the top; to look at it you wouldn't think so much would come out of it, it just looks a little place- and there he is in 'The Farmer's Weekly' this week, getting the prize at the Perth Show.
So that's my life. Very little of what I got at school had anything to do with all that. Though I mind the school at Towie did have a wee garden that the boys used to work in - but then my father had his own garden and his bees and, really, that's where I learned about such things. It's been very satisfying. I suppose all this is taking you away from the subject of my education but these are the things that have influenced me. I suppose my life at home and what was happening in the world around me gave me my education. I mind the two brothers, the Wilsons: one became a framer in Lanarkshire and the other at a place near Peebles. One was a master of the dogs, the sheep dogs, and the other was famous with the tups and the breeding of sheep. They would always be telling you that their education was gained from their walk to the school and the walk back again from the school and not from the things that happened in between. I think it was like that for me too; we didn't have a farm but a lot of my school pals folks did and you'd go over and help out on a Saturday, help with the threshing and jobbies like that, and you'd aye be listening in to what the folk were saying- and that's how you learned. Then down in Lanarkshire, in the glens, the people you went to visit wasn't the school master but the farmers and the shepherds- your own kind- the folk who, like you, work with the sheep and the dogs. You'd speak about the different breeds and the pedigrees, not the Prime Minister or world affairs. The only thing you might do is to pass a remark about 'the bloody Government' and that would be it.
I spent the war at Glen Tanar. Most of my pals did go off to the war but although I applied I was always blocked. Twice I went to Woolmanhill to join up but the factor would send a message before me that was that. The Standstill Orders were in operation; I also applied for the position of shepherd at the Mains of Glenbuchat and went over there with my dogs and would have been taken on all right but that was blocked as well. So I stayed at Glen Tanar all through the war. That was the time when Dr More at Craibstone was doing a lot of work on ticks and we did a lot of work with him, trying out different dips and so on.
For me, the great thing was to start up on my own, to have your own sheep. When my father died my mother was left with nothing and had the lot of us to bring up. I had to build things up gradually. If you went off and bought a few sheepies, well that was money your wife wouldn't be getting. You just have to keep striving away at it; it's a long road. I found that if only I could have had another ten years- when I finally set up on my own account the best was already passed. I got this farm in 1970 and when I got up to 550 ewes I thought, well, surely I'm going to make some money now! But interest rates were at 18% - and now you can hardly get any interest at all for your savings…
And all the paperwork- there's too much dictation in farming, they should let folk be to get on with it. The folk that are making the decisions, they haven't had to walk three and a half miles to school when wee and look out for the weasel traps; they've just gone straight off to college and then to their desks. And all these conservation regulations. They shout, 'education, education, education ', but I shout, 'Trees, trees, bloody trees!' It's been a bloody disaster. The countryside is being overrun by all these bloody trees. All the old farms have been overplanted; if you go up to the high ground and look up Strathdon, all you can see is trees. They speak about the view but you can't see nothing! A disaster.
The old glen, our glen, is just a disaster area. The old laird died and his daughter was unable to keep the whole thing going. The estate got broken up and then this Englishman came in and he planted trees on the arable land and over the grouse moor- two and a half thousand acres are now just a blanket of trees. The easy way out at the time, but if you go up there- I go every Monday to Sunnybrae with the papers- and if you go up the back road and then stop and look over, you'll see that all the best bits have disappeared under trees. I realise that the visitor and the outsider might not see it like this but to those of us who've tried to make a living there it's been a disaster.
I think that in education nowadays they ought to go back to the old methods. Especially in behavioural matters. How often nowadays do you see a youngster hold back to let an old lady get on the bus? I think manners are so important. And then you've the drugs scene and the bashing of old ladies over the head to get their money for it. My daughter's son, the one that was born at Dinnet, he's now 16 and training to be green-keeper at the golf. He had to spend two weeks at Cupar as part of his course, but when all the other lads there described how they were going to spend the weekend drinking and partying he got a bit apprehensive and asked his parents to come over and take him home and bring him back on the Monday morning.
There's still a great difference between the town and the country kids. Some of them don't even know where their milk comes from- they think it's just the supermarket- but the country bairns are there yet with their pet lambies and their kittens and the beasts around them.
When I was at school I believed that Scottish education was the best. But it seems there's been a change now. Our way was strict but it worked. Maybe it was a bit hard on the slow ones, on those who were dozy, but for the rest of us it gave us the basics and our manners, too. I mean, those ten questions in mental arithmetic first thing in the morning to wake us all up…I can see him yet, with his moustache bristling above you- yes, it woke us up all right! We got through life all right, too. We got all our basics and we did them properly. There was no scrawling for us; you had to write properly. I can see my copybook yet.
And we learned right from wrong. Both at home and the school. The bobby was an important figure- it wasn't exactly fear but we did have respect. The minister was also very important. There was Sunday school and the church every week. I was an elder for 30 years over at Glenbuchat though I'm sorry to say I've lapsed since coming here. Though I must say that going to church is all right if you're that way inclined but in our day you had to go, you'd be bullied into it if necessary. It was like the school- you'd dodge it if you possibly could!
I would say that I've achieved what I wanted to in my life. I'm quite content- that's the great thing, contentment. At Glenbuchat you had your 60 cattle and in the winter-time you'd take them into the court. You'd go into the house at 5 o'clock for your tea, you'd sit by the Raeburn and maybe have a wee bit nap, and then at 9 you'd go out and see that the beasts were all right. Then in the spring-time the lambs would start up and that was you away for another season. In the summer-time you'd get up at 5- 5.20 in the winter- and not get back to bed till 10. It's been a very full life; a very satisfying life.
And I've met some famous people, too. My brother and I were once coming through Glen Cairn with a thousand head of sheep along the road and then, just by the graveyard there, a cavalcade came up. It was General Eisenhower on his way to Balmoral to see the King. He told me he'd never seen so many sheep being driven along the road like that. We had a chat. Another time at the Aboyne Games, I had this neighbour and he'd been out with his horses and the panniers to collect the grouse for the royal family; he went to the Games and flashed around his money; some tinks got hold of him and beat him up and took his jacket. Well, the next day he was at my door early with a face like a myxomatosis rabbit telling me he couldn't possibly go to the grouse that day and asking me to do it for him. When I arrived, the King said, 'Well we've got a change to-day, then!' I mind how the two young princesses [Elizabeth and Margaret] were always intrigued by my collies. And then when I was living down in Lanarkshire I'd go to the sales and met all the big boys- McGillvray, Adams and the rest.
It was always a busy life. I mind my mother was always working at something. In the evenings she could never just sit at her rest but would always be knitting or darning or patching something. Even when she was old and was making mistakes at it she'd still carry on with her knitting. That was how she'd kept us going at the school, by knitting us jerseys and patching up our school breeks. I mind how the shepherd from up the glen would call by and go off with a whole pile of stockings she had been knitting in the evenings. Kept him going for the whole winter, she did with her knitting.
I think we must have been a gae hardy lot in the North-east when we were being brought up. Now it's the same as anywhere else, I reckon. The kids just get driven to school and fight with their neighbours in the car on the way. No three and a half mile walk for them, altogether in the one group! No weasel traps either! We'd get in at night, do our jobs and be too worn out for any mischief. I'd be in my bed by 7. Before then, there would be the coal and the sticks to see to, some help with the hens and all the rest of it. We all had our jobs around the place. There were my father's ferrets to be fed and the rabbit snares to be checked.
So for me, the school wasn't such a big thing, really. These are the things I remember, not the lessons. The times when I would go off up the road with the shepherd and how it would get dark and you had to find your own way back to the house with no light to help you. Compared to that, the school's just a blur…
A Poem about the event by A. Grant

THE UNKNOWN TRAMP.
While tramping o'er the heather
just th' other day,
I was confronted by a sight
which held me in dismay.
The wilds had claimed a victim,
In person we don't know,
but only can conjecture
he had died amongst the snow.
No doubt he'd travelled far,
had called at many a door
before he came to sleep
at the back o' Creagan Sgor.
The place is rough and hilly,
has got a heathery floor
where this tramp chose to rest
at the back o' Creagan Sgor.
He may have cried for help
like a ship far out from shore,
for the dwellings they are nil
at the back o' Creagan Sgor.
He might have had dependents
for aught that we do know.
Still it is our strong opinion
that he perished in the snow.
If we had only known,
a hand we'd gladly lend
to save this poor old beggar
from reaching journey's end. .
Now he that keepeth watch,
always seems to know,
had been his last companion
while he struggled through the snow.
Upon the place I'll build a cairn,
that who may come or go,
may pause to think upon the tink
that died amongst the snow.
Mr A Grant, Cottertown Cottage,
Castle Lodge, Glenbuchat. 1932
Picture added on 20 October 2010 at 22:05
This picture is in the following groups
people