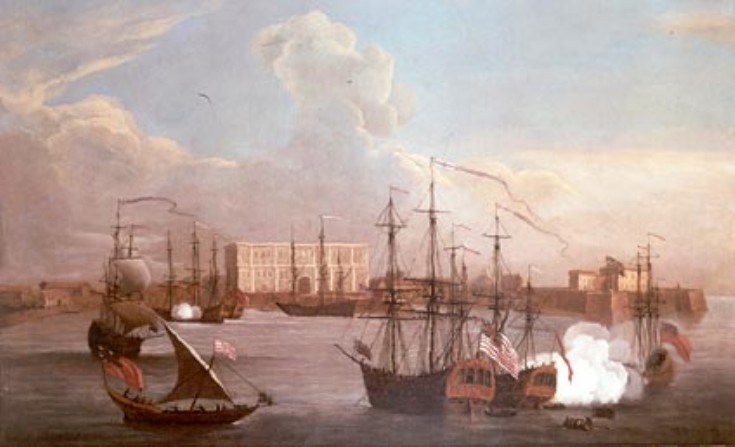 The Glenbuchat Image Library
53 'Bombay Jock'
Picture 'Ships in Mumbai harbour 1731
"Bombay Jock"
John Forbes was a merchant adventurer who made his fortune in Bombay. He was like others from this area, such as Danzig Willie of Cragievar Castle and Thomas Glover of Bridge of Don (The Scottish Samuri), who made their fortunes in the early British Empire. Perhaps we should call "Bombay Jock" "The Scottish Maharaja"! The money from Forbes & Co. Bmbay went on to fund the building of
Castle Newe.Family BackgroundSir Alexander de Forbes
acquired from Thomas, Earl of Mar, several lands in Aberdeenshire, the grant of which King Robert II ratified by charter in the third year of his reign. By King Robert III he was appointed justiciary of Aberdeen, and coroner of that county. He died in 1405.
By his wife, a daughter of Kennedy of Dunure, he had four sons, namely –
Sir Alexander, his successor, the first Lord Forbes
;
Sir William, ancestor of the Lord Pitsligo;
Sir John, who obtained the thanedom of Formartine (which now gives the title of viscount to the Earl of Aberdeen) and the lands of Tolquhoun, by his marriage with Marjory, daughter and heiress of Sir Henry Preston of Formartine, knight (of the Dingwall family), and was ancestor of the Forbeses of Tolquhoun, Foveran, Watertoun, Culloden, and others of the name;
Alexander, founder of the family of Brux, and others.
Alexander,
the elder son, was created a peer of parliament sometime after 1436. The precise date of creation is not known, but in a precept, directed by James II to the lords of the exchequer, dated 12th July 1442, he is styled Lord Forbes. He died in 1448.
By his wife, Lady Elizabeth (sometimes called Lady Mary) Douglas, only daughter of George, Earl of Angus, and grand-daughter of King Robert II, he had two sons and three daughters.
James, the elder son, second Lord Forbes,
was knighted by King James III. He died soon after 1460.
By his wife, lady Egidia Keith, second daughter of the first Earl Marischal, he had three sons and a daughter, namely –
William, third Lord Forbes;
Duncan,
or Corsindae, ancestor (by his second son) of the Forbes of Monymusk; and
Patrick, the first of the family of Corse, progenitor of the Forbeses, baronets, of Craigievar, and of the Irish Earls of Granard.
The daughter, Egidia, became the wife of Malcolm Forbes of Tolquhoun.
The Forbeses of Newe are also descended from
Duncan, son of the second Lord Forbes.
Their immediate ancestor was
William Forbes
of Dauch and Newe, younger brother of Sir John Forbes, created Lord Forbes of Pitsligo in 1633.
The family of Forbes of Newe and Edinglassie, which also possess a baronetcy, is descended from William Forbes of Dauch and Newe, younger son of Sir John Forbes, knight, who obtained a charter of the barony of Pitsligo and Kinnaldie, 10th October 1476, and whose elder son, Sir John Forbes, was the progenitor of Alexander Forbes, created Lord Forbes of Pitsligo, 24th June 1633, a title attainted in the person of Alexander, fourth lord, for his participation in the rebellion of 1745.
William Forbes
who inherited Belnabodach
m (1) Mary Stewart of Lesmurdie
( daughters Agnes 1682 and Isobel 1684)
m (2) in 1693 Isabel Forbes of Edinglassie
(sons John and Joseph - John m 1706 Janet Robertson daughter of the Minister and inherited Belnabodach in 1711: their son William became Minister of Towie)
m (3) Agnes Forbes of Newe
(sons,
Nathaniel of Auchernach William of Corriebreck
,
George of Culquhonny
Hugh d 1769)
William of Corriebreck
According to 'Clan Farquharson' 2005,
William Forbes of Corriebreck married Jean Michie c 1710-1790 eldest of the 'Five Maidens of Rippachie', daughters of James Michie of Rippachie (died 1752) and Elizabeth Copland.
According to the Red Book in the OIO Library one of their sons was
James Forbes of Seaton. From Forbes ClanJames Forbes (1735 - 1829)
was the son of William Forbes of Corriebreck and his wife Jane Michie, and grandson of William Forbes of Belnabodach.
Very little has been published about his life. From the records deposited here and other collections in the University it is known that he had business interests in London, and that he was one of the proprietors of the Aberdeenshire Canal.
The main references to him in A. and H. Tayler's The House of Forbes ((Third Spalding Club, 1937) pp. 368 - 381) concern his purchase of the estate of Newe from his bankrupt relative Major
John Forbes, 9th Laird of Newe,
which he re-sold, for a considerable profit, to
'Bombay Jock' Forbes,
founder of the Bombay mercantile business, Forbes and Co. Later, c. 1782, he purchased Seaton Estate in Old Aberdeen, and settled here with his wife, Margaret Gordon, daughter of Rear Admiral William Gordon of Banff. Their only surviving child and heiress, Elizabeth Forbes, married Lord James Hay (1788 - 1862), second son of George, 7th Marquis of Tweeddale (1753 - 1804), in 1813, and they subsequently lived at Seaton with her father, who died in 1829, aged ninety-two.
John Forbes, 8th of Newe (Captain) father of Henrietta, presumed father of .
John Forbes of Newe
Acording to BP1934 (Grant of Monymusk), John's dau Mary was his only child by ..m. Anne Duff (dau of ?? Duff of Muirton)
John Forbes of Bellabeg, (Bombay Jock)
the direct descendant of the said William of Dauch, as born at Bellabeg in September 6th 1743. In early life he went to Bombay, and engaging in mercantile pursuits, became one of the most extensive and distinguished merchants in India. Having realised a large fortune he repurchased Newe, the estate of his ancestors, besides other lands in Strathdon, and the whole of his rental was laid out in improvements. He died 20th June 1821, and was succeeded by his nephew, Sir Charles Forbes, eldest son of the Rev. George Forbes of Lochell, by his wife, Katherine, only daughter of Gordon Stewart of Inverurie.
The Forbes Baronetcy, of Newe in the County of Aberdeen, was created in the Baronetage of the United Kingdom on 4 November 1823 for Charles Forbes, a merchant in Bombay, India. In 1833 he became the heir male of Alexander Forbes, 3rd Lord Forbes of Pitsligo (a title which had been attainted in 1745), and was allowed by the Lord Lyon to use the Pitsligo arms and supporters. Forbes was a descendant of William Forbes, younger brother of Sir Alexander Forbes of Pitsligo (from whom the Lords Forbes of Pitsligo descended) and great-grandson of Sir William Forbes, brother of Alexander Forbes, 1st Lord Forbes.
Life in Bombay John Forbes
came to Bombay in 1764 as a civil servant with East India Company. He started
Forbes & Co
in 1767 in Bombay . "The antiquity of Forbes and Company Limited dates back to 1764 when a young Scot named John Forbes set foot on the shores of Mumbai. In search of a living. John was destined to lay the foundations of our modern exchange and banking, in India."
It was way back, in 1764, sometime in the month of May that Western enterprise in the Orient was commencing its ascent steadily to its climax. The port of Mumbai had already gained renown as the doorway to India.
Perhaps, it was difficult domestic circumstances that forced John Forbes to leave home and seek a fortune abroad. It was on April 22, 1764 that John set sail on board the ship 'Asia' as a 'Purser' and set foot on India soil on December 6, with a load of fifty bolts of canvas. Since his ship had to leave hurriedly on the East India Company's service, he sold off his load at a profit of 45%, which, otherwise, would have fetched him a gain of 100%. After over three years with Asia. Forbes was one of the fortunate ones to be authorised by the Court of East India Company to proceed to India as a 'Free Mariner' and later was a part of the select category of 'Free Merchants', at Mumbai.
The Mumbai of the 1760's was no semblance of the modern day Mumbai. It definitely was not the most favoured commercial centre of the time and having come to England as the dowry of Catherine of Aragon, the Portuguese bride of King Charles, it had been leased out by the king to the East India Company at a paltry lease rent of ten pounds per annum; an amount that today is not even sufficient to get you one of the smaller 'Juggi' huts for a month, even in one of the suburbs of Mumbai. To give a comparison, a 'Juggi' hut in South Mumbai carries a monthly rent to the equivalence of at least twenty-five pounds, today. Mumbai has surely changed from just more than 'Bombay' to 'Mumbai' over the last two and a half centuries.
To be true to the existing eighteenth century conditions, Mumbai was not a favourable place for business. While it was threatened on land by the Marathas, the seaside was witness to the struggle for supremacy between the European powers. To make matters worse, the sea routes faced the menace of the pirates, thereby, endangering further the risks of all offshore business. Forts rather than ports were the order of the day.
That John Forbes' little expedition was successful cannot be doubted; it laid the foundations of a business conglomerate whose history is virtually inseparable from the history of Mumbai and in some instances, from that of the world's largest peninsula.
Commerce was not John Forbes' only preoccupation. Some of the most prestigious institutions in the city of Mumbai owe their existence to his association and involvement; the Rajabai Clock Tower, the Town Hall; one of the oldest buildings in the city, the Royal Asiatic Society Library; one of the finest book collections in Asia, the Turf Club; easily the most prestigious in Mumbai, India's first dry dock, the Bombay Chamber of Commerce, railway lines to boost commercial traffic within the city and suburbs and the most noteworthy venture for all posterity, the Bombay Reclamation Project; a project started by Forbes nearly two hundred years ago and since, sustained by the government, changing the geography of the city of Mumbai, year after year.
Despite the adversities, the cotton trading activity of Forbes grew apace and there was a time when the entire cotton crop of Gujarat was being bought by the Company. As the business dealings with Britain became extensive, the trading boom called for cargo vessels. So shipping became a new business area for the company. Thus, Forbes also gained the status of an agent running a stable brokerage business.
Shipping developed into shipbuilding and because of its sound financial health, the Company was appointed as Bankers to the Government of Bombay and from there arose what today is the State Bank of India. Alliances with Ritchie Stuart & Co. and the house of Campbell lead to the formation of Forbes, Stuart and Campbell and a further widening of Company interests.
An association with the Swedish Match Company resulted in the creation of a market for matches and subsequently to the creation of the Western India Match Company (WIMCO); the largest and the most reputed member of a highly competitive industry. Some faltering textile mills and financial organisations were also taken into the Forbes' fold and restored to positions of importance; an importance enjoyed by them till date even though they may no longer be associated with the Company.
Coming back to the granny's tale about Forbes, well, Mumbai of 1760's was definitely less favourably placed than Kolkata or Chennai due to the lucrative trade with China, however, it enjoyed a geographical advantage in respect of the European countries but had to share the advantage with Surat and Baroach. The town of Mumbai within the Fort was where most of the citizens lived, mainly the Europeans. Its public buildings consisted of the Government House, the Customs House, the Marine Barracks, Mint, Treasury, Theatre, Church and the prison.
Education.
The following advertisement, dated February 18th, 1811, and signed John Forbes, we give, because it illustrates three things : (1st) that Bombay did not confine its benefactions to local schemes (the subscriptions to this one already amounted
to Rs. 7,224) ; (2nd) that the Forbeses had already produced a strong Aberdonian feeling of clanship in the island ; (3rd) that the schoolmaster was abroad : — "Aberdeen Society, for the benefit of children of deceased clergymen of the professors in the University of Scotland."
Some of the confusion here may be owing to the printer's devil. Charles Forbes's speeches in the India House, and his Bombay letters, are models of perspicuous English, Manockjee Cursetjee, who must have been at school about this time, had
a fair education, which enabled him to hold forth to kings, and even to the Pope. I asked him about his teacher. His reply that he was a Mr. Mackay in Mr. Joliffe's school, near St. Thomas's Church, though of date 1822, shows that there was good education in Bombay about this period.
The Races
The Bombay Races and Hunt were in this decade (1810 to 1820) in the full flush of prosperity. They took place in February ; began with daylight, and ended in a big breakfast, which, most probably, before it was ended, annexed itself to a tiffin. The races of 1819 are a fair sample. Mr. Remington's Cup was presented tj the victor by Lady Grant Keir. The Forbes Stakes, £100 — which are still (1892) run for — were won by ]. Warden's Arab horse Dapoorie, beating Guzerat and Hotspur. The Ladies' Purse, Es. 400, with five gold mohurs each, was run for by Clan Alpine, Speculation, and Greybeard.
Hardship
Anyone who thinks the merchants of Bombay, in the first half of the nineteenth century, had an easy time of it is very much mistaken. If business was less exacting, life itself was more in hazard than it is now. Take one or two instances. In 1801 Arthur Mitchell, a partner of Forbes and Co., was killed in a duel. In 1820 Theodore Forbes, another partner, died at sea. In 1828 George Forbes, of Forbes and Co., died, aged twenty-eight ; and on the Christmas holidays of 1828 John Forbes was killed by a fall from a ruined church wall in Salsette. In 1830 died James Forbes.
Bombay monetary institutions were few while the number of European firms who did business in imports and exports did not exceed forty-two. They were all almost English and Scotch, commencing with the eminent firms of Messrs. Graham & Co., Messrs. Nicol & Co, and Messrs Ritchie Stewart & Co. Among European private bankers the names of Messrs. Remington & Co. and Forbes & Co. were household words.
From A Financial Chapter in the history of Bombay city
First and foremost there was Mr James Alexander Forbes, of the great House of Forbes & Co.- a banking and mercantile firm of well nigh three quarters of a century, a firm which is known to have on more than one occasion advanced monies to the East India Company and which enjoyed the highest credit in India and England. They were the Bombay's Rothschild's. Mr James Forbes was the younger son of the great Sir Charles Forbes, whom all Bombay united in voting a statue, which stands in all its graceful steadiness in the corridor of the Royal Asiatic Library in the Town Hall.
In 1992, Forbes Campbell & Company was amalgamated with Gokak Patel Volkart, and was rechristened as Forbes Gokak. Forbes Gokak has eleven subsidiaries and varied interests. They include textiles, engineering, office equipment, a joint venture with AB Electrolux (Eureka Forbes) and shipping. By itself, all this is unwieldy to say
the least. Historically, as a company, Forbes Gokak is actually even older than the Tata group. Forbes Gokak's history dates back to 1764: Forbes & Company. In 1903, it merged with Ritchie Stuart & Company. In 1957, the Tata group came in when a bulk of its stake was divested.
Trade and shipping in those early days was a hazardous and sometime expensive activity both in money and lives. The following is the fate of one of the Forbes Companies ships 'Alexander' which came to grief on the coat of Dorset in 1815.
The loss of the Forbes & Co. ship "Alexander" 1815
"The 'Alexander' that tragically finished its days on Chesil Beach (Dorset) was built in India in 1803 and therefore probably of teak, as a 'Country Ship' or 'Countryman' and rated at 600 tons for her owner, Charles Forbes and Company, a prominent trading firm in Bombay. The principal of the company, Charles Forbes (1774-1849), became a Member of Parliament in 1812 and remained one until 1832 during which time he campaigning successfully for an end to the East India Company's monopoly of trade and was later created a baronet of Newe and Edinglasslie. There is a reference to Charles Forbes and Co declaring that they did not keep their ships for long but bought and sold the ships after a couple of years, however in this case it would appear that Charles Forbes and Company rather unusually kept this ship for 12 years.
However what is certain, as was recorded in the Bombay Courier, that the last voyage of the 'Alexander' left Bombay, now known as Mumbai, under Captain Lewis Auldjo bound for London on 22nd October 1814 with a cargo of cotton, sugar, rice, pepper and coffee with the following people on board as passengers: the Captain's wife Mrs Auldjo, Doctor and Mrs Dunbar, Miss Toriajo, Major Ramsey, Captain Campbell of his Majesty's 47th Regiment, Lieutenant Deverel also of his Majesty's 47th with his wife and their three children, Master Edmond, Miss Lydia and Miss Frances, Lieutenants Wade, Baker (his wife Mary Ann and their 2 year old daughter Catherine had remained in India so it can be assumed that he was intending to return to India, Catherine inherited from her father property in Bristol when, she and her mother returned to England in the following year), Bennett and Goadby, three further children, Miss C and Master J Elphinstone (also spelt Elphinson or Elphiston) and Master W Richard Russell as well as Thomas Mathews, an invalid from the Artillery. The soldiers were from the old First Battalion of the 47th who had been in India since 1809 and had recently been re-designated as the 47th Regiment of Foot after the disbandment of the 2nd Battalion on 24th October 1814.
After a voyage of approximately 13,000 miles in a slow time of 155 days (the average for a non-stop journey from the East over a ten year period was only 114 days) that included a stop at Cochin and probably a second stop in the Azores for some private trade as there was considerable amount of Madeira wine recovered from the wreckage, the 'Alexander' was now only a few hundred miles from home as she approached the Dorset coast.
Memorial to those lost in the sinking of the Alexander
"To record the melancholy wreck of THE SHIP ALEXANDER
This stone is erected by Charles Forbes Esq. of London MP, and the owners of the said ship which on her voyage from Bombay to London, was totally lost in the West Bay on the night of 26th March 1815 when all of the Crew and Passengers consisting of more than 140 souls unhappily perished with the exception of five Lascars. The following are the names of the persons whose bodies were found and buried immediately opposite the spot:……
A Duel
Life in the colonial trade could also be exciting and dangerous
In 1800 the partners of Smith Forbes & co had been James Smith, Charles Forbes, and Arthur Mitchell Forbes but a year later the latter was killed in a duel with George Bridges Bellassis, and with the disappearance of Smith the firm became "Forbes & Co.".
George Bridges BELLASIS (GBB) married Esther KING of Puttenham Surrey. The dual came about because the young Forbes Mitchell had made a promise of marriage to one of Esther's sisters. Later Forbes Mitchell changed his mind and GBB felt this was a disgrace and slur on the sister involved.
From the Bombay Press of the time.
On May 4th, 1801, the news that Mitchell had been killed by Bellasis in a duel came upon Bombay like a thunderclap. Arthur Forbes Mitchell was a young man of great promise and only twenty-two years of age. When nineteen, he was in Malabar, in a post of much responsibility, which he managed with credit to himself and signal benefit to his employers, and at the time of his death was a member of the Civil Service and a partner of Forbes & Co., and his death was greatly deplored. Bellasis was a lieutenant, and was tried by a jury of naval men — chiefly captains and others. Tried and convicted of manslaughter, George Bridges Bellasis was sentenced to be transported to Eastern Australia for a period of fourteen years. He received the medal for Seringapatam in 1799. — His second, Captain Charles Byne, was sentenced for seven years. Bellasis received a free pardon on June 4th, 1802 — the King's birthday — at Sydney, when he and Mrs. Bellasis (she was a Miss King, one of seven sisters
renowned for their beauty) returned immediately to India. He rose to the chief command of Artillery in the Peishwa's dominions.
Opium Trade?
As was common in those days the trading firm might have been involved with the opium trade
"Western capital found assistance in the requirements of Asian entrepreneurs. Parsi commerce with China included the trade in cotton, timber, textiles, silk, and opium. Parsi activity in the opium trade included collecting Malwa opium from the interior of western India, and transshipping it from Indian ports. Through individual perseverance, the pooling of resources among Parsis and other Indians, and in partnering with British traders, the early Parsi merchants amassed the finances for trade. Parsis procured goods for export as brokers for European agency houses or trading firms. Many Parsis became business partners with the notable firms of Magniac & Co., Jardine Matheson & Co.,
Forbes & Co.,
Remington & Co., and Russell & Co. Parsis also owned their own opium and other export stocks and consigned them to agency houses for sale. By 1837 eleven Parsi companies operated in Canton, compared with only nine American and four European firms.
Medical Advances
The company also was involved in Good works as instanced by the encouragement of the research into malaria treatments
From: Pratik Chakrabarti, PhD, Wellcome Lecturer in History of Modern Medicine, School of History, University of Kent,
William Roxburgh and his Fever BarkSwietenia and the Cinchona SubstitutesThe Trials of SwieteniaCinchona and the Search for the "Active Principle"
This paper focuses on a cinchona substitute, the Swietenia febrifuga (also known as Soymida febrifuga1), whose medical virtues for treating intermittent fevers were discovered in India around 1791 by William Roxburgh, the English East India Company (EEIC) surgeon in charge of the Company's botanical garden in Samulcottah (north of Chennai or Madras). The research and promotion of the bark were carried out by Roxburgh, other surgeons, missionaries and also the EEIC's commercial agents.
"The same year, 1793, Andrew Ross wrote to
John Forbes
(senior), partner of the major shipping company, Forbes & Co., in Bombay, asking him to arrange for trials of the bark in hospitals throughout the Bombay Presidency. This new substance, he stated enthusiastically, was believed to be as good as, if not better than, the Peruvian bark, and it had already met with success in Madras. Ross stressed the great benefits to both commerce and medicine if such a product could be procured fresh in India. The greatest advantage would be "by its being the produce of the Company's own estate instead of the large imbursement of its value which is made to another nation". Ross sent a good quantity of Swietenia bark to Forbes so that trials could be carried out in both the hospitals in the city of Bombay and the provinces, as had been done in Madras. He also mentioned that Roxburgh intended to test it in places like Constantinople, where intermittent fever was reported to be rampant and where there was a strong presence of European medical men. He hoped that this would be a way for it to become known among physicians in Europe as well. While approval from the Madras Board was important for local use of the bark, Europe was the prime site for Swietenia's recognition. Ross asked Forbes to use his trading networks to send the bark to: "such nations within your reach where those complaints are most frequent to the cure of which that remedy is applied & to procure reports of its efficacy from the physical gentlemen who reside there … It can be sent forward to such parts to the Westward, through the Gulphs of Persia & Mocha & towards the Turkish Dominions where there are European Doctors & where it may be of most use"
Letters from Gavin Young friend of John Forbes
An intimate friendship subsisted between Mr Gavin Young of London and Mr John Forbes of Bombay, son of John Forbes, born in 1707, and Mrs Christian Shepherd. This family of Forbes was understood, alike by themselves and by the progeny of James Young and Rachel Cruickshank to be connected in some degree of blood relationship with the Cruickshank family. The late John Forbes of Bombay, the bequeather of no small part of the Estates of the present baronets of Newe and Edinglassie, and as the originator of the well known commercial house of Forbes and Company of London and Bombay; the founder of the subsequent fortunes of not a few North countrymen besides (who had it not been for 'Purser Jack's' pioneering their road to fortune, might have lived all their days un profitable enough on the north side of the Dee), died a Bachelor and possessed, it was understood, of great wealth; his death is thus noticed in the newspapers etc of summer 1821:
Died on 20th June 1821, at his house Fitzroy Square London, in the 78th year of his age, John Forbes Esq. of New in Strathdon, Aberdeenshire and formerly of Bombay.
Having been in his 78th year in 1821, Mr John Forbes's birth had taken place in or about 1743; he had therefore been of much the same age as his intimate associate Gavin Young, who was born in April 1744.
In a letter from Gavin addressed from London on 1st August 1767 to his elder brother William Young of Aberdeen, Mr John Forbes, then acting as Purser on board of an East Indiaman, is thus alluded to:
"You attribute my delaying so long my intended voyage (to Aberdeen) to the true cause- waiting for the good company of Purser Jack, who must wait till such time as the Indian ships are taken up for next season, and their respective voyages determined on. I have besides, some little things in the way of business which I want to have finished before my departure, so that I shall not be surprised that it approach towards the end of this month before we set out: after that time will suit me as well as any: and I think will find you at most leisure - being harvest season."
In a subsequent letter dated London 20th June 1769 Gavin Young thus writes to his brother William at Aberdeen of his friend Forbes
"I had a letter from Jno Forbes a week ago, advising the Asia's safe arrival off the Isle of Wight, after voyage of 14 months: and a friend of his has just been with me showing me a letter from him, dated yesterday, in Margate Roads, wherein he mentions having sold most of his venture, so that the delay they have met with in Channel has been the luckiest that could befall him, particularly as the Custom House officers are keeping so strict look out in the river that the smallest trifle does not escape them. I was munch concerned at the melancholy news that awaits him, and of which he has got no notice, the death of his mother and wonder at having heard nothing it from you. We wish his uncle, first to communicate it, which has made me defer writing to him hitherto: but the first spurt of fair wind will bring him into the river and then it cannot well be concealed. He will now regret more than ever that he was detained from accompanying me to the North, when he once had it so near in view: he never have so good an errand thither any more. "
The mother of John Forbes, whose decease recently before, is referred to in the above quotation, was Christian Shepherd, daughter of the Reverend John Shepherd Minister of Logie Coldstone in the Presbytery Kincardine O' Neil and Synod of Aberdeen, and in 1769 wife (or probably widow) of John Forbes, designed of Bellabeg in the pedigree of the Baronet of Newe contained in Burke's Dictionary of the Peerage and Baronetage Edition 1853
Details of Death of John Forbes
In the afternoon of that day the deceased was better than he had been for some days but about nine o clock in the morning as he was coming out of the water closet he was suddenly struck with death and expired within an hour Under these circumstances is there the least reason to presume that there was an abandonment of this paper and not a continuance of intention which was only prevented by the act of God
John Forbes' funeral procession form "The Doneran Tourist"
John Forbes died at London in 1822 leaving a fortune of nearly two plums. His nephews brought down the body in great pomp to the family sepulchre at Strathdon. On their arrival at Aberdeen, the Magistrates and gentlemen followed the Hearse in funeral procession, from the Town Hall to the confines of the city. The cavalcade moved off at twelve o clock noon and the attendance was spontaneous consisting of the most distinguished citizens, the Clergy, the Principals and Professors of King's and Marischal Colleges, the Managers of the Infirmary and the Lunatic Asylum to whom the defunct had made great largesse's, and were joined by the seven Incorporated Trades and walked in the following order
Three Town Sergeants with reversed halberts well mounted in crape, The Incorporated Trades four a breast each preceded by their proper officers and the youngest incorporation in front, The Burgesses of Guild of Old and New Aberdeen ,with many of the gentlemen and inhabitants from both cities and neighbourhood, The Managers of the Lunatic Asylum and Infirmary, The Principals and Professors of both Colleges in their gowns, each preceded by their Sacrist bearing his mace. The hearse containing the Body and drawn by four horses. The nephews and relatives of the defunct, followed in a coach drawn by four horses and three other carriages.
In this order they moved at a slow pace, followed by a great concourse of spectators, to the further extremity of the city beyond. Union Place, when the company that walked four a breast halted, and made open order, lining the sides of the road, the Hearse then advanced while the mourners that followed were uncovered, and after receiving the like compliment from the gentlemen composing the procession as they passed ,the relatives entered their carriages and proceeded on their way to the place of sepulchre
On the contour of Strathdon an assemblage of the tenantry were waiting to receive the remains of their beloved honoured and distinguished landlord. They divided into two lines on the road and after the hearse and carriages passed, fell in and moved in procession to the charnel house in the church of Strathdon. At three of the clock pm the coffin was lowered and the earth closed over the exanimate body of one of whom it may be truly said, that his heart knew no guile.
"A man he was to all his country dear, And passing rich"
He was denominated honest John. Over his tomb is a beautiful bachelor's hatchment or escutcheon on the wall within a border company or and argent azure three bears heads, couped argent, bridled and muzzled gules with buckles or parted by a crescent or Crest over a helmet componed o,r and argent a dexter hand nudus armed with a Highland broad sword vendways of the second hiked and pommelled of the first. On a label over this is Non temere 2Do nothing rashly" from "Ab id evenit non temere nee sine causa" Cicero. And under the escutcheon "Non sine causa" Nor without cause Proprietor 1826 John Forbes Esq
Gift to Aberdeen Lunatic Assylum
In 1819, in consequence of a great deficiency of accommodation having been experienced, and especially the impossibility of properly classifying the patients, either according to the varieties of their disorder, or their station in life, a piece of ground, adjoining to the asylum, was purchased and an additional building erected on it at an expense of L 13 135, which the managers were enabled to defray by the munificent bequest of L 10,000 from the late John Forbes of New. In this building about 70 additional patients can be accommodated and the general attention which had in the interval been paid to the construction and arrangement of lunatic asylums enabled the managers to avail themselves of many improvements by which the comfort and restoration of the patients might be promoted
Forbes & Co
Historically, as a company, Forbes Gokak is actually even older than the Tata group. Forbes Gokak's history dates back to 1764: Forbes & Company. In 1903, it merged with Ritchie Stuart & Company. In 1957, the Tata group came in when a bulk of its stake was divested.
In 1992, Forbes Campbell & Company was amalgamated with Gokak Patel Volkart, and was rechristened as Forbes Gokak. Forbes Gokak has eleven subsidiaries and varied interests. They include textiles, engineering, office equipment, a joint venture with AB Electrolux (Eureka Forbes) and shipping. By itself, all this is unwieldy to say
the least.
Forbes & Company Limited
Forbes and Company is the oldest surviving company in India and one of the oldest in the world, established in 1767, Forbes started as a trading and agency company and then ventured into manufacturing. The Forbes Management shifted hands from the Forbes Family to the Campbells to The Tata Group and now finally taken over by the well-known Shapoorji Pallonji Group - Leaders in the infrastructure and real estate business. The Forbes Group is one of India's largest and internationally known groups of companies with a turnover of over USD 300 million having a strength of over 6000 employees.
The name Forbes & Company Limited is not new in the corporate parlance of India, however, the wheel of time has turned through over 240 years as the only company that has been witness to the history and progress of the complete Indian corporate world has changed its name again and again to begin and finally sustain the name 'Forbes & Company Limited'.
The Fairy Tale of Forbes & Company Limited is a story of five outstanding individuals and four families; the 'Forbes', the 'Campbells', the 'Tatas' and finally the 'Shapoorji and Palonjis'. The common thread gathering the beads together has been the fervent vigour to excel but not to excel at just any cost; it has been a vigour guided by the principles of integrity, honesty and above all piety towards those within the organisation as well as those placed outside.
In current times when individual names and family names seem to have the greatest importance in calling the shots, the decision by the current promoters of the company to retain the name 'Forbes', bears testimony to what the company stands for; progress with the greatest regards to one's heritage. Little doubt, therefore, that the building that houses the corporate office of the oldest company of India on Charanjit Rai Marg, at Mumbai is a declared 'Heritage Building' by the Government. After all, the history of the company is nothing short of a fairy tale.
The company traces its origin to the year 1767 when John Forbes of Aberdeenshire, Scotland started his business in India. Over the years, the management of the company has shifted from the Forbes Family to the Campbells to the Tata Group and now finally taken over by the well known Shapoorji Pallonji Group; leaders in infrastructure and real estate business.
Forbes & Company Limited is in two main businesses, namely Engineering and Shipping. Its spread of business is a consequence also of its 14 Subsidiary Companies, 8 Joint Venture Companies and 12 Associate Companies.
Inclusive of its subsidiary companies, the diversification in the business of Forbes & Company Limited has to be read to be believed. It has interests in engineering, shipping, business automation, health and hygiene, security, travel, etc.
Forbes & Company Limited has a singular aim in all its areas of operation, which is, making life simpler, easier and enjoyable for its customers. In short, enhancing the quality of life by providing high quality products and services.
Forbes & Company Limited Today
Forbes & Company Limited engages in the engineering, shipping and logistics, and business automation businesses in India. The company's engineering business includes manufacturing high speed steel threading taps, carbon alloy steel threading taps, high speed steel and carbon alloy steel threading round dies and hexagonal die nuts, solid carbide end mills and drills, and tungsten carbide rotary burrs. It offers solutions for the process and manufacturing industries in the form of steam turbines and blowers-exhausters, which are used in refineries, chemical/process plants, pharmaceuticals, paper, food processing, oil production, carbon black, steel plants, and cogeneration plants. The company's shipping activities include liner agency that provides container transportation; Forbes container line that provides multimodal transport operations; the operation of container freight stations; feedering; and tramp and chartering services. Its logistics business provides multi-modal solutions based on customer needs; handles sea/air freight and customs clearance, export/import consolidation, and project cargo. It also offers bonding, warehousing, transportation, and door-to-door distribution services. Forbes automation business offers solutions, such as image based check processing; self service kiosks for banking, telecom, power, and airline industries, as well as to remote deposit solutions and rural ATMs; setting up of electronic stamping and electronic franking networks for collection of stamp duty and postal franking; and system integration services for turnkey deployment of image based check processing. It also provides currency counting machines, MICR check encoders, currency sorters, and trace ability solutions for banks; and offers solutions for retail environments, such as restaurants and department stores. The company was founded in 1767 and is based in Mumbai, India. Forbes & Company Limited is a subsidiary of Sterling Investment Corporation Private Limited.
Forbes Papers From Centre of South Asian Studies
Typewritten copies of letters from John Forbes of Bombay, his brother Rev. George Forbes and his son Charles Forbes (later Sir Charles Forbes), as well as a few others, together with notes, covering the years 1786-1811. Also an obituary notice of Sir Charles Forbes 22 November 1849 together with other family notes. The originals are in the possession of Sir John Forbes.
The letters include the story of the kidnapping of Mary Ashburner. They are written from India, but include a good deal of comment on the political situation in Europe at the time.
Notes on John Forbes of Bombay, 1743-1821. pp, 1-2. Genealogy No. IV. p. 3.
Notes on the family of Rev. George Forbes Younger of Bellabeg, b. 1738, d. 1799. pp. 4-6.
Letter from John Forbes in London, about to sail to Bombay, to his brother Charles at Lochell, December 1786: admonitory; note on John Forbes' death. pp. 6-7.
Copy of a letter written at Lochell, 10 November 1786, from George Forbes, minister of Lochell, to his brother John Forbes (of Bombay). pp. 8-10.
George Forbes at Lochell, to his son Charles, merchant in Bombay, 3 December 1793. (Letter ends abruptly.) pp. 10-15.
Copy of a letter written at Lochell, 28 January 1794, from George Forbes, minister of Lochell, to Charles Forbes his son (in Bombay). pp. 16-20.
Charles Forbes in Bombay, to his father George Forbes, 26 October 1794; enumerates gifts being sent home and comments on them. pp. 21-23.
Charles Forbes in Bombay, to Mr. Mitchell of the ship Woodford, 26 October 1794; about the gifts which are being sent home on the Woodford, pp. 23-25.
Note on the death of Rev. George Forbes at Lochell, 1799. p. 25.
Note on Sir Charles Forbes, lst Baronet of Newe and Edinglassie, with a record of his children, and a list of the letters, which are extant in the ledger at Newe. Extract from a letter written by Charles Forbes in Bombay to Dr. Guise at Surat, November 1794. pp. 26-31.
Charles Forbes in Bombay, to Captain McIntosh, 23 November 1794; about situation in Europe; success of the French; Lord Howe's victory. pp. 32-33.
Letter written at Bombay 4th December 1794 by Charles Forbes to Alexander Gray, Esq; Sir R. Strachan's engagement with French; comment on Bombay Courier and Madras Courier; comments on European and English political scene; comments on sealing letters; refers to Mr. Forbes. pp. 33-38.
Charles Forbes at Bombay, 23 December 1794 to James Findlay (also in India); dispute between the Peshwa and Nizam; Tippoo Sultan; Mauritius Station; appointments; refers to Mr. Forbes. pp. 38-41.
Charles Forbes in Bombay, 15 February 1795 to his father Rev. George Forbes at Lochell; the letter going overland via Suez and may reach his father by the end of May; refers to other letters; remittances sent home; refers to various individuals; Rohilla War ended; comments on European situation and on Pitt. pp. 41-44.
Charles Forbes from Bombay, 14 June 1795 to Captain Macintosh at Canton; giving European news with comments; its effects on trade and Dutch relations; the Calcutta and Allepo markets for Chinese goods. pp. 44-46.
Extract from a letter written by Charles Forbes in Bombay, 2 March 1796 to George Gordon at Calcutta family matters; purchase of a company by his brother in the Gordon Highlanders. pp. 46-47.
Note. There are no more letters until 1810; the next one relates the Ashburner incident, with long note on it.
Charles Forbes in Bombay, to his uncle John Forbes of Bombay, at his house 9 Fitzroy Square, 24 March 1810; refers to his mother's death and his children in the care of his uncle, John Forbes; also refers to his wife's return to recover her daughter, Mary Ashburner, kidnapped and sent to America; criticisms of members of his firm: Mr. Kinloch (who is malade imaginaire), Mr. Inglis; a business quarrel; insurance, a source of income; Sir Edward Pellew. pp. 50-60.
Letter from George Forbes, minister at Strathdon, written from London to Charles Forbes his brother, 7 October 1810 (received 8 June 1811); news of Mrs. Forbes (Charles' wife on her way to America) and the children; news of his children. pp. 60-62.
James Forbes in London to Charles Forbes, 10 October 181.0; news of his meeting Mrs. Forbes, pp. 62-63.
Letter from George Forbes to his brother Charles Forbes, 1 January 1811; about meeting Mrs. Charles Forbes in London en route for America; remarks about children; remuneration by John Forbes to George for expenses ? £200 to cover him, his wife and son in London; finances discussed, in particular sending out money to India to be put into business for the interest; other family matters, and notes on the family. pp. 64-66.
Extract from a letter written in London by Miss Smith to Mr. Smith in Bombay, 16 May 1811; records that Mrs. Forbes recovered her child. p. 67.
Notes on Sir Charles Forbes's life, and death on 20 November 1849 on his return to England; obituary notice in The Times 22 November 1849; the Address of the natives and inhabitants of India who subscribed to his statue, erected in the Town Hall, Bombay; the Address includes references to his lack of prejudice, and kindness, and his work for social equality, pp. 67-73.
Picture added on 16 March 2010 at 15:09