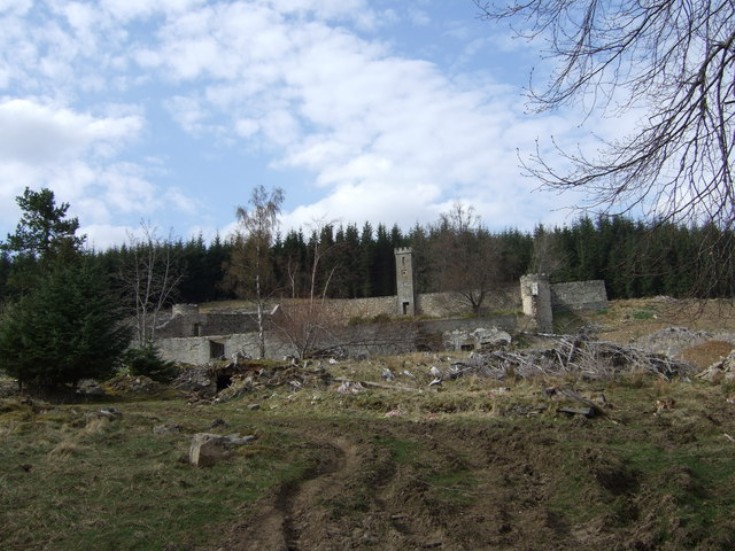 The Glenbuchat Image Library
20 Auchernach: Site of House and Walled gardenSee entry no 37 for 1865 map of Auchernach
The original Auchernach House was built in 1809 by Lieut-General Nathaniel Forbes of Hon East India Co (Geology of Auchernach' 1930), but was demolished in 1945. The garden wall was modelled on an Indian fort, with circular towers in the east and west walls. In the north wall is a slim square granite tower with crenellated parapet.
Outstanding large rectangular-plan walled garden with crenellated towers and centre terrace, sited on S facing slope behind former Auchernach House and overlooking Water of Nochty. Tall slim granite ashlar fronted tower with raised quoin strips and margins at centre of N wall; circular towers to centre of E and W walls; wall breached at SE. High flat-coped rubble walls partly harled. S elevation of N wall with centre steps up to door in 1st stage of square tower, 2nd stage with inscribed granite panel below panel formerly with clock and louvered opening above. Round towers also providing access to garden. Vaulted cellars (remains of early house) and remains of concrete arcade at ruinous S edge. Further wall extending to NW.
The garden stands on a prominent hillside and when glimpsed from the Glen Nochty road it gives the appearance of an Indian hill fort upon which it is believed to have been modelled. The clock in the tower is of curious mechanism, and is dated 1787: another inscription records that it was repaired in 1832, and it was overhauled again in 1929. Midway in its length the garden is terraced, and in the centre is a fountain. There is also a sun-dial bearing the date 1826 and the initials NF and SF, for Nathaniel Forbes and his wife´.
Although neglected, the Auchernach walled garden retains much of its outstanding original fabric. The garden stands on a prominent hillside and when glimpsed from the Glen Nochty road it gives the appearance of an Indian hill fort upon which it is believed to have been modelled. The garden was recently (2005) sold to a Strathdon resident who plans to restore it.
Immediately to the north of the garden are the remains of holding ponds and sluices with contouring lades which held water from a spring approximately one mile away in the hills. The system worked until very recently when some piping was demolished corrupting the holding system. To the north west is the ruinous White Well, comprising a lined basin and alcoved seat of white quartz. It was known locally as Napoleon´s Well because a willow tree behind the seat was grown from a seed taken from a tree at Napoleon´s grave. In the late 1920s, the owner of Auchernach, G F Rose, organised a survey of the estate, the resulting publication, The Geology of Auchernach, describes the 12,000 acres as ´stern and bare´ with ´spacious and well-timbered policies, the quaint old house, and the ample walled garden stretching up the sunny slope behind´. From the later years of the 16th century until 1901, the estate belonged to the Forbes family of Skellater. Auchernach House (demolished 1945) and walled garden were built circa 1810 by Lieut-General Nathaniel Forbes, of the Honourable East India Company, the New Statistical Account reports that it was ´for many years the best in the country´. The house was built on the remains of an earlier building, described as an `old castle´. The vaults at the southern edge of the garden are part of that original structure. In his introduction to The Geology of Auchernach W Douglas Simpson describes the walled garden as ´covering an area of about an acre. It is enclosed by a massive rubble-built wall, 20 or 25 feet in external height, with round battlemented towers midway in each front and a tall clock tower, likewise embattled, in the rear. The design is unusual and very striking. It is understood that General Forbes borrowed the idea from an Indian hill-fort. The clock in the tower is of curious mechanism, and is dated 1787: another inscription records that it was repaired in 1832, and it was overhauled again in 1929. Midway in its length the garden is terraced, and in the centre is a fountain. There is also a sun-dial bearing the date 1826 and the initials NF and SF, for Nathaniel Forbes and his wife´.
From the memories of Kenneth McHardy, 'Memories of Strathdon School'
Empire Day on the 24th of May was also very important at this time when we would celebrate the
glories of the British Empire. Colonel G.F. Rose of Auchernach House (now demolished) in Glen
Nochty used to come to the School and give us a talk on the British Empire. Colonel Rose had been in
the army in India and kept a white cockatoo. Interestingly the bird was not kept at Auchernach House
but in the Tindall's home at the gate lodge. Colonel Rose would visit the bird and allegedly converse
with it in Urdu or some such language.
From Wanderings in the Highlands of Banff and Aberdeen Shires, (1881) Author: Phillips, J. G:
Continuing our homeward march, we soon entered the avenue leading to Auchernack, one of the seats of Forbes, laird of Dunnottar. On reaching the Castle, we found that it bore a resemblance to Candacraig in beauty, and, I am sorry to add, also in decay. The house is a handsome modern mansion, built on the face of a brae, a situation rendered rather pretty by planting and other improvements. The principal feature of attraction at Auchernack to a stranger is the collection of armour, ancient and modern. There are steel helmets, used in the days of chivalry ; a number of arrows, not very ancient apparently by their make, which have been done by very skilful hands ; swords, and other implements of warfare belonging to different nations. The house was built by the late General Forbes, father of the present proprietor, who amassed an enormous fortune in India. He was a strange, eccentric old gentleman, and had a strong love for Auchernack and its surroundings, as the following anecdote will sufficiently testify : The Earl of Fife's factor wrote to him in India, telling him that the Earl had bought up all the property near Auchernack, and that his little patch was now surrounded on every side, and he thought it was no use for him to keep it longer, for the Earl would give him a good price for it. The patriotic old General sent the following characteristic reply : " Tell him that I would sooner part with the skin of my face." When living at Auchernack, he never attended church, but occupied his time on Sunday in going about with an old woman, pruning trees. The woman carried the prunings on her back. While engaged at this occupation one day, the old woman suddenly exclaimed, " Here's the minister, laird ! " Quoth the laird, " I wonner fat he wants wi' me 1 I'm sure I dinna aften disturb him ! "
From Forbes v. Forbes, (1854) Kay 341, 69 E.R. 145
legal case relating to will of Nathaniel Forbes
A domiciled Scotchman, having ancestral property but no house in his native country, by accepting a commission, and serving in the Indian Army, abandoned his domicil of origin, and acquired an Anglo-Indian domicil. He afterwards attained the rank of general in the Indian Army, and was made colonel of a regiment, and then left India with the intention of not returning thither, but came to Great Britain, where he lived part of the year in a house which he had built on his estate in Scotland, and part in a hired house in London, under circumstances which, if he had been a single man, would have given him again a Scotch domicil; but his wife and establishment of servants resided constantly at the house in London. Held, that this fact counterbalanced the effect of the other circumstances, and proved that his intention was permanently to reside in England; and that, therefore, he must be considered to have abandoned his acquired domicil in India, and acquired, by choice, a new one in England.
Nathaniel Forbes, afterwards General Forbes, was born in Scotland of Scotch parents, his father being possessed of an estate in that country, called Auchernach, on which, however, there was then no house.
In December 1786, being at that time a lieutenant on half-pay in the 102d Foot, a disbanded regiment, he contracted a marriage with a Scotch lady; and that marriage having been secret, and its validity being questioned, the ceremony was again solemnised formally between them on the 15th of July 1787. By a settlement in [**146] the Scotch form, made previously to the second ceremony of marriage, and dated on the 14th of July 1787, the father of the lady settled certain property upon the said Nathaniel Forbes; and the said Nathaniel Forbes bound himself, on succeeding to the said estate of Auchernach, to settle half of it upon his wife for life, after his death, if she should survive him. There was issue of this marriage one son only, named Charles, who was born in 1787. Shortly after the formal celebration of the marriage Nathaniel Forbes obtained an appointment in the [*342] service of the East India Company; and in December 1787, being still under ago, he sailed for India, leaving his wife with her parents in Scotland, where she resided until 1796, when she joined him in India; and they remained there together until 1808, when he obtained a furlough, and they returned to Scotland.
In May 1794 the father of Nathaniel Forbes died, and he, having before that time attained the age of twenty-one, thereupon became entitled in possession to the estate at Auchernach, subject to the said settlement. During his residence in India he maintained a correspondence respecting this estate with persons in Scotland; and upon his return to Scotland, in 1808, he built a house there, and furnished it, and made some improvements in the grounds; and he resided in lodgings in the neighbourhood of Auchernach; or near London, until 1812, when he and his wife again sailed to India, where they remained until 1818, when his wife returned alone to England. In 1822 Nathaniel Forbes, who then attained the rank of general, and was colonel of a regiment, also left India, intending not to return thither, and came to England, and took, by the week, a furnished house in Sloane Street, Chelsea, where he lived, until June 1823, with his wife and son, and an establishment of servants whom he had hired. In June 1823 he went with his wife and son to Auchernach. At the same time he took, on a lease, which he renewed in May 1850, a house in Sloane Street, and, until 1841, he spent his summers at Auchernach, and his winters, from December to April, in Sloane Street; but from 841 until his death in August 1851 he resided altogether in Sloane Street, and there he died.
On the 9th of February 1825 the said Charles Forbes, the only son of Nathaniel Forbes, died in England unmarried. In 1835 Nathaniel Forbes purchased another house and estate in Scotland, called Dunnottar, for £80,000.
[*343] In 1812, before his return to India, Nathaniel Forbes took steps, with the concurrence of his wife and son, to revoke his marriage settlement, saying that he wished by will to make a suitable provision for his wife, and do away with "the trifling settlement" made on their marriage.
In the course of his voyage from India, in 1822, General Forbes formed an intimacy with a woman, who was one of the passengers, which he afterwards continued. By this woman he had three illegitimate children.
After the death of his only lawful son, the said Charles Forbes, the general attempted to revive his marriage settlement, and, with that view, had it registered at Aberdeen, for the purpose, as was alleged, of defeating his wife's claims upon his property under the Scotch law, if she should survive him. After having done this General Forbes executed certain deeds of entail according to the Scotch law, by which he settled the estates of Auchernach and Dunnottar on his illegitimate children and their issue in strict settlement.
Result of the case: 'The case of the Plaintiff has, therefore, failed'
Other facts:
That he resided half the year at Auchernach; and that the residence was kept furnished, and that he had an establishment there, consisting of a reeve or bailiff, cook, gardener and coachman; and that he continually superintended all the details of the property by letter.
That he took upon himself the public duties of a Commissioner of Taxes and of a Justice of the Peace, and exercised his rights as a heritor with reference to a pew in the church and the appointment of a schoolmaster.
That the residence in Scotland must be regarded as nothing more than a place for the summer excursions of the general; and that it was not, a mansion fit for a person of his fortune, but an inconsiderable dwelling-house; in support of which view evidence bas been given that the mason contracted to build it for £450; and the general himself in a letter stated £30 a year to be too high a rental for it, and suggested its full value to be £20 a year.
That he kept a full establishment of servants in Sloane Street, but had no servants, except the cook and gardener, at Auchernach and he used to hire occasional female servants by the month when he went down, applying for that purpose to the hotel-keeper at Aberdeen.
That he repeatedly expressed a strong dislike to Auchernach, and used to say to the hotel-keeper, when returning thence, that he was going home.
Picture added on 02 February 2010 at 14:53