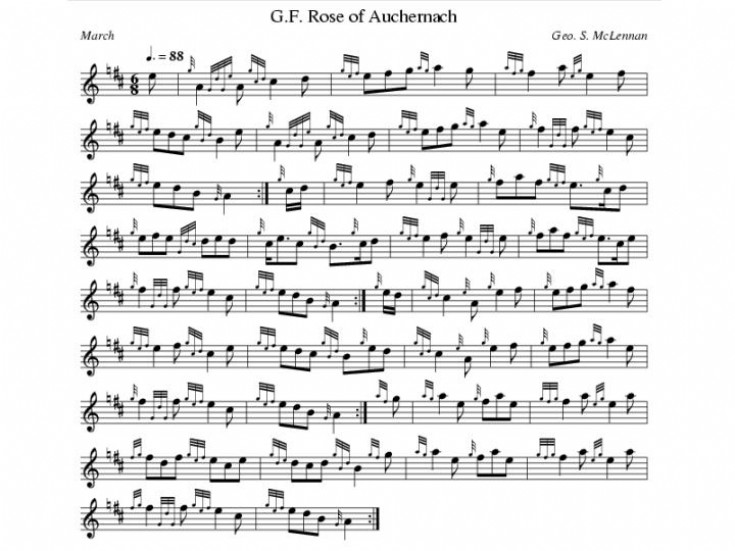 The Glenbuchat Image Library
1 G F Rose of Auchernach IntroductionIntroduction to G F Rose of Auchernach
This page was the original page on this web site about G F Rose at Auchernach.
Since it was written a number of discoveries have increased greatly the information available about the life of G F Rose. These are described in further pages as noted below and they have been combined together into this album.
On this page are:
1. A picture of the music for the bagpipe tune 'G F Rose of Auchernach'.
2. Some details of his life which are incorrect. He did not work for the Indian Railways but in building Jute works. Further details of his life are recorded in more detail in subsequent pages.
3. His family tree.
The other pages in this album show:
2. G F Rose Family Pictures
3. An article by Alan Knox about George Rose and the tale of an Indian egg.
4. Books owned by G F Rose
5. Photos of Old India owned by G F Rose
6. G F Roses New Zealand Photograph Album
7. Rangitane Ship's Brochure
8. Menus on board the Rangitane
9. Christmas Menus onshore in New Zealand
10. Return Voyage and menu
11. Photos related to G F Rose and his travels
The main new sources of the information were:
1. Family Pictures from his family history.
2. An article by Alan Knox about George Rose and the tale of an Indian egg.
3. The discovery of a photograph album and travel souvenirs relating to G F Rose in New Zealand.
G F ROSE OF AUCHERNACH
'G.F. Rose, a land owner in Strathdon, Aberdeenshire, was both a great friend of George S McLennan and also a very able piper. Indeed GS admired him so much that he composed this lovely, simple march in his honour.'
Note comments on G F Rose from the memories of Kenneth McHardy, 'Memories of Strathdon School'
'Empire Day on the 24th of May was also very important at this time when we would celebrate the glories of the British Empire. Colonel G.F. Rose of Auchernach House (now demolished) in Glen Nochty used to come to the School and give us a talk on the British Empire. Colonel Rose had been in the army in India and kept a white cockatoo. Interestingly the bird was not kept at Auchernach House but in the Tindall's home at the gate lodge. Colonel Rose would visit the bird and allegedly converse with it in Urdu or some such language.'
G. F Rose was the last owner of
Auchernach House Strathdon.
He is rather an elusive character to find out about, as a direct internet search is not very rewarding. However, using various clues from snippets of other sites the following details of his life can be gleaned.
There has been reference to him having the title of Colonel. In my researches I can see no evidence of military service and that in official documents there is no mention of the title Colonel. (Correction: Rose joined the Calcutta Scottish Volunteers, part of the India Defence Force, and was a Colonel by the time he resigned, in 1932.)
G. F stands for George Falconer Rose.
He was born 4 Dec. 1876 in Orkney, the son of Alexander McGregor Rose a Free Church Minister. The family details are noted below. Unfortunately he became bankrupt, and in disgrace, Alexander Rose left Scotland, as well as his wife, and his family on June 10, 1879, for New York where he took up the profession of journalist.
George, according to the census of 1881 he was brought up in the home of his Grandfather in law George Falconer, in Aberdeen. George, after leaving Aberdeen Grammar School, received his technical education at Gordon's Technical College from 1892 to 1899 and while at that college gained the first prize for a paper read to the Aberdeen Mechanical Society. In 1909 he was elected to Institution of Mechanical Engineers (Great Britain) MIMech. He gained a MIE (India) while he was working in India.
He appears to have travelled to India and there he worked as an engineer for the Indian railways and eventually had been responsible for the design and inspection of all engineering purchases for certain Indian and Colonial railways.(Correction: He did not work with the Indian Railways. He worked with a number of Jute companies as manager and engineer. See later pages for more details of his life)
He married on 28.12.1912 Margaret Hale Hambley but had no children. Both travelled together to India and both are recorded on ships to India in 1928.
He obviously made a lot of money and acquired estates in Strathdon and Deeside. He is recorded as 'George Falconer Rose of Auchernach and Rhinstock and Wester Sinnahard, Strathdon, co. Aberdeen, MIMech. Seats — Auchernach, Strathdon, Aberdeen; Tullich Lodge, Ballater'
He commissioned a survey of Auchernach. 'In the late 1920s, the owner of Auchernach, G F Rose, organised a survey of the estate, the resulting publication, The Geology of Auchernach, describes the 12,000 acres as ´stern and bare´ with ´spacious and well-timbered policies, the quaint old house, and the ample walled garden stretching up the sunny slope behind´.'
He had acquired Tullich Lodge Ballater and made additions to it in 1923.
(Tullich Lodge from www.britishlistedbuildings.co.uk ) Often described as the `finest built house on Deeside this building dominates the surrounding area, and its tower is a major landmark. The assured Scots Baronial detailing of this building is clear with its crow-stepped gables, bartizan and crenellations. Both the exterior and interior building have retained much historic character; the interior retains some particularly fine features, such as timber panelling and plasterwork. The house was originally built as a hunting and shooting lodge, reflecting the popularity of country sports in the area during the late 19th century. The lodge was extended with the construction of a tower house around 1910 and further additions to the N in the 1920s. Built for a William Reid, advocate of Aberdeen in 1897, the additions in 1923 were for a Mr Rose.
He took a great interest in agriculture and in the Transactions of the Royal Scottish Arboricultural Society: Volumes 54-55 it is noted 'George Falconer Rose. Mr GF Rose of Auchernach, Strathdon, died on the 24th February at the age of 63 years, after a very brief illness. Mr Rose took a prominent part in the affairs of the Aberdeen Branch.'
In fact he brought his railway expertise to Auchernach and it is reported in a Forbes family web site about Auchernach that 'There was also a Forest of Auchernach, complete with a narrow-gauge horse-drawn railway (stopped in 1919) to take logs.' The track is reported to have gone from Aldachie to Torrancroy.
Auchernach House had been built by Nathaniel Forbes and can be seen in George Washington Wilson photos kept at the Aberdeen University Archives.
To see the pictures click the following link and enter
'Achernach'
(note the different spelling) in the search box.
George Washington Archives
In 'The geology of Auchernach, Strathdon, Aberdeenshire by Arthur Gilbertson Hutchison – 1930' he records the following detail about the house..
... the main floor is reached by a central stone stair with handsome wrought iron railings. Over the door, which is quite plain, is the empty panel for a coat-of-arms. The front of the house forms a well-designed and pleasing composition with two bows, one on each side of the door, and rising to the full elevation. The walls are mostly harled; round windows and doors the dressings project ..
G.F Rose was a close friend of G.S. McLennan the famous piper and pipe music composer and who wrote the above music for him.
G F Rose died in 1940 and his wife in 1948. The house at Auchernach, built circa 1810 had fallen into disrepair and was demolished in 1945.
Family Tree for G F Rose
from
Roots WebGrandfather in law
George Falconer
Born: 1809 Abd, Aberdeenshire, Scotland
Died: 15 May 1889 Abd, Aberdeenshire, Scotland View person's info Jane Gray
Spouse Jane Gray Born: 15 Dec 1817 in Fordoun, Kcd, Scotland
Died: 27 Jan 1892 in Abd, Aberdeenshire, Scotland
Marriage: 30 Jun 1846 in Old Machar, Abd, Scotland
Children
William Falconer M 21 Jul 1847 in Old Machar, Abd, Scotland
George Falconer M 18 Mar 1849 in Old Machar, Abd, Scotland
Elizabeth Gray Falconer F15 Jun 1851 in Old Machar, Abd, Scotland
James Falconer M27 Mar 1853 in St Nicholas Abd, Aberdeenshire, Scotland
Mary Falconer F25 Dec 1854 in Old Machar, Abd, Scotland
Alexander Falconer M23 Feb 1857 in Old Machar, Abd, Scotland
Francis Falconer M30 Sep 1859 in Old Machar, Abd, Scotland

Mother
Mary Falconer
Birth: Abt 25 Dec 1854 in Old Machar,
Residence: 1881 24 Union Row, Old Machar, Aberdeen,
Father: George Falconer b: Abt 1809 in Aberdeen,
Mother: Jane Gray b: Abt 15 Dec 1817 in Fordoun,
Marriage 1 Alexander Macgregor Rose b: 1846
Married: 18 Nov 1875 in Old Machar, ABD, SCT
Children
1. George Falconer Rose b: Abt 1877 in Evie orkney
2. Alexander Macgregor Rose b: 1878 in Evie orkney

Father
Rev Alexander Macgregor Rose
Birth: 17 August 1846
Death: 10 May 1898
Occupation: Minister (Free Church)
Occupation: Journalist
Marriage Mary Falconer b: Abt 25 Dec 1854 in Old Machar,
Married: 18 Nov 1875 in Old Machar,
Children
1. George Falconer Rose b: Abt 1877 in Goil, Orkney
2. Alexander Macgregor Rose b: 1878 in Goil, Orkney

From http://eir.library.utoronto.ca/rpo/display/poet384.htm l (accessed 29 Mar 2004)
Alexander Macgregor Rose was born August 17, 1846, in Tomantoul, Banffshire. He graduated from the University of Aberdeen in 1867 and became, in 1870, Master of the Free Church School in Gairloch, Rossshire. After returning to Aberdeen to study Divinity from 1871, he was ordained on Sept , 1875, and became minister at the Free Church of Evie and Rendall, Orkney.

Bankrupt, and in disgrace, Rose left Scotland, his wife, and his family on June 10, 1879, for New York. In America he became a journalist, notably at the San Diego Daily Bee and then on the San Francisco Examiner, the San Francisco Sunday Chronicle, and the Daily Call. By 1891 he had left California and was wandering northwards, at first to Toronto by 1895, and at last to Montreal by 1896, where he worked for the Gazette and the Montreal Herald . He died on May 10, 1898, at Notre Dame Hospital, evidently of a paralytic stroke, and was buried in the lot of the St. Andrews Society in Mount Royal Cemetery.

Although Rose had written poems for some years, he only achieved fame for occasional comic verse written in the last two years of his life and published in Montreal newspapers. "Hoch der Kaiser" became so popular in decades before World War I that his very authorship of the poem was forgotten. In Canada, his two squibs on Liberal and Conservative politics under Sir Wilfrid Laurier won Rose an honour granted, as far as is known, to no other poet. Rose wrote P. J. Anderson on Nov. 27, 1897: I may tell you that after the publication of the latest ballad in the Witness, Sir Wilfrid Laurier, who is a very good fellow all round, wrote me a very pleasant letter, full of the most complementary expressions, and asked me to run up to Ottawa to see him. I did so, had an interview with him in his private room in the Government House, and dined with him and Lady Laurier. Afterwards he told me that when the Witness containing my verses reached Ottawa, Solicitor-General Fitzpatrick brought a copy to the meeting of the Privy Council that morning, and asked for a suspension of the rules while he read the verses aloud. `The first time,' said Sir Wilfrid, `so far as I know, that poetry was ever mixed up with affairs of State in the proceedings of Her Majesty's Canadian Privy Council.' (Poems, 29) Rose's imitation of the French-Canadian colloquial English, what we might call "franglais," was no doubt inspired by the success of William Henry Drummond "habitant" poems.



George Falconer Rose
Birth: 4 Dec. 1876 in Evie, Orkney
Death: 24 Feb 1940 in Tullich Lodge, Ballater,
Occupation: Indian Merchant
Residence: 1881 24 Union Row, Old Machar, Aberdeen
Father: Alexander Macgregor Rose b: 1846
Mother: Mary Falconer b: Abt 25 Dec 1854 in Old Machar,
Marriage 1 Margaret Hale Hambley who died possibly in 1979
Married: 28.12.1912

1881 Scotland Census about George F Rose
Name:George F Rose
Age:4 Estimated Birth Year:abt 1877
Relationship:Grandson
Father's name: Francis Falconer
Gender:Male
Where born: Evie, Orkney
Address:24 Union Row ED:12
Household schedule number:160 Line:1 Roll:cssct1881_52
Household Members:NameAge
George Falconer72
Jane Falconer63
George Falconer32
Elizabeth G Falconer29
Mary Falconer26
Francis Falconer21
George F Rose4
Alexander Mc G Rose2

1901 Scotland Census about George F Rose
George F Rose
Age:24 Estimated Birth Year:abt 1877
Relationship:Nephew
Gender:Male
Where born: Evie, Orkney
Address:Home Park Inchgrove 40 Belgrave Ter
Occupation:Mechemical Engineer ED:45
Household Members:NameAge
William Falconer Ip53
Mary Rose46
Annie I G Falconer18
Francis W Falconer16
Flora Falconer12
Ethel Falconer11
George F Rose24
William B Keith16
Annie Harper45 Mary
Bowie27
Mary A C Duguid26

Brother
Lieut. Col. Alexander Macgregor Rose
Birth: 1878 in Evie, Orkney
Death: Aft 10 Sep 1947
Education: Aberdeen Grammar School, University of Aberdeen
Occupation: Army Doctor
Residence: 1881 24 Union Row, Old Machar, Aberdeen,
Residence: 1940 Birchwood, Cults, East Peterculter,
Marriage 1 Elizabeth Emily Hopcraft b: Abt 1878
Married: 1912
Children
1. (Daughter) Rose
2. (Son) Rose
3. (Daughter) Rose


Picture added on 02 February 2010 at 23:13
This picture is in the following groups
music
Comments: