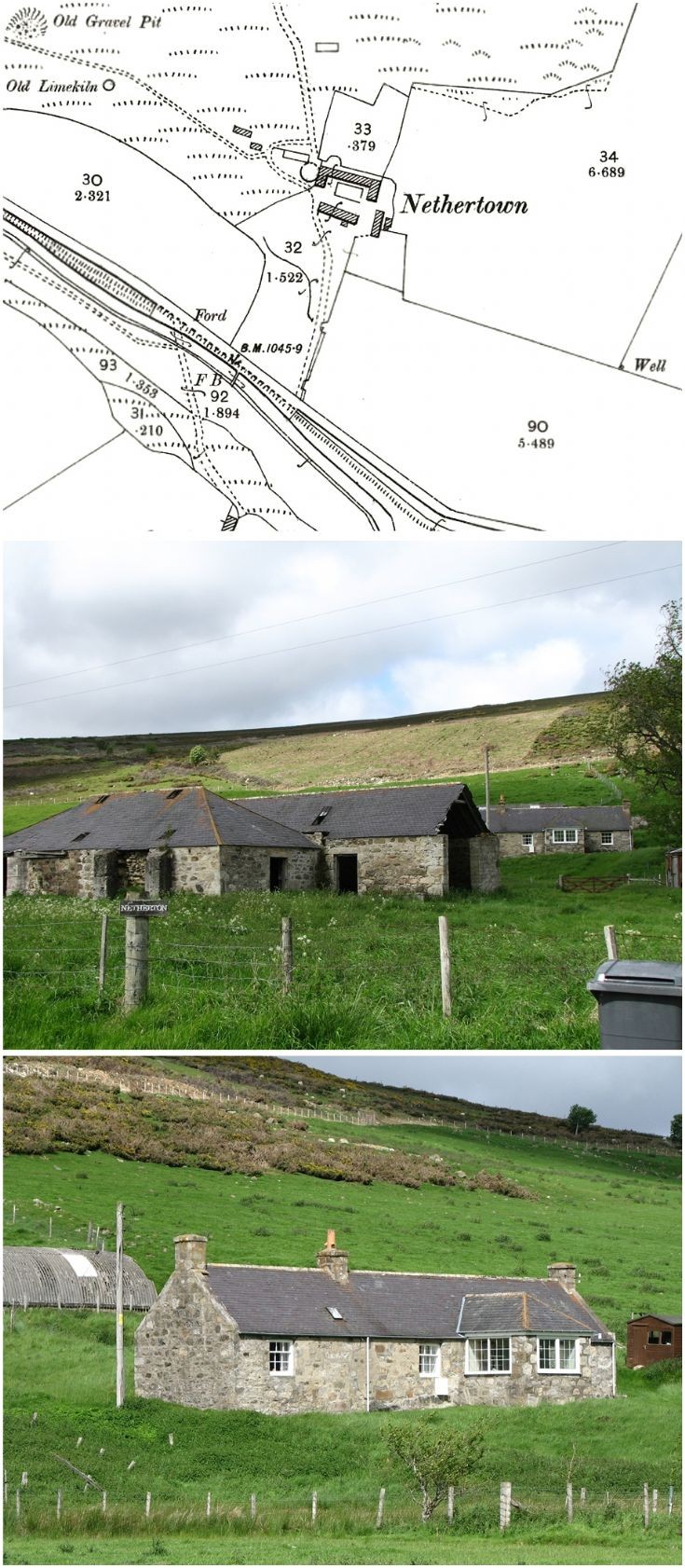 The Glenbuchat Image Library
98 NethertonNetherton
On the right of the road at the upper part of Glenbuchat is the farm of Netherton.
Pictured above Map of 1900 and photos of the barns and the cottage
Click to search on 'Netherton'
for more details and pictures of Netherton
Archaeological Notes
Visited by
RCAHMS
(PC, KM), 22 October 1997.
The farmhouse at Netherton is still in use as a holiday cottage, but most of the rest of the old steading has been reduced to little more than footings. As depicted on the 1st edition of the OS 6-inch map (Aberdeenshire 1869, sheet L), the principal components of the farmstead comprised a farmhouse, which had a garden immediately to the SE, standing to the S of a U-plan range, its open side facing SSW. A horse-engine platform lay at the WNW end of the NNE side of the range and there were also three other smaller buildings lying to the W and a fourth some 60m to the N.
By the end of the 19th century the farmstead appears to have been heavily altered (1903, sheet L). The farmhouse seems to have been enlarged or rebuilt and a new building, possibly a cottage, had been built immediately to its E, partly occupying the site of the old garden. It is not known whether the range underwent any major reconstruction at this time, but the horse-engine had been moved to the WNW wall of the W wing. Of the three buildings close to W end of the range, only one was still roofed, the second having been removed, and the third abandoned, but an additional building had been constructed here also. The building to the N is shown abandoned.
With the exception of the old farmhouse and the building to the W that had been removed by 1903, the remains of the rest all survive, together with the footings of another four buildings that are not shown on either edition of the map.
Details of some of the residents of Netherton
Michie Family
John Michie,
Retired Farmer, M: 78 years Married to Mary Davidson
Died 1906 August Second 1h 0m am Netherton, Glenbuchat
Parents: James Michie, Farmer (deceased) & Helen Michie ms Beattie (deceased)
Cause: Softening of Brain 1 year 6 months as Cert by P Howie MBCM
Informant: Wm Michie, Son (present)
1906 August 8th at Glenbuchat. John Callam, Registrar
Allan Michie
Born: Bef 1742
Marriage: (1): Anna Cameron 9 Feb 1775, Glenbucket,
Allan married Anna Cameron on 9 Feb 1775 in Glenbucket,
(Anna Cameron was born before 1760 )
Children to Anna Cameron
Harry Michie
James Michie
Robert Michie
Agnes Michie
Sophia Michie
Jean Michie
Marriage: (2): Wife ?
Allan next married Wife ?
(Wife? was born before 1745 and died before 1775 )
Children to Wife?
Isobel Michie
William Michie

William Michie
Born: 1762, Sluggy, Glenbucket,
Christened: 13 May 1762, Glenbucket,
Marriage: Margaret Stuart
William married Margaret Stuart. (Margaret Stuart was born circa 1770 in Sluggy, Glenbucket, and died on 19 Apr 1831)
Died: 12 May 1828 at age 66
Occupation: Farmer.
Children:
Jean Michie
James Michie
William Michie
Isobel Michie
Ann Michie
Robert Michie



James Michie
Born: 1795, Sluggy, Glenbucket,
Marriage: Helen Beattie 22 Dec 1822, Glenbucket,
Died: 19 Sep 1875 at age 80
Occupation: Farmer.
James married Helen Beattie, daughter of John Beattie and Elspet Findlay, on 22 Dec 1822 in Glenbucket,
(Helen Beattie was born before 1807)
Children:
Margaret Michie
John Michie
James Michie
William Michie
Charles Michie
Helen Michie



John Michie
Born: 1827, Sluggy, Glenbucket
Marriage: Mary Davidson 8 Jun 1877, Newseat, Glenbucket,
Died: 2 Aug 1906, Netherton, Glenbucket ABD, Sct at age 79
Occupation: Farmer. 2
John married Mary Davidson on 8 Jun 1877 in Newseat, Glenbucket, ABD, Sct.49
(Mary Davidson was born in 1847 in Glenbucket, and died on 17 Feb 1935 in Aberdeen.)
Children:
James Michie
Hellen Michie
Mary Margaret Michie
William Michie
John Michie
Charles Alexander Michie



Charles Alexander Michie
Born: 7 Apr 1888, Sluggy, Glenbucket,
Marriage: Mary Ann Forbes Grant 8 Nov 1939, Aberdeen,
Died: 18 Jul 1963, Aberdeen, at age 75 Died in A.R.I. of 110 Queens Rd, Aberdeen
Buried: Glenbucket,
Occupation: Pharmacist, 1963, Aberdeen,
Charles married Mary Ann Forbes Grant, daughter of John Alexander Shand Grant and Elizabeth Stuart Allan, on 8 Nov 1939 in Aberdeen,
(Mary Ann Forbes Grant was born on 28 Jul 1911 in Crooksmill, Keith, Sct.)
Children:
John Charles Alexander Michie
Elizabeth Mary Forbes Michie
Charles Michie

Beattie Family
From Roots Web
James Beattie
Marriage 1 Elspet Findlay
Children
William Beattie
b: 18 Jan 1835 in Glenbuchat
Margaret Beattie b: 09 Jun 1831 in Glenbuchat
James Beattie b: 18 Jan 1835 in Glenbuchat
John Beattie b: 10 Jul 1837 in Glenbuchat
Charles Beattie b: 05 May 1840 in Glenbuchat
Alexander Beattie b: 27 Mar 1842 in Glenbuchat Charles Beattie b: 07 Jan 1844 in Glenbuchat

William Beattie
Birth: 18 Jan 1835 in Glenbuchat
Father: James Beattie
Mother: Elspet Findlay
Marriage
Elspet Middleton b: Abt 1834 in Glenrinnes Banffshire
Married: 31 Mar 1855 in Glenbuchat 1
Children
Robert Beattie b: 14 May 1867 in Netherton Glenbuchat
James Beattie b: 24 May 1855 in Netherton Glenbuchat
William Beattie b: 28 Mar 1857 in Netherton Glenbuchat
Alexander Beattie b: 02 Oct 1858 in Netherton Glenbuchat
Ann Beattie b: 06 Jun 1860 in Netherton Glenbuchat
Elspet Beattie b: 11 Apr 1862 in Netherton Glenbuchat
John Beattie b: 13 Mar 1864 in Netherton Glenbuchat
Francis Beattie b: 28 Oct 1865 in Netherton Glenbuchat
Mary Anne Beattie b: 08 Jul 1868 in Netherton Glenbuchat
Helen Margaret Beattie b: 01 May 1872 in Netherton Glenbuchat



Elspet Middleton (From Kildrummy Families)
Birth 1833 Aberlour, Banffshire
Last Modified 18 Oct 2008
Father Francis Middleton
Mother Ann Grant, b. 1799, Cromdale, Morayshire
Family William Beattie, b. 12 Jan 1835, Glenbucket
Married 31 Mar 1855 Glenbucket
1851 enumerated @ Shank, Aberlour with mother (widow) and sister Elizabeth
1861 enumerated @ NetherTon, Glenbucket with husband, father-in-law (widower), brothers-in-law Alexander and Charles Beattie and children James, William, Alexander and Ann
1871 enumerated @ NetherTon, Glenbucket with husband, father-in-law (widower) and children Alexander, Elspet, John, Francis, Robert and Mary
1881 enumerated @ NetherTon, Glenbucket with husband (farmer) and children Elspet, John, Francis, Robert, Mary and Helen
1891 enumerated @ NetherTon, Glenbucket (widow/annuitant) with daughter Mary, son-in-law and grandchildren William McRobert and Elsie Ross
1901 enumerated @ NetherTon, Glenbucket (widow) with daughter Mary, son-in-law and grandchildren William (surname now Ross), Elsie, John, Mary, Ann, Robert, Elizabeth, Alexander and Francis Ross



Robert Beattie
Birth: 14 May 1867 in Netherton Glenbuchat
Death: in England 1
Father: William Beattie b: 18 Jan 1835 in Glenbuchat
Mother: Elspet Middleton b: Abt 1834 in Glenrinnes Banffshire
Marriage
Sarah Hay b: 28 Oct 1871 in Rhynie Aberdeenshire

From the Gordon DNA Project.Descendants of Adam Gordon of Glenbuchat (Aft 1703)
Adam Gordon of Glenbuchat (Aft 1703)
Alexander Gordon in Foggymiln

Generation 2
Patrick Gordon of Milton of Glenbuchat
William Gordon in Easter Buchat
John Gordon in 'Foggie Miln' Strathdon
William Gordon in Easter Buchat
James Gordon in Badenyone



Generation 3
John Gordon of Drumanettie, later Netherton (1701-Aft 1747)
Peter Gordon in Crofts of Glenbuchat (1703-1747)
Alexander Gordon in Dulax, Glenbuchat ( -1749)
Jean Gordon (1701- )

Beattie Family
Click for full details about Beattie Family at NethertonStrathdee Family
William Strathdee
Birth: 27 Aug 1793 in Mortlach, Banffshire
Death: 21 May 1876 in Berrshaugh, Aberlour, Banffshire,
Father: William Strathdee b: Bef 1770 in prob Banffshire,
Mother: Janet Beattie b: Bef 1770 in prob Banffshire
Marriage 1
Jane Shearer b: 06 May 1792 in Mortlach, Banffshire,
Married: 04 Nov 1817 in Mortlach, Banffshire,
Children
Alexander Strathdee b: 04 Jan 1818 in Mortlach, Banffshire,
John Strathdee
b: 16 Oct 1819 in Mortlach, Banffshire,
James Strathdee b: 06 May 1821 in Mortlach, Banffshire
William Strathdee b: 15 Mar 1823 in Mortlach, Banffshire
Charles Strathdee b: 20 Feb 1825 in Mortlach, Banffshire
Robert Strathdee b: 09 Jan 1827 in Mortlach, Banffshire
Jean Strathdee b: 05 Jan 1830 in Mortlach, Banffshire,
George Strathdee b: 25 Jun 1832 in Mortlach, Banffshire
Gordon Strathdee b: 14 Dec 1834 in Mortlach, Banffshire

John Strathdee
Birth: 16 Oct 1819 in Mortlach, Banffshire
Death: 29 Jun 1901 in Westerton Buchromb, Mortlach, Banffshire
Census: 1841 Netherton, Glenbucket, Aberdeenshire
Census: 1851 Mortlach, Banffshire
Census: 1881 Hillhouse of Betchach, Mortlach, Banffshire
Father: William Strathdee b: 27 Aug 1793 in Mortlach, Banffshire,
Mother: Jane Shearer b: 06 May 1792 in Mortlach, Banffshire
Marriage 1
Helen Allanach b: 25 Mar 1823 in Cabrach, Aberdeenshire
Married: Bef 1844 in prob Aberlour, Banffshire
Children
William Strathdee b: 20 Dec 1844 in Netherton, Glenbucket
Mary Strathdee b: 15 Aug 1848 in Netherton, Glenbucket,
Jane Strathdee b: Abt 1850 in Mortlach, Banffshire
Helen Strathdee b: 21 Feb 1855 in Mortlach, Banffshire
John Strathdee b: 02 Apr 1857 in Mortlach, Banffshire
Alexander Strathdee b: 02 Mar 1859 in Mortlach, Banffshire
James Strathdee b: 12 Feb 1861 in Mortlach, Banffshire
Charles Strathdee b: 22 Jan 1863 in Mortlach, Banffshire
Gordon Strathdee b: 10 Oct 1864 in Mortlach, Banffshire
Georgina Strathdee b: 11 Jul 1866 in Mortlach, Banffshire



Charles Strathdee
Birth: 20 Feb 1825 in Mortlach, Banffshire, Scotland 1
Death: 22 Mar 1878 in Conval Street, Dufftown, Mortlach, Banffshire
Father: William Strathdee b: 27 Aug 1793 in Mortlach, Banffshire, Mother: Jane Shearer b: 06 May 1792 in Mortlach, Banffshire,
Marriage 1
Agnes McHattie b: 18 Feb 1821 in Mortlach, Banffshire,
Married: Bef 1845 in prob Mortlach, Banffshire,
Children
William Strathdee b: 08 Dec 1845 in Mortlach, Banffshire
Ann Strathdee b: 21 May 1857 in Kirkton, Mortlach, Banffshire,
Census: 1841 Sluggie, Glenbucket
Census: 1851 Aberlour, Banffshire
Residence: 1871 Dufftown, Mortlach, Banffshire

Picture added on 10 January 2013 at 00:02
This picture is in the following groups
farm