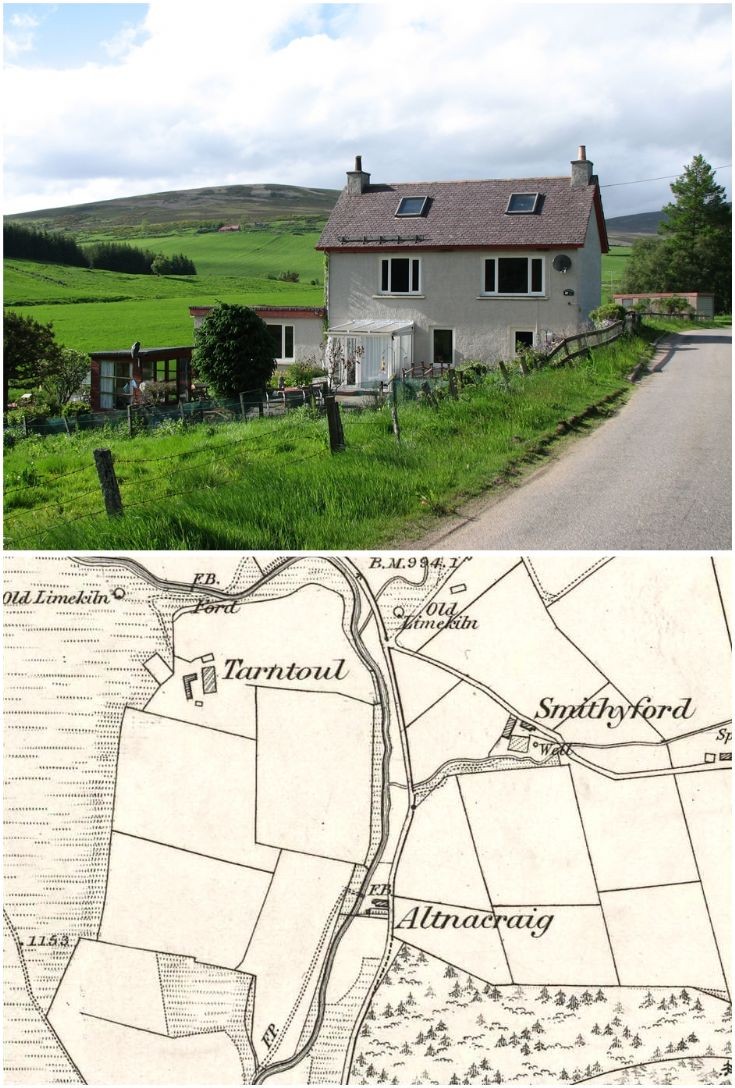 The Glenbuchat Image Library
96 AltnacraigAltnacraig
From the gaelic meaning 'Burn of the Hill'
Allt, burn;
na, of the;
craige, gen. of creag, hill.
Pictures above of Renovated cottage and 1900 map
Altnacraig was renovated in the late 1960's.
Compare with the colour photo of the old cottage
A record of deaths in Glenbuchat highlight some of the residents from Altnacraig.
More family and census details follow after.
From Strathdon Vital RecordsElspet Bremner
(widow of Thomas Bremner), Miller
Died 1885 January Twenty-third 2h 5m PM – Altnacraig, Glenbucket, F: 84 years
Parents: Alexander Dow, Crofter (deceased) & Jane Dow Ms Stuart (deceased) Cause: Old Age, Chronic Bronchitis. As certified by Charles L Wattie MD
Informant: Ann Bremner, daughter (present)
1885 January 30th at Glenbucket. Alexr Callam, Registrar
Jessie Bremner.
Pauper, Lunatic (single)
1890 December twentieth 1h 45m PM Altnacraig, Glenbucket, F: 56 years
parents: Thomas Bremner, Meal Miller (deceased) & Elspet Bremner ms Dow (deceased) cause: Epilepsy 41 years; progressive muscular atrophy 1 year & 1 month. As certified by P.E. Howie MB CM
informant: Annie Bremner, Sister, present
1890 December 26th at Glenbucket. Alexr Callam, Registrar.
From
Roots WebElspet Dow (Bremner)
Click for more details of family of Elspeth Dow
Birth: Bef 27 Sep 1801 in Clun of Invernettie, Strathdon,
Death: 23 Jan 1885 in Altnacraig, Glenbucket,
Father:
Alexander Dow b: Bef 1763 in Tarland,
Mother:
Jane Stuart b: Bef 1763 in Strathdon,
Marriage 1
Thomas Bremner b: Bef 01 OCT 1797 in Old Machar,
Married: 09 NOV 1823 in Glenbucket,
Children
1. John Bremner b: Bef 09 NOV 1823 in Glenbucket
2.
Helen Bremner
b: Bef 18 SEP 1825 in Glenbucket,
3. Thomas Bremner b: Bef 04 MAR 1827 in Glenbucket
4. Alexander Bremner b: Bef 19 APR 1829 in Glenbucket
5. William Bremner b: Bef 13 MAR 1831 in Glenbucket,
6. Janet Bremner b: Bef 10 FEB 1833 in Glenbucket,
7. Robert Bremner b: ABT 1835 in Glenbucket,
8. Jean Bremner b: AUG 1837 in Glenbucket,
9. Elspet Bremner b: Bef 03 AUG 1839 in Glenbucket,
10. Peter Bremner b: Bef 20 JAN 1842 in Glenbucket,
11.
Ann Bremner
b: Bef 17 AUG 1844 in Glenbucket
12. William Bremner b: Bef 03 JAN 1847 in Glenbucket,
Census: 1841 Mill, Glenbucket,
Census: 1851 Mill, Glenbucket,
Census: 1861 Mill of Glenbucket, Glenbucket,
Census: 1871 Mill, Glenbucket,
Census: 1881 Altnacraig, Glenbucket,

Helen Bremner
Birth: Bef 18 SEP 1825 in Glenbucket,
Death: AFT 1901 in prob Glenbucket,
Census: 1841 Mill, Glenbucket,
Residence: 11 DEC 1861 Mill of Glenbucket,
Census: 1851 Mill, Glenbucket,
Census: APR 1861 Mill of Glenbucket,
Census: 1871 Easterbucket, Glenbucket,
Census: 1881 Easter Bucket, Glenbucket,
Census: 1891 Easter Bucket, Glenbucket,
Census: 1901 Altnacraig, Glenbucket,
Father:
Thomas Bremner b: Bef 01 OCT 1797 in Old Machar,
Mother:
Elspet Dow b: Bef 27 SEP 1801 in Clun of Invernettie, Strathdon
Marriage
William Rannie b: 22 NOV 1829 in Glenbucket,
Click for more details of family of William Rannie
Married: 11 DEC 1861 in Mill of Glenbucket,
Children
1. Robert Bremner Rannie b: 14 JAN 1861 in Glenbucket,
2. James Rannie b: 08 JAN 1864 in Glenbucket,

Ann Bremner
Birth: Bef 17 AUG 1844 in Glenbucket,
Death: 23 AUG 1903 in prob Glenbucket,
Burial: AFT 23 AUG 1903 Glenbuchat Churchyard, Glenbucket,
Census: 1851 Mill, Glenbucket, 3
Census: 1861 Mill of Glenbucket, Glenbucket, 5
Census: 1871 Mill, Glenbucket, 6
Census: 1881 Alnacraig, Glenbucket, 7
Residence: 1890 Altnacraig, Glenbucket, 4
Census: 1901 Altnacraig, Glenbucket, 8
Father:
Thomas Bremner b: Bef 01 OCT 1797 in Old Machar,
Mother: Elspet Dow b: Bef 27 SEP 1801 in Clun of Invernettie, Strathdon,
Marriage
Spouse Unknown
Children
1. Peter Bremner b: 29 FEB 1872 in Glenbucket, Aberdeenshire, Scotland

1861 Scotland Census about Elspet Bremner
Name:Elspet Bremner
Age:60 Estimated Birth Year:abt 1801
Relationship:Head
Gender:Female
Where born:Strathdon, Aberdeenshire
Registration number:200
Registration district:Glenbucket
Civil parish:Glenbucket
County:Aberdeenshire
Address:Mill Of Glenbucket
Occupation:Millers Widow
Household Members:NameAge
Elspet Bremner60
Hellen Bremner55
Jessie Bremner
29
Robert Bremner29
Ann Bremner
16
William Bremner14
William Bremner10
Robert Rannie3 Mo
1861 Scotland Census about Jessie Bremner
Name:Jessie Bremnae [Jessie Bremner] Age:29
Estimated Birth Year:abt 1832
Relationship:Daughter
Mother's Name:Elspet Bremner
Gender:Female
Where born:Glenbucket, Aberdeenshire
Registration number:200
Registration district:Glenbucket
Civil parish:Glenbucket
County:Aberdeenshire
Address:Mill OfGlenbucket
Occupation:Millars Daughter
1861 Scotland Census about Ann Bremner
Name:Ann Bremner
Age:16 Estimated Birth Year:abt 1845
Relationship:Daughter
Mother's Name:Elspet Bremner
Gender:Female
Where born:Glenbucket,
Aberdeenshire Registration number:200
Registration district:Glenbucket
Civil parish:Glenbucket
County:Aberdeenshire
Address:Mill Of Glenbucket
Occupation:Millar's Daughter
1871 Scotland Census about Elspet Bremner
Name:Elspet Bremner
Age:69 Estimated Birth Year:abt 1802
Relationship:Head
Gender:Female
Where born:Glendale, Aberdeenshire
Registration number:200
Registration district:Glenbucket
Civil parish:Glenbucket
County:Aberdeenshire
Address:Mill
Occupation:Miller's Widow ED:2
Household Members:NameAge
Elspet Bremner69
Ann Bremner26
Janet Bremner38
1881 Scotland Census about Elspet Bremner
Name:Elspet Bremner
Age:80 Estimated Birth Year:abt 1801
Relationship:Head
Gender:Female
Where born:Strathdon, Aberdeensh
Registration number:200
Registration district:Glenbucket
Civil parish:Glenbucket
County:Aberdeenshire
Address:Alnacraig
Occupation:Miller'S Widow ED:2
Household Members:NameAge
Elspet Bremner80
Jessie Bremner
48
Ann Bremner36
Peter Bremner9
1881 Scotland Census about Jessie Bremner
Name:Jessie Bremner
Age:48 Estimated Birth Year:abt 1833
Relationship:Daughter
Mother's Name:Elspet Bremner
Gender:Female
Where born:Glenbucket, Aberdeensh
Registration number:200
Registration district:Glenbucket
Civil parish:Glenbucket
County:Aberdeenshire
Address:Alnacraig ED:2
1881 Scotland Census about Jessie Bremner
Name:Jessie Bremner
Age:48 Estimated Birth Year:abt 1833
Relationship:Daughter
Mother's Name:Elspet Bremner
Gender:Female
Where born:Glenbucket, Aberdeensh
Registration number:200
Registration district:Glenbucket
Civil parish:Glenbucket
County:Aberdeenshire
Address:Alnacraig ED:2
Household Members:NameAge
Elspet Bremner80
Jessie Bremner48
Ann Bremner
36
Peter Bremner9
1881 Scotland Census about Ann Bremner
Name:Ann Bremner
Age:36 Estimated Birth Year:abt 1845
Relationship:Daughter
Mother's Name:Elspet Bremner
Gender:Female
Where born:Glenbucket, Aberdeensh
Registration number:200
Registration district:Glenbucket
Civil parish:Glenbucket
County:Aberdeenshire
Address:Alnacraig ED:2
1891 Scotland Census about Ann Bremner
Name:Ann Bremner
Age:46 Estimated Birth Year:abt 1845
Relationship:Head
Gender:Female
Where born:Glenbucket, Aberdeenshire
Registration number:200
Registration district:Glenbucket
Civil parish:Glenbucket
County:Aberdeenshire
Address:Altnacraig
Occupation:Living on Private Means ED:2
Household Members:NameAge
Ann Bremner46
Janet McNulty14
Picture added on 20 December 2012 at 00:02
This picture is in the following groups
buildings