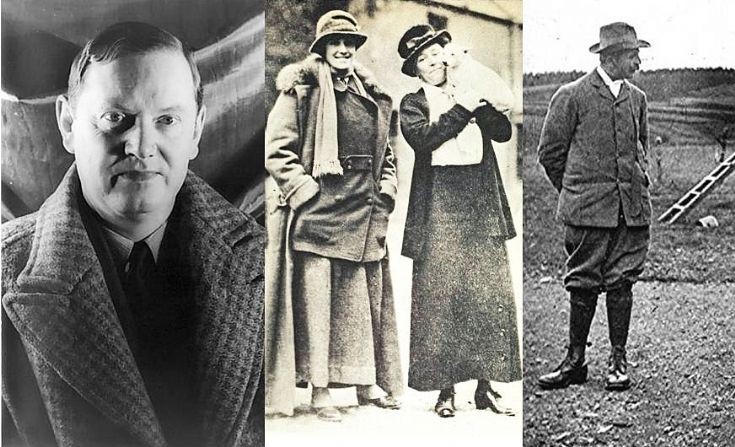 The Glenbuchat Image Library
110 Evelyn Waugh, Lady Forbes and the Doctor!Evelyn Waugh Lady Forbes and the Doctor
This is not an interesting 'ménage a trois' but a fascinating 1926 episode in the life of Strathdon connecting all three.
While researching the net about the,
Colquhonny House Hotel
previously known as the Newe Arms, I came across the following snippet from Evelyn Waugh's Diaries.
"At about 4 we reached Strathdon .We went first to call on the Forbes. They were living in what used to be their laundry. It makes a delightful little house, carpeted and curtained in tartan, and hung with arms.
We left Mrs G. to stay with a negro doctor called Howie and came to this public house - the Newe Arms - which is much nicer than everyone told us it would be."
This snippet raised a number of questions, who is Evelyn Waugh and why was he at Strathdon, and who was the Negro Doctor at Strathdon?
The following is the full entry relating to the visit to Strathdon in 1926
From 'The Diaries of Evelyn Waugh'
Monday 9 August 1926
We waited after loading the car for a long time for the postman, but when he came there were no letters for us. At Stonehaven we took the wrong turning and had a long drive out of the way up a hill which made the car overboil. Mrs Graham furious. At about 4 we reached Strathdon.
We went first to call on the Forbeses. They are living in what used to be their laundry. It makes rather a delightful little house -absurdly baronial, carpeted and curtained in tartan, and hung with arms. We left Mrs G. to stay with a negro doctor called Howie and came to this public house - the Newe Arms- which is much nicer than everyone told us it would be.
(As a baby, Dr Howie had been found abandoned in a desert beyond the Jordan after at
Bedouin tribal battle; he was saved and adopted by Scottish missionaries who named him Howie after his native tribe, the Howeitat; his first and only language was broad Scots.)
The Howeitat or Huwaytat are a large tribal confederation of historic Transjordan, an area in present-day Jordan and Saudi Arabia.)
On Tuesday we had to wash the car under Mrs G.'s orders which was a disagreeable undertaking involving some brushes and sponges and a hose and a good deal of rather violent language from Mrs G. We had luncheon at the Forbes. Such a good meal but made very restless with everyone taking everyone's plate about. Sir Charles is a futile little man who feels ill a lot and seems just the sort of person one would expect to lose his inheritance. He invents three-cornered loudspeakers and an apparatus for striking matches. Lady Forbes is dull and has a sister who is stone deaf. The Forbes girls are nicer than I thought them in London. After luncheon we carried enormous stones about and they took us down to see the castle, the garden entirely run to seed in two years, the house vastly dismal. We went to the top of the tower and walked down some echoing passages and came out rather chilled.
(Alastair Graham (in a letter to the editor, November 1975) comments: 'The Forbeses of
Newe were my cousins by marriage. I was devoted to both my uncle Charles and his wife. When Evelyn describes him as "a futile little man", he was on his deathbed and died a month or two later. In fact, he was a brilliantly clever little man, bright and gay, and one of the most charming and generous persons I have ever known. There were always large house parties at Newe, and it was his generosity and the First War that finally ruined him; the Castle had to be abandoned and finally demolished. It was not far from Balmoral and every year the King and Queen would come to a-function or a meal)
We went up to tea at a house called,
Candacraig
which belongs to a man called Faulkner Wallace who is extremely rich. He has the oddest wife – very tall and misshapen with jet-black shingled hair and wrinkles. She danced Charleston while she played tennis - both so badly. Their home is furnished with the remains of lots of other houses- beautiful panelling and some good furniture and a lot of arty trash, which Mrs Wallace thinks modern. She doesn't like Scots people or poor people, she said.
We dined at the Forbes — Sir Charles by now in bed. Again good, and restless. After dinner Kitty Forbes had to sing a song at a mothers meeting so we took her there in the car. After the meeting was over we danced Highland- so difficult to learn.
Wednesday 11 August 1926
This morning we did not feel we could face Mrs G. so we went out for a walk on the hills with sandwiches. It rained most of the time. No one lives in any of the cottages and their windows are broken and their roofs fallen in.
Thursday 12 August 1926
Grouse shooting started much to everyone's excitement. We cleaned the car in the morning and I did some work at a detestable poster that I had committed myself to. It was a huge sheet of board to be covered with poster paint. I tried to draw a monk; it was hideously bad. In the afternoon we went to call on some people called Farquharson who lived at a house called Allargue, which they claim, is the highest home in the United Kingdom.
Wednesday 25 August 1926
I have rather forgotten the order in which things have happened in the last fortnight. On the day after my last entry the Lonach games were held. Everyone had spent some time assuring us that they were not what they had been now that the Forbeses had left Newe. They began with the march of the
Highlanders
. Originally, apparently, the laird had marched right down the Strath collecting his men, stopping for drinks at every house, and leading the back to Newe for luncheon. Sir Charles did not see his way to turning out this year, but contented himself by remaining at home fingering an enormous Cairngorm and saying, 'I daresay Mr Faulkner Wallace would like to be wearing this today'. About a dozen Highlanders did march from the Lonach village Hall to the Bellabeg paddock, all of them I should say over fifty and most of them over eighty years of age. They trailed spears behind them and shuffled along in a sad sort of way. All the young men who have not emigrated to America or to the towns think it smarter to wear ill-fitting serge suits than the kilt. The games lasted a long time. There was a lot of piping and some dancing, notably by a lot of detestable children covered in medals. The competitors in the open events were professionals from Aberdeen. I saw them tossing the caber but I did not see anyone get it over. The Wallace boy and Alastair and I had entered for the obstacle race, but when the time came we did not compete. We dined with the Forbes and went afterwards to the Lonach Ball where I danced some of the dances I had learned. It was terribly hot. Mrs. F. W. lay swathed in tartan on a chaise longue with an enormous man called Lumsden of Balmedie to carry her about. She had sprained her ankle in doing Charleston on the tennis court. On Saturday we called on a Woman called Lady Annabel Dodds. On Sunday Alistair and I had luncheon at Braemar. We were in search of James Alexander Watson, the Welsh usher, but we found that his house did not exist.
(Annabel Dodds was Alistair's cousin and mother of the 3rd Baron O'Neil, the first husband of Mrs Ian Fleming who became a friend of Waugh's near thirty years later.
Lady Annabel Hungerford Milnes later Crewe-Milnes (b. 31 Aug 1881; d. 14 Jun 1948), now Lady Annabel Dodds, mar. (1) 21 Jan 1902 Capt Hon Arthur Edward Bruce O'Neill MP (dvp. 5 Nov 1914), 1st surv. son and heir app. of Edward [O'Neill], 2nd Baron O'Neill, and (2) 9 Feb 1922 Maj James Hugh Hamilton Dodds later Crewe-Dodds CMG, Consul General at Nice, and had issue by her first husband)
Further enquiry clarified some of the questions raised in the opening paragraph.
1. Who was Evelyn Waugh
From Wikipedia
Arthur Evelyn St. John Waugh (28 October 1903 – 10 April 1966), known as Evelyn Waugh, was an English writer of novels, travel books and biographies. He was also a prolific journalist and reviewer. His best-known works include his early satires Decline and Fall (1928) and A Handful of Dust (1934), his novel Brideshead Revisited (1945) and his trilogy of Second World War novels collectively known as Sword of Honour (1952–61). Waugh is widely recognised as one of the great prose stylists of the 20th century.
In 1973 Waugh's diaries were serialised in The Observer, prior to publication in book form in 1976. The revelations on his private life, thoughts and attitudes created controversy.
In 1924 He spent much of the rest of the summer in the company of Alastair Graham;
2. Who was Alistrair Graham
As noted above, Alistair Graham was a cousin of the Forbes of Newe and also a nephew of the Duchess of Montrose. He was a close friend of Waugh and a contemporary at Cambridge. It is said he appears twice in Waugh's later work, first as Hamish Lennox in 'A Little Learning' and later contributing to the character of Sebastian Flyte in 'Brideshead Revisited,' It said Sebastian Flyte bears a resemblance to Waugh's Oxford friends Alastair Graham and Hugh Lygon. 'Flyte' in Brideshead Revisited is, in part, Waugh's Oxford contemporary and friend Alastair Graham. The original manuscript occasionally Freudian-slips the name "Alastair" rather than "Sebastian"."
Of Waugh's relationship with Graham, Paula Byrne says in her book' Mad World: Evelyn Waugh And The Secrets of Brideshead', she says 'That was an incredible, tense affair.
'It clearly was very romantic, very full on.'
'Graham became a diplomat and adopted a gay life overseas. Waugh disapproved and turned his back on Graham, who he believed was following a "seedy, expatriate life".'
3. Who was Mrs G.
Mrs G, noted in the diaries, was Mrs Graham mother of Alastair Graham. Her maiden name was Jessie Low the daughter of Andrew Low. Andrew Low lived at Savannah, Georgia, U.S.A. It is said that Waugh based Lady Circumference, an awe-inspiring presence, on the American mother of his close friend Alastair Graham.
4 Graham Family history:
From The Peerage.com
Sir Frederick Ulric Graham, 3rd Bt.1
b. 2 April 1820, d. 8 March 188
He was the son of Rt. Hon. Sir James Robert George Graham, 2nd Bt. and Fanny Callender. He married Lady Jane Hermione St. Maur Seymour, daughter of Edward Adolphus Seymour, 12th Duke of Somerset and Jane Georgiana Sheridan, on 26 October 1852.1
He died on 8 March 1888 at age 67.1
He gained the rank of officer in the service of the 1st Life Guards.
He was Attaché to Vienna in 1842.1
He succeeded to the title of 3rd Baronet Graham, of Netherby, Cumberland [G.B., 1783] on 25 October 1861.2
He held the office of Deputy Lieutenant (D.L.).
He held the office of High Sheriff of Cumberland in 1866.1
Children of Sir Frederick Ulric Graham, 3rd Bt. and Lady Jane Hermione St. Maur Seymour
1.Margaret Frances Graham+1 d. 4 Oct 1927
2.Sibyl Marcia Graham+3 d. 19 Sep 1887
3.
Violet Hermione Graham
+1 d. 21 Nov 1940
4.Helen Graham1 d. 11 Dec 1863
5.Hilda Georgiana Graham1 d. 1 Feb 1946
6.Sir Richard James Graham, 4th Bt.+1 b. 24 Feb 1859, d. 26 Aug 1932
7.
Hugh Graham
+1 b. 11 Dec 1860, d. 25 Nov 1921
8.James Reginald Graham+1 b. 28 Jul 1864, d. 26 Sep 1910

Violet Hermione Graham (Alastair's Aunt)
d. 21 November 1940
Violet Hermione Graham was the daughter of Sir Frederick Ulric Graham, 3rd Bt. and Lady Jane Hermione St. Maur Seymour.
She married Douglas Beresford Malise Ronald Graham, 5th Duke of Montrose, son of James Graham, 4th Duke of Montrose and Hon. Caroline Agnes Horsley-Beresford, on 24 July 1876.
She died on 21 November 1940.1
She was invested as a Dame of Grace, Order of St. John of Jerusalem (D.G.St.J.).
She was awarded the honorary degree of Doctor of Law (LL.D.).
She was invested as a Knight Grand Cross, Order of the British Empire (G.B.E.).

Children of Violet Hermione Graham and Douglas Beresford Malise Ronald Graham, 5th Duke of Montrose
James Graham, 6th Duke of Montrose+ b. 1 May 1878
Lady Helen Violet Graham b. 1 Jul 1879, d. 27 Aug 1945
Lady Hermione Emily Graham+ b. 22 Feb 1882, d. 1978
Brigidair Lord Douglas Malise Graham+ b. 14 Oct 1883
Captain Lord Alastair Mungo Graham+ b. 12 May 1886



Hugh Graham
b. 11 December 1860, d. 25 November 1921
He was the son of Sir Frederick Ulric Graham, 3rd Bt. and Lady Jane Hermione St. Maur Seymour.
He married Jessie Low, daughter of Andrew Low, on 24 November 1888.
He died on 25 November 1921 at age 60.1

Children of Hugh Graham and Jessie Low
1.Ronald Andrew Hugh Graham b. 1891, d. 1899
2.Sibyl Hattie Hermione Graham b. 1893
3.Muriel Mary Graham b. 1895, d. 1918
4.Alistair Hugh Graham b. 27 Jun 1904

5. What about Sir Charles Forbes and Newe
Newe Castle
was built in 1831 incorporating an earlier structure built in 1604. It was demolished in 1927. At the time of Waugh's visit, the Forbes family had moved into what was the laundry building, now called House of Newe, where the descendants of the Forbes family still live. Its appearance now is similar to the description given by Evelyn Waugh. The castle at that time was uninhabited and demolished in 1927 a year later, the stones being used to build the Elphinstone hall at Kings College Old Aberdeen. Waugh describes a brief visit to the empty Castle. Sir Charles died on 12 December 1927 just when the Castle was demolished.
From: 'A Visitation Of The Seats Of The Noblemen And Gentlemen Of Great Britain And Ireland.' By Sir Bernard Burke 1855NEWE in the county of Aberdeen the seat of Sir Charles Forbes Bart of Newe and Edinglassie
On the north bank of the river Don and added to the old mansion of the family in 1604 stands the stately castellated house, Castle Newe built in 1831 by Sir Chas Forbes Bart. The old house has been retained as part of the building and neither impairs the external appearance nor the internal convenience of the edifice. The architecture is highly appropriate to the situation and the circumstances of the house being in the simple and massive style of an old Scottish mansion, with many gable ends slender towers with pointed roofs and solid and substantial round towers at the corners. It is well adapted to the severe and grand surrounding scenery.
To the north of the house rises the mountain Ben Newe and to the south is a lawn extending to the noble river Don. About four miles from Newe stands the old house of Edinglassie, which was for some time the abode of the family and which belonged to the maternal ancestors of the first Sir Charles, a very old family of the name of Stewart. Newe has been for centuries in the possession of the Forbes. William the first proprietor of that name was a younger brother of Alexander Forbes of Pitsligo, ancestor of the Lords Pitsligo. The house of Pitsligo is an early branch of the Lords Forbes and is now represented in the male line by Sir Charles Forbes. The family of Newe branched off about the year 1500 from that of Pitsligo, which became extinct in the direct male line on the death of the master of Pitsligo, the heir of the attainted Peer of that name in 1781. Then the branch of Newe became the sole male representative of the family while Sir William Forbes Bart of Monymusk became the heir in the female line, and assumed Pitsligo as his designation.
The family of Forbes of Newe diverged into two branches. The last male heir of the elder branch was Major John Forbes of Newe who died without male issue in 1792. His only child was Lady Grant, mother of the present Baronet of Monymusk. On the death of Major Forbes the family of Newe was represented by his cousin the Rev George Forbes, and since his death in 1770 by his son Sir Charles. This gentleman in early life went to India, where his father's brother John Forbes had already laid the foundations of a great fortune, which he himself completed. He was a man of princely magnificence and his acts of liberality and charity as well in Bombay as in London will long be remembered with gratitude. A splendid colossal statue by Chantrey records the sense entertained of his benefits by the inhabitants of Bombay.
Sir Charles succeeded to extensive estates in Aberdeenshire from his uncle. He was long a Member of Parliament and was created a Baronet in 1823. In 1833 he was served by a jury male heir of Alexander Lord Forbes of Pitsligo.
His eldest son John one of the best most amiable of men and long an able distinguished director of the East India and member of Parliament, was removed from this world prematurely by in 1840, to the inexpressible sorrow of a circle of attached friends and sincerely regretted by all who had an opportunity appreciating his worth wisdom and benevolence. He was educated at Magdalen Oxford, and soon after he was of age became a Member of Parliament and being elected an East India Director applied himself to the business of that situation. In 1828 he married the of HL Hunter of Beech Hill in the co of Berks by whom he had among children an only son Charles who succeeded to the Baronetcy and family estates at death of his grandfather Sir Charles first Baronet in 1849. Sir Charles second Baronet died in Madeira in 1852 and was succeeded by his uncle Sir Charles the present and third Baronet late a captain in that distinguished corps the Lancers and heir male of the ancient of Pitsligo. Sir Charles is one of those Highland gentlemen who still promote and maintain the customs of the Gael. He assembles the clan Forbes by from their chief Lord Forbes and them to Braemar the headquarters of district in which they dwell, encamps during the gathering of the Duff, Forbes, Farquharson clans. His camp, complete all its details as to Highland arms and equipments, has been twice honoured by the of Her Majesty who upon the last occasion presented a banner to the Forbes clan.
Forbes Family History
John Forbes of Bellabeg
b. 1707
John Forbes of Bellabeg was born in 1707.
He was the son of George Forbes of Bellabeg and Isabel Meldrum
He married Christian Shepherd, daughter of Reverend John Shepherd.
Children of John Forbes of Bellabeg and Christian Shepherd
John Forbes
Reverend George Forbes of Lochell
+2 b. 24 Jun 1738, d. 30 Aug 1799

John Forbes
John Forbes was the son of John Forbes of Bellabeg and Christian Shepherd.
He died, without issue.
He purchased Newe and other extensive estates in Aberdeenshire
John Forbes also went by the nick-name of 'Bombay Jock'. **
He made a large fortune in India.



Reverend George Forbes of Lochell
b. 24 June 1738, d. 30 August 1799
Reverend George Forbes of Lochell was born on 24 June 1738.
He was the son of John Forbes of Bellabeg and Christian Shepherd.
He married Katherine Stewart, daughter of Gordon Stewart of Drumin, on 28 November 1767.
He died on 30 August 1799 at age 61.1
Children of Reverend George Forbes of Lochell and Katherine Stewart
Reverend George Forbes1 d. 15 Feb 1834
Sir Charles Forbes of Newe, 1st Bt .+2 b. 3 Apr 1773, d. 20 Nov 1849



Sir Charles Forbes of Newe, 1st Bt.
b. 3 April 1773, d. 20 November 1849
Sir Charles Forbes of Newe, 1st Bt. was born on 3 April 1773.
He was the son of Reverend George Forbes of Lochell and Katherine Stewart.
He married Elizabeth Cotgrave, daughter of Major John Cotgrave, on 28 February 1800.
He died on 20 November 1849 at age 76.1
He was a Bombay merchant
He was created 1st Baronet Forbes, of Newe [U.K.] on 4 November 1823.
In 1833 he was declared heir male to 3rd Lord Pitsligo and allowed the Pitsligo arms and supporters by the Lyon Office.
Children of Sir Charles Forbes of Newe, 1st Bt. and Elizabeth Cotgrave
John Forbes+2 b. 15 Dec 1801, d. 20 Dec 1840
Sir Charles Forbes of Newe, 3rd Bt .+2 b. 21 Sep 1803, d. 2 Nov 1877
George Forbes2 b. 13 Sep 1805, d. 22 Jan 1863



Sir Charles Forbes of Newe, 3rd Bt.
b. 21 September 1803, d. 2 November 1877
Sir Charles Forbes of Newe, 3rd Bt. was born on 21 September 1803.
He was the son of Sir Charles Forbes of Newe, 1st Bt. and Elizabeth Cotgrave.
He married Caroline Battye, daughter of George Battye, on 21 August 1830.
He died on 2 November 1877 at age 74.3
He gained the rank of Captain in the service of the 17th Lancers.
He succeeded to the title of 3rd Baronet Forbes, of Newe [U.K., 1823] on 23 May 1852.
Children of Sir Charles Forbes of Newe, 3rd Bt. and Caroline Battye
Caroline Louisa Forbes+2 d. 11 Dec 1872
Sir Charles John Forbes of Newe, 4th Bt. +2 b. 24 Mar 1843, d. 24 Jul 1884
George Stewart Forbes+2 b. 26 Oct 1844, d. 8 Jul 1894



Sir Charles John Forbes of Newe, 4th Bt.
b. 24 March 1843, d. 24 July 1884
Sir Charles John Forbes of Newe, 4th Bt. was born on 24 March 1843.
He was the son of Sir Charles Forbes of Newe, 3rd Bt. and Caroline Battye.
He married Helen Moncreiffe, daughter of Sir Thomas Moncreiffe of that Ilk, 7th Bt. and Lady Louisa Hay-Drummond, on 5 April 1864.
He died on 24 July 1884 at age 41.3
He was admitted to Royal Company of Archers.
He succeeded to the title of 4th Baronet Forbes, of Newe [U.K., 1823] on 2 November 1877.
He held the office of Deputy Lieutenant (D.L.) of Aberdeenshire.
Children of Sir Charles John Forbes of Newe, 4th Bt. and Helen Moncreiffe
Mabel Susan Forbes+2 d. 14 Feb 1919
Helen Blanche Forbes4 d. 7 Jun 1934
Evelyn Elizabeth Forbes+2 d. 13 May 1929
Sir Charles Stewart Forbes of Newe, 5th Bt. +2 b. 19 Jan 1867, d. 12 Dec 1927



Sir Charles Stewart Forbes of Newe, 5th Bt
b. 19 January 1867, d. 12 December 1927
Sir Charles Stewart Forbes of Newe, 5th Bt. was born on 19 January 1867.
He was the son of Sir Charles John Forbes of Newe, 4th Bt. and Helen Moncreiffe.
He married Emma Theodora Maxwell, daughter of Robert Maxwell, on 2 July 1888.
He died on 12 December 1927 at age 60.1
He succeeded to the title of 5th Baronet Forbes, of Newe [U.K., 1823] on 24 July 1884.
He gained the rank of Captain in the service of the 4th Volunteer Battalion, Gordon Highlanders.
Children of Sir Charles Stewart Forbes of Newe, 5th Bt. and Emma Theodora Maxwell
Theodora Cecille Forbes2 b. 21 Jan 1889
Evelyn Marjorie Forbes2 b. 12 Nov 1892, d. 9 Apr 1953
Dorothy Helene Mabel Forbes2 b. 3 Jan 1895, d. 23 Feb 1895
Katherine Manuela Bettine Forbes2 b. 10 Apr 1897, d. 1 Apr 1962
Bridget Roberta Forbes2 b. 10 Nov 1899, d. 20 Aug 1924
Sir John Stewart Forbes of Newe, 6th Bt. +2 b. 8 Jan 1901, d. 1984
Katharine Stewart Forbes2 b. 5 Apr 1903, d. 5 Mar 1995
Mary Veronica Forbes2 b. 4 Sep 1904
Charles Harry Grenfell Forbes2 b. 18 Mar 1906, d. 13 Jun 1913



Sir John Stewart Forbes of Newe, 6th Bt.
b. 8 January 1901, d. 1984
Sir John Stewart Forbes of Newe, 6th Bt. was born on 8 January 1901.
He was the son of Sir Charles Stewart Forbes of Newe, 5th Bt. and Emma Theodora Maxwell.
He married Agnes Jessie Wilson-Farquharson, daughter of Lt.-Col. David Lorraine Wilson-Farquharson, on 10 October 1933.
He died in 1984.1
He was educated at Wellington College, Wellington, Berkshire, England.
He was educated at Royal Military Academy, Woolwich, Kent, England.
He succeeded to the title of 6th Baronet Forbes, of Newe [U.K., 1823] on 12 December 1927.
He fought in the Second World War, where he was mentioned in despatches twice.
He was decorated with the award of Companion, Distinguished Service Order (D.S.O.) in 1940.
He held the office of Deputy Lieutenant (D.L.) of Aberdeenshire in 1953.
He held the office of Justice of the Peace (J.P.) for Aberdeenshire in 1954.
He gained the rank of Colonel in the service of the Royal Engineers.
He was Honorary Colonel of the 51st (H) Division between 1960 and 1967
He held the office of Vice-Lord-Lieutenant of Aberdeenshire between 1973 and 1984.
Children of Sir John Stewart Forbes of Newe, 6th Bt. and Agnes Jessie Wilson-Farquharson
Bridget Rosemary Zilla Forbes+2 b. 17 May 1935
Elspeth Ann Forbes+2 b. 10 Mar 1937
Veronica Jean Forbes+2 b. 12 Sep 1938
Margaret Xanthe Patricia Forbes+2 b. 25 Mar 1940
Alison Stewart Forbes+2 b. 15 Sep 1946



6. Finally who was the 'Negro Doctor?'

This mystery is another story and is related on the following page





Picture added on 10 June 2012 at 22:59

This picture is in the following groupspeople