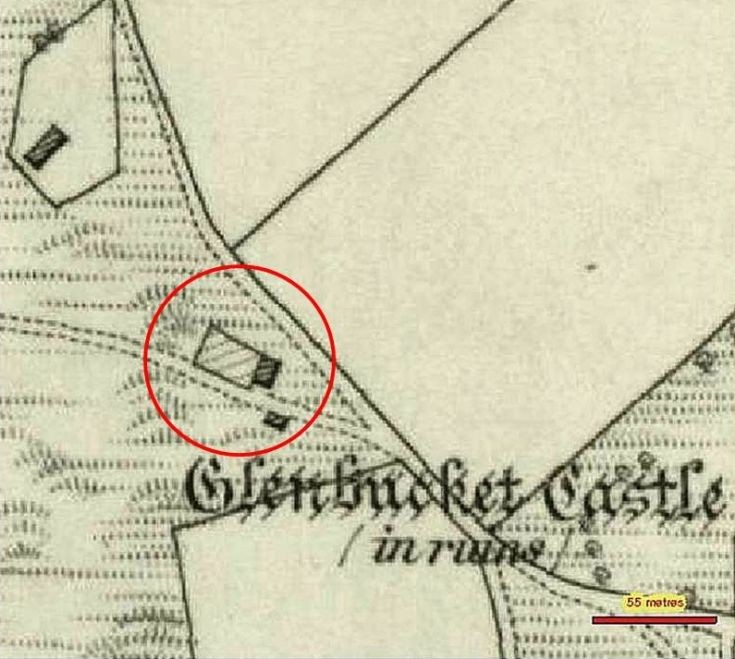 The Glenbuchat Image Library
108 Cottown
Cottown
Map From Ordnance Survey Maps - 25 inch 1st edition, Scotland, 1855-1882
See Cottown today
The situation about this name is confused as there are Cottown's at Kildrummy and Strathdon. Hopefully this following only relates to the Glenbuchat one.
Cot Town, Cotetown, Cotton, Cottown. Cattle-fold town.
cuit, gen. of cuit, cattle-fold.
Baile, town (translated and put last);
These names had been given to groups of cottages at cattle-folds.
A cottar was a peasant who lived in a cottage, usually with no more than four or five acres and sometimes with no land at all. Cottars were usually serfs who worked for the lord of the manor in return for the right to live in the cottage. The term "cottar" was used primarily in Scotland.
The name may therefore refer to a 'toun' 'ton'(collection of houses) lived in by cottars.
1696 Poll Book
Cottertoune.
Item, Patrick Smith, his sone, generall poll 0 6 0
Item, James M'Robie, cottar (no trade), generall poll 0 6 0
£1 10 0
Rannie Family Tree
Alexander Rannie
Birth: Bef 1715 in probably Aberdeenshire,
Death: Aft 1748 in probably Glenbucket,
Marriage 1 Elspet Mulzier b: Abt Dec 1715 in Corriebrak, Strathdon,
Married: Abt Dec 1735 in Glenbucket,
Children
1. John Rannie b: 16 Jan 1737 in Belnaboth, Glenbucket,
2. Margaret Rannie b: 13 May 1739 in Belnaboth, Glenbucket,
3.
Arthur Rannie
b: 13 Mar 1743 in Cottown, Glenbucket,
4. Jean Rannie b: 6 Mar 1748 in Cottown, Glenbucket,

Arthur Rannie
Birth: 13 Mar 1743 in Cottown, Glenbucket,
Death: 12 Jan 1836 in Glenbucket,
Burial: Aft 12 Jan 1836 Glenbuchat Churchyard, Glenbucket,
Father: Alexander Rannie b: Bef 1715 in probably Aberdeenshire,
Mother: Elspet Mulzier b: Abt Dec 1715 in Corriebrak, Strathdon,
Marriage 1
Margaret McRobbie b: Bef 1747 in Strathdon,
Married: Dec 1767 in Glenbucket,
Marriage 2
Ann Gibbon b: Abt 1756 in probably Towie,
Married: 20 Aug 1772 in Towie,
Children
1. Alexander Rannie b: 18 Nov 1773 in Glenbucket,
2. John Rannie b: 30 Jun 1776 in Glenbucket,
3. Margaret Rannie b: 9 Abt 1778 in Glenbucket,
4. Ann Rannie b: 16 Aug 1780 in Glenbucket,
5. Arthur Rannie b: 1 Abt 1782 in Glenbucket,
6. James Rannie b: 10 Jun 1786 in Glenbucket,
7. Isabel Rannie b: 20 Apr 1788 in Glenbucket,
8. John Rannie b: 11 Mar 1792 in Glenbucket,
9. William Rannie b: 11 Mar 1792 in Glenbucket,
10. William Rannie b: 30 Mar 1794 in Glenbucket,

From Strathdon Vital Records

Christenings/Baptisms

1714 July [30]th - Alexander Clerk in Cottertown of Glenbuchett a daughter bapt Janet wit: Wm Clerk in Glenc[ny], Alexr Maitland in Aberdeen & Joseph Clerk in Cottown of
Glenbuchett

1730 Aug22 – Bap John Son to John Warrock in Cottown

1734 Brown – Janry 4 – Bap Jean daur to William Brown in Cottown

1736 Oct19 – Bap Jean daur to Alexr Gauld in Cottown

1739 January 19 – Bap Margaret daughter to William Brown in Cottown

1742 January 3 – Bap: Mary daugh: to William Brown in Cottown

1743 March 13 – Bapt Arthur son so Alexr Ra[x]ny in Cottown

1744 Aprile 24 – Bap: William Son to William Brody in Cottown

1744 July 1 – Bap: John Son to William Brown in Cottown

1745 June 2 – Bap: Helen daug: to Alexr Rainy in Cottown

1748 Rannie – March 6 – Bap Jean daur to Alexr Rannie in Cottown

1752 Brown – Janry 3 – Bap MARY daur to William Brown Cottown

1753August 24 – Bapt Alexr Son to Son to William Mcrobie in Cottown

1756 January 1 – Bapt Wil[xx] son to Alexr Mcrobie in Cottown

1756 June 6 – Bapt MARGT daur to William Gordon in Cottown

1759 Gordon – Febry 28 – Bap Isobel daur to William Gordon Cottown

1763 Gordon – Decr 10 - Bapt Agnes daur to William Gordon Cottown

1760 May 7 - Bapt HARY son to Alexr Mcrobie in Cottown

1760 Oct 16 – Bapt JEAN daur to Will Gordon in Cottown

1766 Gordon – [April] 28 – William son to William Gordon in Cottown

1768 Gordon – Septr 31st – Bap John son to Will Gordon in Cottown

1828 June 7 - John Law & Anne Ross Cottown ~ George

1829 Septr 28 - John Law & Anne Ross Cottown ~ Mary Ann

1831 Law - February 18 - John Law Cottown & Anne Ross his spouse had their third child a daughter born 22nd January & bapt this day named Jean

1833 Merchant - 11 July - John Merchant Cottown & Ann McRobert had a child in fornication born 10th July bapt 13th July named John
Law - December 9 - John Law Cottown & Ann Ross his wife had their fourth child a daughter born 29 November bapt 8 December named Eliza Grant

1835 Law - 20th April - John Law Cottown & Ann Ross his wife had their fifth child a son born 25 March bapt 20 April named Alexander Ross

1837 Law - 13 May - John Law Cottown & Ann Ross his wife had their sixth child a son born 9 May bapt 13 May named John

1839 Law - 5 September - John Law Cottown & Ann Ross his wife had their seventh child a son born 18 August bapt 8 September named James





Picture added on 14 September 2011 at 21:31

This picture is in the following groupsfarm