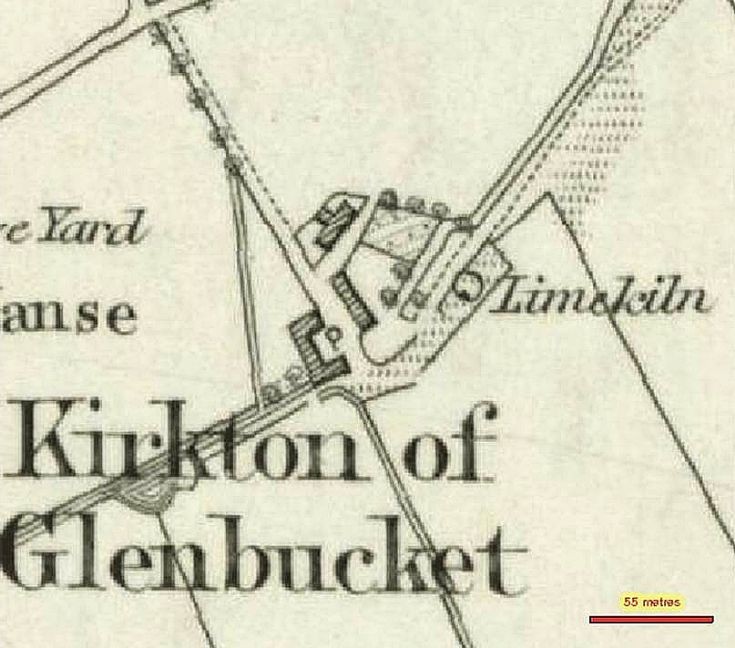 The Glenbuchat Image Library
105 The Kirkton
Kirkton
The Kirkton is a steading beside the Manse and Old Kirk of Glenbuchat.
It may have been that at one stage the Kirkton was the farm for the manse but latterly it seems to have had independent farmers and the Manse had a separate Glebe and steading farmed by one or two resident farm servants.
Click to see picture of The Kirkton today
Search on 'Kirkton'
for more details and pictures of The Kirkton
1851 Census
Kirkton
James Reid Head Mar 44 Farmer (of 21 acres employing 1 Lab) Aberdeenshire, Glenbucket
Jean Reid Wife Mar 37 do, do
Ann Reid daur U 13 Farmer's daur do, do
Isobel Reid daur 8 Scholar do, do
John Reid Son 5 Scholar do, do
Charlotte Reid daur 3 do, do
James Reid Son 1 do, do
Kirkton
James McHardy Servant Mar 30 Farm Labourer Banffshire
1871 Census
Kirktown
James Reid Head Mar 63 Farmer of 122 acres of which 48 are arable
Jane Reid Wife Mar 56
Mary A Reid Daur Unm 31 Farmer's Daur
Jane Reid Daur Unm 30 Farmer's Daur
James Reid Son Unm 21 Farmer's Son
Archibald Reid Son Unm 17 Farmer's Son
William Reid Son 14 Farmer's Son
Families who have lived at Kirkton.
From
Kildrummy Families Web Site
From
Roots Web
William Chree 1749 - 1820
Birth 24 Sep 1749 Glenbucket
Died 29 Dec 1820 Glenbucket
Family Margaret Davidson, b. 17 Aug 1751, Glenbucket
Married 04 Dec 1774 Glenbucket
Children
John Chree
, b. 26 Dec 1775, Glenbucket
Jean Chree, b. 15 Jun 1777, Glenbucket
William Chree, b. 02 May 1779, Glenbucket
James Chree, b. 30 Jun 1781, Glenbucket
Annie Chree, b. 19 Dec 1786, Glenbucket

John Chree 1775 - 1857
Birth 26 Dec 1775 Glenbucket
Died 10 Apr 1857 Glenbucket
Father William Chree, b. 24 Sep 1749, Glenbucket
Mother Margaret Davidson, b. 17 Aug 1751, Glenbucket
Family Jean Davidson, b. 18 Aug 1781, Glenbucket: d. 6 August 1855 in Kirkton, Glenbuchat
Children
Jean Chree , b. 10 Apr 1814, Glenbucket
Histories census
1841 enumerated @ Tullocharich, Glenbucket (farmer) with wife
1851 enumerated @ Tullocharich, Glenbucket (farmer) with wife and granddaughters Mary and Jean Reid

1851 Scotland Census about John Chree
Name:John Chree
Age:75 Estimated Birth Year:abt 1776
Relationship:Head
Spouse's Name:Jean Chree
Gender:Male
Where born:Glenbucket,
Address:Pittscharrick (Tullocharich)
Occupation:Farmer Of 4 Acres

Jean Chree 1814 - 1892
Birth 10 Apr 1814 Glenbucket
Died 18 Dec 1892 Glenbucket
Father John Chree, b. 26 Dec 1775, Glenbucket
Mother Jean Davidson, b. 18 Aug 1781, Glenbucket
Family James Reid, b. 10 May 1807, Glenbucket
Married 30 Sep 1838 Glenbucket
Children
Ann Reid 1837 -
Mary Ann Reid, b. 31 May 1839, Glenbucket
Jean Reid, b. 03 Jan 1841, Glenbucket
Isabella Reid, b. 14 Apr 1843, Glenbucket
John Reid, b. 28 Jun 1845, Glenbucket
Charlotte Reid, b. 18 Aug 1847, Glenbucket
James Reid, b. 17 Nov 1849, Glenbucket
Elspet Reid, b. 19 Jan 1852, Glenbucket
Archibald Reid, b. 05 Feb 1854, Glenbucket
William Reid, b. 30 Sep 1856, Glenbucket
Histories census
1841 enumerated @ Tullocharich, Glenbucket with daughters Mary and Jean
1851 enumerated @ Kirkton, Glenbucket with husband (farmer), stepdaughter Ann and children Isabella, John, Charlotte and James
1861 enumerated @ Kirkton, Glenbucket with husband (farmer) and children Jean, Isabella, John, Charlotte, James, Elspet, Archibald and William
1871 enumerated @ KirkTown, Glenbucket with husband (farmer) and children Mary, Jean, James, Archibald and William
1881 enumerated @ KirkTown, Glenbucket (widow/farmer) with children Mary, Jean and William
1891 enumerated @ KirkTown, Glenbucket (widow/annuitant) with children Mary, Jean and William and granddaughters Charlotte and Edith Reid

1851 Scotland Census about Jean Chree
Name:Jean Chree
Age:60 Estimated Birth Year:abt 1791
Relationship:Wife
Spouse's Name:John Chree
Gender:Female
Where born:Glenbucket,
County:Aberdeenshire Address:Pittscharrick
Occupation:Farmers Wife
Household Members:NameAge
John Chree75
Jean Chree60
MaryAnn Reid11
Jean Reid10



James Reid
Birth 10 May 1807 in Glenbuchat, Aberdeenshire, Scotland
Death 29 November 1871 in Kirkton, Glenbuchat,
Spouse & Children Jean CHRUIE or CHREE (1814-1892)
Ann Reid (1837-)
Mary Ann Reid (1839-)
Jane or Jean Reid (1840-)
Isabel Reid (1842-)
John Reid (1845-)
Charlotte Reid (1847-)
James Reid (1849-)
Elspet Reid (1852-1868)
Archibald Reid (1853-)
William Reid (1856-)
1851 Age: 44 Residence Glenbucket,
1861 Age: 54 Residence Glenbucket,
1871 Age: 64 Residence Glenbucket,
1871 29 Nov Age: 64 Death Kirkton, Glenbuchat



James Reid 1807 - 1871
Birth 10 May 1807 Glenbucket
Died 29 Nov 1871 Glenbucket
Father William Reid, b. 1758, Unknown
Mother Ann Reid, b. 1764, Unknown
Family 1
Isabel McLean
Married not married
Children
Ann Reid, b. 28 May 1837, Glenbucket
Family 2
Jean Chree, b. 10 Apr 1814, Glenbucket
Married 30 Sep 1838 Glenbucket
Children
Mary Ann Reid, b. 31 May 1839, Glenbucket
Jean Reid, b. 03 Jan 1841, Glenbucket
Isabella Reid, b. 14 Apr 1843, Glenbucket
John Reid, b. 28 Jun 1845, Glenbucket
Charlotte Reid, b. 18 Aug 1847, Glenbucket
James Reid, b. 17 Nov 1849, Glenbucket
Elspet Reid, b. 19 Jan 1852, Glenbucket
Archibald Reid, b. 05 Feb 1854, Glenbucket
William Reid, b. 30 Sep 1856, Glenbucket
Histories census
1851 enumerated @ Kirkton, Glenbucket (farmer) with wife and children Ann, Isabella, John, Charlotte and James
1861 enumerated @ Kirkton, Glenbucket (farmer) with wife and children Jean, Isabella, John, Charlotte, James, Elspet, Archibald and William
1871 enumerated @ KirkTown, Glenbucket (farmer) with wife and children Mary, Jean, James, Archibald and William

1851 Scotland Census about James Reid
Name:James Reid
Age:1 Estimated Birth Year:abt 1850
Relationship:Son
Father's name:James Reid
Mother's name:Jean Reid
Gender:Male
Where born:Glenbucket, Aberdeenshire Parish Number:200 Civil parish:Glenbucket County:Aberdeenshire
Address:Kirkton ED:1
Household schedule number:44 Line:20 Roll:CSSCT1851_45
Household Members:NameAge
James Reid44
Jean Reid37
Ann Reid13
Isabel Reid8
John Reid5
Charlotte Reid3
James Reid1
James McHardy30



James Reid 1849 -
Birth 17 Nov 1849 Glenbucket
Father James Reid, b. 10 May 1807, Glenbucket
Mother Jean Chree, b. 10 Apr 1814, Glenbucket
Family Ann Laing, b. 11 Jul 1858, Towie
Married 28 May 1879 Old Machar
Children
Jane Reid, b. 07 Oct 1880, Strathdon and Corgarff
James Reid, b. 1881, Strathdon and Corgarff
Charlotte Reid, b. 1883, Strathdon and Corgarff
Edith Reid, b. 1884, Strathdon and Corgarff
Ethel Annie Reid, b. 1886, Strathdon and Corgarff
Archibald Douglas Reid, b. 1888, Strathdon and Corgarff
William Reid, b. 1890, Strathdon and Corgarff
Richard Reid, b. 1894, Strathdon and Corgarff
Histories census
1851 enumerated @ Kirkton, Glenbucket with parents, half-sister Ann and siblings Isabella, John and Charlotte
1861 enumerated @ Kirkton, Glenbucket with parents and siblings Jean, Isabella, John, Charlotte, Elspet, Archibald and William
1871 enumerated @ KirkTown, Glenbucket with parents and siblings Mary, Jean, Archibald and William
1881 enumerated @ HeughHead, Strathdon (general carpenter) with wife and daughter Jane
1891 enumerated @ Rippachie, Tarland (meal miller/crofter) with wife and children Jane, James, Ethel, Archibald and William
1901 enumerated @ Rippachie, Tarland (meal miller/crofter) with wife and children Jane, James, Ethel, Archibald, William and Richard

The Gentleman's magazine, Volume 93, Part 2
Sept 1 1823 At Kirkton of Glenbucket in her 110th year Christian Benton She possessed her mental faculties in great perfection to the last had a most retentive memory and could read the smallest print without the aid of glasses till within a short time of her death Although by no means in indigent circumstances her chief food was oat cakes and whey and for many years she lived alone Her health was always excellent till within a few weeks of her death when her sufferings became dreadful
From Family Tree Maker
George Benton
Birth 1656 in Glenbucket, Aberdeenshire,
Tenant in Tombrek
Children
John Benton (1698-)

John Benton
Birth 1698 in Scotland, United Kingdom
Parents
George Benton (1656-)
Unknown Spouse
Children
William Benton (1725-1801)




William Benton
Birth 1725 in Glenbucket, Aberdeenshire,
Death 1801 Age: 76 in Alford, Aberdeenshire,
Kirkyard of Alford Stone 59
Parents
John Benton (1698-)
Spouse Barbara Bruce (1730-1788)
1750 31 May Age: 25 Marriage to Barbara Bruce Glenbucket,
Children
John Benton (1751-1844)
James Benton (1753-)
William Benton (1754-)
Peter Benton (1756-)
Elizabeth Benton (1758-)
Alexander Benton (1760-1839)
William Benton (1762-1839)
George Benton (1764-)
Margaret Benton (1765-)
Barbara Benton (1767-)
Joseph Benton (1770-1847)
Jean Benton (1774-)



John Benton
Birth 6 Apr 1751 in Glenbucket, Aberdeenshire
Death 19 Jan 1844 in Alford,
Parents
William Benton (1725-1801)
Barbara Bruce (1730-1788)
Spouse
Martha Stephen (1753-1829)
Children
John Benton (1811-)



William Benton
Birth 1725 in Glenbucket,
Death 1801 in Alford,
Parents
John Benton (1698-)
Spouse
Barbara Bruce (1730-1788)
Children
John Benton (1751-1844)
James Benton (1753-)
William Benton (1754-)
Peter Benton (1756-)
Elizabeth Benton (1758-)
Alexander Benton (1760-1839)
William Benton (1762-1839)
George Benton (1764-)
Margaret Benton (1765-)
Barbara Benton (1767-)
Joseph Benton (1770-1847)
Jean Benton (1774-)
1750 31 May Age: 25 Marriage to Barbara Bruce Glenbucket,
1801 Age: 76 Death Alford, Kirkyard of Alford Stone 59



Peter Benton
Birth 14 Mar 1756 in Alford,
Parents
William Benton (1725-1801)
Barbara Bruce (1730-1788)
Spouse
Christian Laing (-)
Children
William Benton (1789-)
Barbara Benton (1791-)
Spouse
Jean Forbes (1773-)
Children
Jean Benton (1795-)
Christian Benton (1797-)
Joseph Benton (1803-1880)
James Benton (1804-)
Margaret Benton (1806-)
John Benton (1808-)
George Benton (1811-)
1788 3 Feb Age: 31 Marriage to Christian Laing Keig, Aberdeenshire.
1793 19 Dec Age: 37 Marriage to Jean Forbes Alford, Aberdeenshire,



Christian Benton
Birth 1797 in Scotland
Death 1823 in Kirkton of Glenbucket (See above article)
Parents
Peter Benton (1756-)
Jean Forbes (1773-)



From
Roots WebBarbara Hay
Birth: Abt 1715 In Prob Aberdeenshire
Burial: Aft 08 Jun 1781 Glenbuchat Churchyard, Glenbucket,
Death: 08 Jun 1781 In Kirkton, Glenbucket,
Marriage 1
John Moir B: Abt 1711 In Prob Aberdeenshire
Married: Abt 1734 In Prob Glenbucket,
Children
Jean Moir B: Bef 10 Apr 1735 In Easterbucket, Glenbucket,
John Moir B: Bef 20 Jun 1736 In Easterbucket, Glenbucket
Ann Moir B: Bef 19 Feb 1738 In Easterbucket, Glenbucket
Isabella Moir B: Bef 16 Mar 1740 In Easterbucket, Glenbucket
John Moir B: Bef 10 Apr 1743 In Kirkton, Glenbucket,
William Moir B: Bef 04 Jun 1745 In Kirkton, Glenbucket
James Moir B: Bef 30 Aug 1747 In Kirkton, Glenbucket
Mary Moir B: Bef 16 Mar 1750 In Kirkton, Glenbucket
Jean Moir B: Bef 28 Mar 1752 In Kirkton, Glenbucket
James Moir B: Bef 05 Aug 1754 In Kirkton, Glenbucket
Alexander Moir B: Bef 04 May 1760 In Kirkton, Glenbucket

John Moir
Birth: Bef 10 Apr 1743 In Kirkton, Glenbucket,
Burial: Aft 12 Dec 1828 Glenbuchat Churchyard, Glenbucket,
Residence: 10 Mar 1779 Kirkton, Glenbucket,
Death: 12 Dec 1828 In Finnylost, Strathdon,
Residence: 1825 Finnylost, Strathdon,
Residence: 17 Mar 1783 Kirkton, Glenbucket,
Residence: 07 Feb 1789 Crofts Of Deskryside, Strathdon,
Residence: 11 May 1781 Kirkton, Glenbucket,
Father: John Moir B: Abt 1711 In Prob Aberdeenshire, Scotland
Mother: Barbara Hay B: Abt 1715 In Prob Aberdeenshire, Scotland
Marriage 1
Mary William B: Abt 1762 In Prob Aberdeenshire
Married: Abt 1780 In Prob Glenbucket,
Children
James Moir B: 07 Feb 1781 In Glenbucket,
Isabella Moir B: 07 Mar 1783 In Kirkton, Glenbucket,
John Moir B: Abt 1788 In Strathdon,
Arthur Moir B: 07 Feb 1789 In Crofts Of Deskryside, Strathdon,
Alexander Moir B: Abt 1791 In Towie,

From
Glenbuchat Ancestors1719
Reid – April 19th - Baptised Will. Son to John Reid in Kirkton
1721
Reid - [July 23] - as also Elspet Daur t o John Reid in Kirkton
1823
Reid & Forbes - Dec 24 - James Reid in Kirkton & Hellen Forbes in Migvie were proclaimed & married
1847
Reid & Chree – August 18th 1847 – James Reid Kirkton and his wife Jean Chree had a daughter born baptized 29th said month and named Charlotte before witnesses
1852
Reid & Chree – 19th January 1852 – James Reid Kirkton and his wife Jean Chree had a daughter born baptized the 5th Febry and named ELSPET before witnesses
Picture added on 06 August 2011 at 22:15
This picture is in the following groups
farm