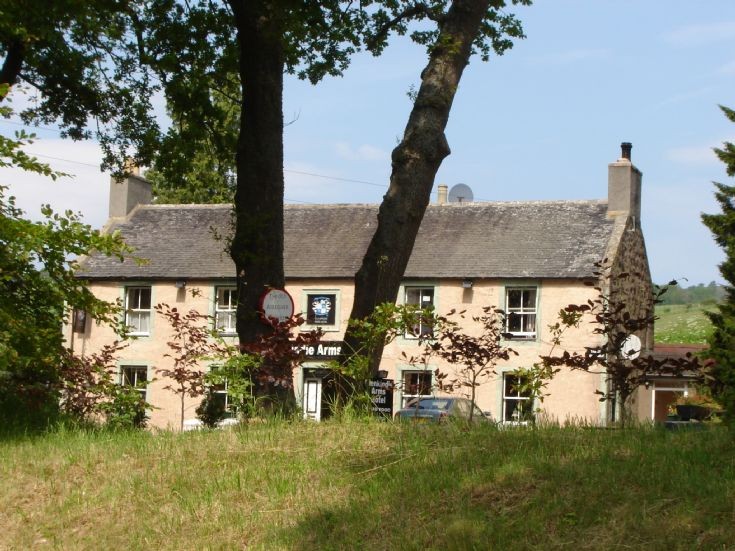 The Glenbuchat Image Library
Glenkindie Arms Hotel
Glenkindie Arms Hotel from the Steadings March 2009.
The insignia above the door are the Strachan arms with motto: Non timeo sed caveo. "I do not fear but I beware"
Glenkindie Arms Hotel
(The site moderator adds)
Although not actually in Glenbuchat the Hotel is probably the nearest restaurant and watering hole to Glenbuchat along with the Colquhony hotel.
It is a listed building
From British Listed Buildings
"-storey 4-window elevation, centre door with architraved painted heraldic panel over; harled, margins. 1820-21. Originally masonic hall. Built 1820. Cost £450 sterling."
Reputedly with a history going back 400 years originally as an Inn for travellers and Drovers it was rebuilt in 1821 as a Masonic Hall.
From The
Donean Tourist 1828
"On the north of the Don stands an elegant masonic lodge, reared in 1820 and dedicated to St Andrew. The building cost £450 sterling and is 56 feet by 22 the hall is very large and commodious being 40 feet by 18. The lodge is occupied as an inn, being a convenient stage on the road leading to Strathdon a little beyond the 37th mile stone. In the neighbourhood are many antiquities such as tumuli druidical circles encampments &c."
1831
"A blacksmith undertook for a bet to swim across the flooded river near the Mason lodge of Glenkindy, but had his strength been that of Hercules, it would have availed him nothing in such a stream. He was whelmed beneath the raging billows and sunk to rise no more If he who tempted him to so awful a provocation of Providence, says Sir Thomas, has any human feeling in his bosom, I should say with Douglas that happy in my mind was he who died."
From
A topographical dictionary of Scotland 1846
"The St Andrew Masonic lodge was instituted in 1814. and a spacious hall erected in 1821 the buildings comprise also an excellent and well frequented inn. A public library which contains more than 500 volumes of standard works on theology history and general literature was established in 1827 and is well supported by subscription. Fairs chiefly for cattle are held annually near the Masonic lodge at Glenkindie on the first Monday after Trinity Muir fair in April and the first Saturday after that of Keith in September, there are also fairs for hiring servants on the days after Whitsuntide and Martinmas Facility."
From
The 1845 Statistical Account, Towie
"There are two cattle trysts held annually at the Glenkindie Mason's Arms Inn; the one lately altered to the first Monday after Trinity Muir in April, and the other on the first Saturday after Keith in September. There are also two feeing markets held at the same place, on the day after the Whitsunday and Martinmas terms, unless the same shall happen on Sunday, when they are held on the Monday following. These are well attended; but it is generally acknowledged that the feeing markets have a demoralizing effect upon the labouring classes."
"Friendly Society There was a masonic society instituted here in 1814 and denominated St Andrew's Lodge of Glenkindie Free Mason Friendly Society which usually distributes among its members to the amount of L 50 per annum"
Glenkindie was obviously a centre of Masonic activity, and from
The History of the Ancient and Honourable Fraternity of Free and accepted Masons
it mentions:
" He (Lt Col William James Bury McLeod Moore, Supreme Grand Master of the Sovereign Great priory of Canada) received the three degrees of Craft Masonry in one evening,(Aug 17 1827) when, only seventeen years of age, at a special meeting of Glenkindie Lodge, held in the house of Master, Major General Sir Alexander Leith ."
With the gradual withdrawal of Free Masonry the Hotel dropped the word Masons from its name and became the Glenkindie Arms Hotel
Picture added on 18 February 2011 at 10:12
This picture is in the following groups
buildings
Comments: