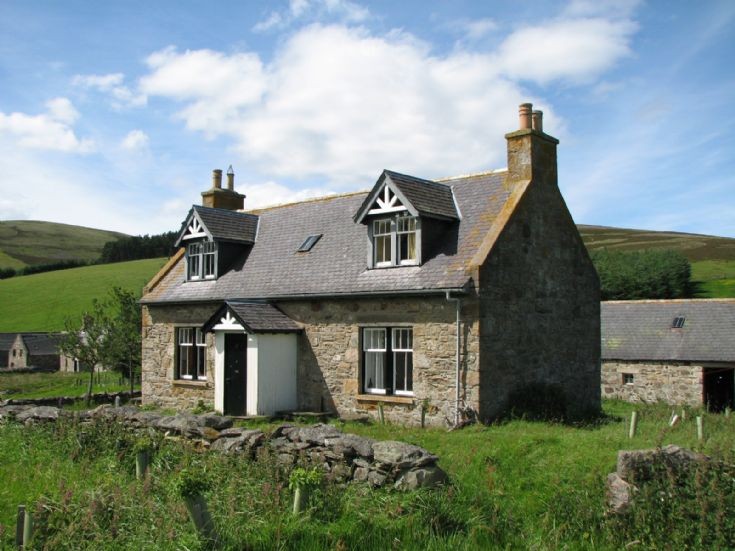 The Glenbuchat Image Library
32 Badenyon, Jeans House
Jeans House
This house used to belong to Jean Farquharson who lived there until the 1970's
Her picture can be seen here.
Jean appears to have been a formidable character. She was known to ride a motorcycle through the Glen and a late resident of a nearby croft recalls the welcome her mother received from Jean when they arrived in the glen. They received a note which said "do not put a foot on my land or I will shoot you." Fortunately this did not happen and they became friends later.
JEANNIE´S HOUSE: single storey and attic, 3-bay farmhouse. Snecked rubble with squared rubble quoins and margins. Stone and timber mullions. Symmetrical S elevation with pitch-roofed timber porch to centre bay with flanking bipartite windows giving way to bipartite dormers and central cast-iron rooflight.
3-pane upper sashes over tall 2-pane lower sashes, 4-pane glazing pattern to rear, all in timber sash and case windows. Grey slates. Coped ashlar stacks with clay cans; ashlar-coped skews.
INTERIOR: ground floor with cast-iron stove built into open hearth to W room, and timber fire-surround with tiled cheeks and cast-iron grate to E; timber dog-leg staircase with ball-finialled newel post.
The cottage prior to renovation in 1907 can be seen here
Picture added on 19 July 2010 at 19:17
This picture is in the following groups
Badenyon