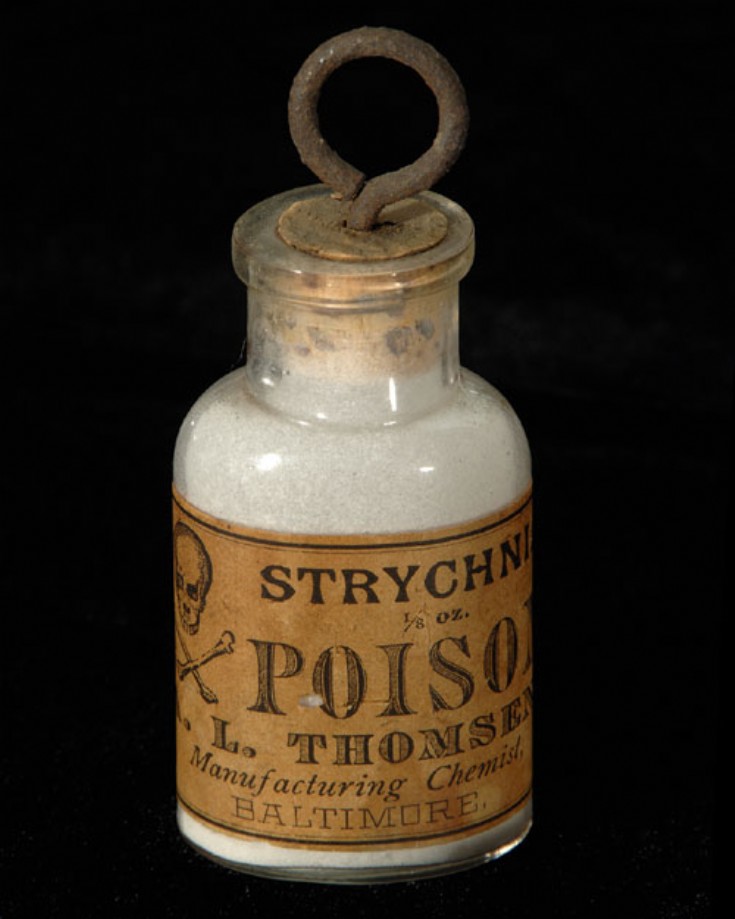 The Glenbuchat Image Library
58 Poisoning at the Poorhouse!
A small entry in the
1864 London Pharmaceutical Journal
opens up a number of fascinating issues relating to the social life of the residents in Glenbucket at that time
It concerns an entry from the Aberdeen Journal, about a case of poisoning in the glen.
"
Accidental Poisoning by Strychnia.
On Thursday February 25th Sophia Tulloch, servant at the
Poor House at Belnaboth,
parish of Glenbucket, who had been rather unwell for some time, went to the
grocer, Mr Chree's, at Sunnybrae
in the same parish. The grocer's wife, a most respectable woman, who was acting at the time in his absence, unfortunately gave the amount asked, five grains of strychnine by mistake for calomel. When the young woman went home she swallowed the dose which was immediately followed by the usual effects great agony and a rapid dissolution She was dead in less than fifteen minutes Deceased was aged 27 years The case we hear is in the hands of the authorities." Aberdeen Journal
This brief article produces a lot of leads to other fascinating snippets of Glen life at that time.
1. Provision of medical care
In the absence of professional medical help from Doctors and Pharmacists, who were rare and expensive in those days, treatment for minor maladies was obtained by seeking medicines from local sources. Here the patient Sophia Tulloch was seeking
Calomel or mercurous chloride
. Mercury became a popular remedy for a variety of physical and mental ailments. It was once used medicinally as a purgative, cathartic, liver stimulant, and to eliminate parasitic worms, but is rarely so used today because it is readily decomposed into metallic mercury and the very poisonous mercuric chloride on exposure to sunlight or if heated in the presence of moisture.Calomel was given to patients as a purgative until they began to salivate. However, it was often administered to patients in such great quantities that their hair and teeth fell out.
It shows that even if she had got the right medicine ithe unfortunate girl would also have got a poisonous product.
Secondly it shows the lack of regulation and safety in prescribing what is a major poison.
Strychnine
is a poisonous alkaloid that is obtained from seeds of the nux vomica tree (S. nux-vomica) and related plants of the genus Strychnos. Strychnine has been used in rodent poisons and in smaller doses as a stimulant in veterinary practice. It increases the reflex irritability of the spinal cord, which results in a loss of normal inhibition of the body's motor cells, causing severe contractions of the muscles; arching of the back is a common symptom of poisoning. Strychnine rapidly enters the blood, whether taken orally or by injection, and symptoms of poisoning usually appear within 20 minutes. The symptoms begin with cramps and soon culminate in powerful and agonizing convulsions that subside after a minute but recur at a touch, a noise, or some other minor stimulus. Death is usually due to asphyxiation resulting from continuous spasms of the respiratory muscles.
The unfortunate girl received a fatal dose of Strychnine which presumably was being kept as a rat poison. We do not know what happened to the unfortunate Mrs Chree.
2. Shops in Glenbuchat
The main shop in Glenbuchat from the early 1900 was at the purpose built shop at the
Craigton
beside the Church and Manse. This shop was open until the early 1970's.
Prior to that there appears to have been a shop at
Sunnybrae Farm.
The picture shows what appears to be the shop in the wooden building in the middle. Perhaps deliveries were being made on the sleigh. There was also a small shop at
Badenyon
, where a small shop can be seen in front of the farm house. Finally there was the
'Fly Cart'
, a travelling shop that took good around the isolated farmsteads. Again, travelling shop vans were regular in the glen until the late 1970's. There was also a small shop at the clachan at Easterbucket.
These small shops would sell a wide range of items including some pharmaceutical remedies.
3. Who were the Chrees?
(See comments below)
From
www.cree.name
Chree is an unusual name but research shows that there were numerous and notable in Glenbuchat up to 1945. The surname Cree first appears in Scottish records in something like its modern form in the 1450s. There is evidence that it derives from a place name, probably either Creich in Fife or Crieff in Perthshire. An indigenous Irish Cree line, it is believed, arose in around 1690 from the well-known Irish name Creagh. In England the Derbyshire the Cree line originates from a name change from Mackree to Cree first recorded in 1678.
A Crie family from Angus moved in to Glenbucket in the Highlands of Aberdeenshire in the Eighteenth Century. For some reason, although the father was a minister of the church and therefore literate, the spelling was changed to Chree. Perhaps due to their geographical isolation, this spelling was retained until the present day.
The Chree family occupied Sunnyside Farm and ran the local shop from there. In Worrall's Directory of North East Counties, John Chree Glenbucket is recorded under Grocers & Drapers.
The Chree Family Tree is noted below. You will notice that it is a large and very illustrious family. Included in the family are the following university graduates with impressive cv's:
Chree, Charles, D.D. 1878.
[S. of William C. ; b. Glenbucket, Aberdeenshire, 26th Feb. 1827.]
M.A.King's Coll. 1845. Minister of South Church, Kirriemuir, Forfarshire, 1853 ;
Lintrathen, Forfarshire, 1855. Died, 26th April 1893.
EDUCATION: Master of Arts; Doctor of Science; Doctor of Laws.
OCCUPATION: Superintendent, Kew Observatory.
HONORS: Fellow of the Royal Society.
Dr. Charles Chree, F.R.S.
Alexander Bain Chree, M.D.,
b. 5 Jan 1865, d. 14 Feb 1886 M.A. 1884.
S. of Rev. Charles C. [D.D. 1878, q.v.] ; h. Lintrathen, 5th Jan.
1865. Died at the Manse of Lintrathen, Forfarshire, 14th Feb. 1886
Chree, George Johnstone,
M.A. 1885 ; B.D. 1889.
S. of George C. [M.A. King's Coll. 1856] ; b. Keig, 14th July 1864.
Senior Chaplain (Church of Scotland), Indian Ecclesiastical Establishment (Bengal), 26th Sep. 1902, having been appointed an assistant chaplain, 26th Sep. 1892.
Chree, William,
M.A. 1882; B.D. 1886.
S. of George C. [M.A. King's Coll. 1856] ; /;. Keig, l0th Feb.1863.
Missionary of the Church of Scotland and Principal of the Missionary Institution, Madras.
Christian, John Chree,
M.A. 1898. S. of Charles C. ; /;. Walls, i8th July 1875.
Assistant Master, Fortrose Academy, Ross-shire ; Assist. Classical Master, Higher Grade School, Buckie, Banffs,
Chree, Sir William,
M.A. 1877. S. of Rev. Charles C. [D.D. 1878, q.v.] ; h. Lintrathen, 6th July 1858. LL.B. (dist.) Edin. 1892.
Member of the Faculty of Advocates, admitted, 1892. Edinburgh.
A, Procurator of the Church[1] 1858 – 1936 advocate, Procurator of the Church
EDUCATION: Master of Arts; Bachelor of Laws; Doctor of Laws.
OCCUPATION: Advocate.Dean of the Faculty of Advocates
OFFICE: Procurator of the Church, 1923.
4. What about poor Sophia Tulloch?
Sophia Tulloch was the daughter of Peter Tulloch of Badenyon.
The family tree is noted at the end of this page.
Sophia was aged 27 at the time of her death and had had an illegitimate child in 1857 that died soon after birth. She was noted as a domestic servant in the 1861 census but in the newspaper report is reported to be a servant at the poor house.
5. What about the Poor House?
The mention of the Poor house at Belnaboth is fascinating as I can find no record of it in any of the county poorhouse records on line. There is an excellent site giving full details about
Poorhouses in Scotland
Belnaboth
was a significant Clachan at that time. One of the houses was for a time a "Poor House". The poor house was on the bend of the road down through Belnaboth and the base is now the base of a agricultural shed. I am told the fireplace can still be seen in the walll inside the shed. From the 1851 Census we have evidence of paupers and a Paupers Nurse at Belnaboth therefore probably confirming the presence of a Poor House of some description.
Belnaboth 1851 Census
Rachel Young Head U 84 Pauper (formerly house servant)
Ann McHardy Nurse U 58 Paupers nurse (formerly House Serv)
William Fraser Head Widr 59 Pauper (formerly Road Contractor)
The following gives details of Poor House rules in 1850.
Interestingly, in Shaw's Union Officers Manual 1847, Mr William Chree is noted as Inspector for the Parish of Glenbucket and therefore was involved in the administration of the Poor Law.
SHAWS UNION OFFICERS MANUAL
A work which shall clearly point out the duties of union officers and others engaged in the administration of relief to the poor without being at the same time unnecessarily burdened with legal technicalities having been long wanted has led to the publication of Shaws Union Officers Manual The Editor has endeavoured in his notes on the duties of the officers as prescribed by the rules of the poor law commissioners to give such familiar explanations of the various rules as may serve to guide the officers to a correct perception of their respective duties and indicate the course which they ought to adopt on all doubtful points which may arise in practice
From the Scottish Poor House Rules 1850
"
So long as relief to the poor was looked upon, both by the givers and recipients, as the fulfilment of a charitable, rather than a legal, obligation, poorhouses were naturally regarded merely in the light of almshouses for the reception of the more deserving amongst the aged, infirm, or friendless poor. The inmates were therefore, generally speaking, of but one class, consisting wholly of persons whose destitution and disability were beyond a doubt, and by whom admission to the poorhouse was held to be a favour or indulgence of which they might at any time be deprived by their own misconduct. The whole establishment was managed in a corresponding spirit. The inmates had regular liberty-days once a-week, when they went to visit their friends, or to amuse themselves; and it was not uncommon to find some of them begging on the streets or highways. In like manner, once a-week their friends were freely admitted to visit the inmates in the poorhouse, which, on such occasions, exhibited a promiscuous throng of paupers and their visitors mingled together. The friends of the paupers were permitted to bring to them, in the house, tobacco and such other articles of luxury (excepting ardent spirits) as they were able to procure. The inmates were induced to engage in some kind of industrious occupation, by a weekly payment of part of the proceeds of their work, to be expended as they might think proper on their liberty-days; and one of the first petitions presented to the Board of Supervision was from the male inmates of a poorhouse, complaining that the weekly sum allowed them as pocket-money was unreasonably small. It was deemed unnecessary to enforce strictly any system of rules or discipline where flagrant breaches of order or decorum were punished by expulsion from the house. But, while poorhouses ought always to afford a fit and safe asylum for helpless and friendless paupers, they must now be prepared to receive a new and wholly different class of inmates.
The proper subjects for admission into a poorhouse form two separate classes, easily distinguishable from other classes of paupers and from one another. Poor persons who are not comprised in one or other of these two classes will, with more advantage, both to the parish and to themselves, be admitted to out-door relief. For any systematic attempt to refuse all relief, except such as may be received within the walls of the poorhouse, would excite a baneful spirit of discontent amongst the poor, and that part of the population with which they are most closely connected; without effecting any saving to the funds of the parish; and far from being countenanced, would scarcely be tolerated by public opinion in this country.

The first of these two classes of paupers, for whom relief in a poorhouse is preferable to out-door relief, comprises destitute persons who are incapacitated, by youth or old age, or by disease, whether mental or physical, from contributing in any way to their own support, and who, at the same time, from being friendless, or weak in mind, or from requiring more than ordinary attendance, cannot be adequately maintained and cared for by means of outdoor relief, except at a cost exceeding that for which they can be provided for in the poorhouse.

The other class of paupers, for whom relief in a poorhouse is preferable to out-door relief, and to whom it is peculiarly applicable, either as a test or as affording the means of needful restraint, consists of applicants for, or recipients of, relief of every kind, whose claims are doubtful:— such as, persons who are suspected of concealing or of misrepresenting the extent of their means and resources, whether arising from their own exertions and earnings, or from the aid afforded by friends or relatives; or persons who, though not able-bodied, are yet not so disabled as in the opinion of the parochial board, to render them incapable of maintaining themselves and their dependents, if any, without relief from the parish; but more especially all persons of idle, immoral, or dissipated habits, who, if admitted to outdoor relief, would squander their allowance in drunkenness and debauchery, or otherwise misapply them. Poor persons may not be allowed to starve because they or their parents are vicious, but the law leaves to the bodies to whom its administration is entrusted, a choices to the manner of affording relief; and if parochial boards desire to discourage indolence, to detect imposture, to check extravagance, and to reform or control vice, they must make work, confinement, and discipline, the conditions upon which pauper of this class are relieved.
"
Chree Glenbucket Family Tree

William CHRUIE
Marriage:19 JUL 1747 Glenbuchat, ABD, SCT
Spouse: Jannett DASSON
Children:

William CHRUIE
Catherine CHRUIE b. Abt 1766 Glenbuchat, ABD, SCTd. 30 OCT 1831 Glencorny



William CHRUIE b. 24 SEP 1749 Sunnybrae, Glenbuchat, ABD, SCT d. 29 DEC 1820
Parents: Father: William CHRUIE Mother: Jannett DASSON
Marriage: 12 APR 1774 Glenbuchat, ABD, SCT
Spouse: Margaret DAVIDSON b. 1751 Glenmuick, ABD, SCT d. 6 MAR 1817
Children:

John CHRUIE
Jean CHRUIE b. 15 JUN 1777 d. 9 NOV 1811
William CHRUIE b. 2 MAY 1779 Sunnybrae, Glenbuchat, ABD, SCT d. 14 NOV 1855 Glenbuchat, ABD, SCT
James CHRUIE
Anna CHRUIE b. 19 DEC 1786 d. JAN TO MAY 1840


William CHRUIE
b. 2 MAY 1779 Sunnybrae, Glenbuchat, ABD, SCT d. 14 NOV 1855 Glenbuchat, ABD, SCT
Parents:
Father: William CHRUIE
Mother: Margaret DAVIDSON
Marriage:28 FEB 1819 Glenbuchat, ABD, SCT
Spouse: Mary DAWSON
b. 1794? Strathdon, ABD, SCT
d. 7 FEB 1863 Glenbuchat, ABD, SCT
Parents:Father: Charles DAWSONMother: Margaret ROSS
Children:

James CHRUIE b. 26 FEB 1820 Sunnybrae, Glenbuchat, ABD, SCT
d. 17 AUG 1873 Sunnybrae, Glenbuchat, ABD, SCT
William CHREE b. 18 NOV 1822 Sunnybrae, Glenbuchat, ABD, SCT d. 26 MAR 1900 Sunnybrae, Glenbuchat, ABD, SCT
John CHREE b. 26 DEC 1824 Sunnybrae, Glenbuchat, ABD, SCT d. 28 JUL 1900 Sunnybrae, Glenbuchat, ABD, SCT
Charles CHREE b. 17 FEB 1827 Sunnybrae, Glenbuchat, ABD, SCT d. 26 APR 1893 Lintrathen, Forfar, ANS, SCT
Mary CHREE b. 28 APR 1829 Baltimore, Glenbuchat, ABD, SCT d. 3 AUG 1889 Glenbuchat, ABD, SCT
Robert CHREE b. 3 APR 1831 d. 9 FEB 1843
George CHREE
Alexander Findlater CHREE
Peter CHREE b. 11 DEC 1836 Sunnybrae, Glenbuchat, ABD, SCTd. 1886(10-12) Whitechapel(1C 244)
Ann Margaret CHREE b. 23 JAN 1839 d. 18 JUN 1857 Glenbuchat, ABD, SCT


James CHREE b. 26 FEB 1820 Sunnybrae, Glenbuchat, ABD, SCT d. 17 AUG 1873 Sunnybrae, Glenbuchat, ABD, SCT
Parents:Father: William CHREE Mother: Mary DAWSON
Marriage:12 JNE 1870 Glenbuchat, ABD, SCT
Spouse: Isabella SHAND b. 11 JNE 1830 Auchinuir, Cabrach, ABD, SCTd. 19 APR 1881 Sunnybrae, Glenbuchat, ABD, SCT
Parents:Father: Alexander SHANDMother: Margaret MORRISON
Children:

Ann Margaret Shand CHREE
Jean Dawson CHREE b. 1871 Glenbuchat, ABD, SCTd. 1951 Laurencekirk, KCD, SCT
Isabella CHREE b. 13 MAY 1873 Sunnybrae, Glenbuchat, ABD, SCTd. 7 MAR 1961 Rothes, MOR, SCT


William CHREE b. 18 NOV 1822 Sunnybrae, Glenbuchat, ABD, SCT d. 26 MAR 1900 Sunnybrae, Glenbuchat, ABD, SCT
Parents: Father: William CHRUIE Mother: Mary DAWSON
Marriage:9 DEC 1882 Tarntoul, Glenbuchat, ABD, SCT
Spouse: Anne FARQUHARSON b. 29 MAR 1829 Glenbuchat, ABD, SCTd. 18 DEC 1915 Sunnybrae, Glenbuchat, ABD, SCT
Parents: Father: James FARQUHARSON Mother: Isobella FORBES
Children:

Ann CHREE


John CHREE b. 26 DEC 1824 Sunnybrae, Glenbuchat, ABD, SCT d. 28 JUL 1900 Sunnybrae, Glenbuchat, ABD, SCT
Parents: Father: William CHRUIE Mother: Mary DAWSON
Spouse 1: Betty MCGRIGOR
Children:

Robert CHREE b. 22 SEP 1852 Glenbuchat, ABD, SCT d. 3 OCT 1915 Milltown, Glenbuchat, ABD, SCT
John CHREE b. 9 FEB 1856 Ledmacaie, Strathdon d. 31 JUL 1885 Taree, New South Wales

Marriage:11 DEC 1857 Inveravon, BAN, SCT
Spouse2 : Catherine INNES
b. 22 MAY 1831 Inveravon, BAN, SCT
d. 31 DEC 1918 Glenbuchat, ABD, SCT
Parents: Father: Alexander INNES Mother: Henrietta GRANT
Children:

Alexander CHREE b. 23 JAN 1858 Inveravon, BAN, SCT d. 19 AUG 1908 Newmill, Foveran, ABD, SCT
William CHREE
James CHREE
Charles John CHREE
Mary Dawson CHREE b. 13 APR 1866 Sunnybrae, Glenbuchat, ABD, SCT d. 12 Married 1915 Newmill, Foveran, ABD, SCT
George CHREE b. 18 MAR 1868 Glenbuchat, ABD, SCT d. 1952 Cluny, ABD, SCT
Peter CHREE
Helen CHREE
Ann CHREE b. 5 MAR 1872 Glenbuchat, ABD, SCT d. 17 FEB 1896 Sunnybrae, Glenbuchat, ABD, SCT
Adam Reid CHREE


John Died with financial problems:
THE Estates of the Deceased JOHN CHREE, Merchant, Sunnybrae, Glenbucket, Aberdeenshire, were Sequestrated on 9th October 1900, by the Sheriff of Aberdeen, Kincardine, and Banff.
The first Deliverance is dated 9th October 1900. The Meeting to elect the Trustee and Commissioners is tobe held at twelve o'clock noon, on Monday the 22nd day of October 1900, within the Douglas Hotel,Aberdeen.
A Composition may be offered at this Meeting ; and to entitle Creditors to the first Dividend, their oaths and grounds of debt must be lodged on or before the 9th
February 1901. All future Advertisements relating to this Sequestration will be published in the Edinburgh Gazette alone.
JOHN DICKSON, Solicitor, Huntly,

The SEQUESTRATION of the Deceased JOHN CHREE,
Merchant, Sunnybrae, Glenbucket, in the County of Aberdeen.
The Trustee hereby intimates that an account of his intromissions with the funds of the Estate, brought down to 9th February current, has been audited by the Commissioners, and that a, first Dividend will be paid to those Creditors whose claims have been admitted, within the Chambers of Messrs. G. & J. M'Bain, C.A., 38 Union Street, Aberdeen, on and after the 10th day of April 1901.

Their son Adam was described as a merchant, clothier and grocer and also lived at Baltimore. He married twice: First to Isobel Crawford (1816-1844) which produced one daughter Ann b 1840 and secondly to Mary Chree (1829-1889) this poor woman went on to produce a further 12 children)! Adam and Mary's 5th child another Adam (1859-1933), emigrated in 1884 to the States, he married American Nellie Dodge and their third child was Dr Ada Chree Reid, the pioneering American female doctor.

Charles CHREE b. 17 FEB 1827 Sunnybrae, Glenbuchat, ABD, SCT d. 26 APR 1893 Lintrathen, Forfar, ANS, SCT
Parents: Father: William CHRUIE Mother: Mary DAWSON
Marriage:22 JUL 1856 Craighill, Dundee, ANS, SCT
Spouse: Agnes Scarth BAIN b. 11 SEP 1824 Kirkwall & St Ola, OKI, SCT d. 16 JUN 1873 Lintrathen, Forfar, ANS, SCT
Parents: Father: William Watt BAIN Mother: Janet SCARTH
Children:

William CHREE (SIR). b. 6 JUL 1858 Lintrathen, Forfar, ANS, SCT d. 10 JAN 1936 Edinburgh, (St Andrew) MLN, SCT
Charles CHREE b. 5 MAY 1860 Lintrathen, Forfar, ANS, SCT d. 12 AUG 1928 Nursing Home, Worthing
Jessie Scarth CHREE b. 23 OCT 1861 Lintrathen, Forfar, ANS, SCT d. 18 JLY 1951 15, Heriot Row, Edinburgh, MLN, SCT
Alexander Bain CHREE b. 5 JAN 1865 Lintrathen, Forfar, ANS, SCT d. 14 FEB 1886 Lintrathen Manse, Forfar, ANS, SCT


Adam REID b. 3 APR 1801 Glenbuchat, ABD, SCT d. 23 APR 1886
Parents: Father: Peter REID Mother: Mary DINGUAL
Marriage 1:2 JUL 1838 Glenbuchat, ABD, SCT
Spouse: Isobel CRAWFORD
Children:

Ann REID b. 18 MAY 1840 Glenbuchat, ABD, SCT d. 3 JUL 1901

Marriage 2:7 APR 1849 Glenbuchat, ABD, SCT
Spouse: Mary CHREE b. 28 APR 1829 Baltimore, Glenbuchat, ABD, SCT d. 3 AUG 1889 Glenbuchat, ABD, SCT
Parents: Father: William CHRUIE Mother: Mary DAWSON
Children:

Mary Ann REID
Jean REID b. 3 NOV 1851 Glenbuchat, ABD, SCT d. 18 MAY 1892
Janet REID b. 6 SEPT 1853 Baltimore, Glenbuchat, ABD, SCT d. 7 MAR 1933 Boutiebank
Margaret REID b. 23 NOV 1855 Baltimore, Glenbuchat, ABD, SCT
Adam REID b. 18 APR 1859 Glenbuchat, ABD, SCT
Isabella REID b. 7 JUN 1861 Glenbuchat, ABD, SCT d. 1942 Glenbuchat, ABD, SCT
Peter REID b. 1863
Hellen REID b. 5 APR 1866 Baltimore, Glenbuchat, ABD, SCT d. 25 JUN 1868
William REID b. 5 APR 1866 Baltimore, Glenbuchat, ABD, SCT
Catherine Elizabeth REID
Charles George REID b. 1870 d. 8 AUG 1900 Denmill, Touch
John Alexander REID b. 3 MAR 1874 Glenbuchat, ABD, SCT


George CHREE b. 10 APR 1833 Keig, ABD, SCT d. 8 MAR 1910 Aberdeen, St Machar, Royal Infirmary, ABD, SCT
Parents: Father: William CHRUIE Mother: Mary DAWSON
Marriage:7 APR 1862 Savoch, ABD, SCT
Spouse: Helen JOHNSTONE b. 1845 Mains of Inkhorn, New Deer, Savoch d. 9 MAY 1921 Keig, ABD, SCT
Children:

William CHREE b. 10 FEB 1863 Keig, ABD, SCT d. 31 JUL 1911 Madras, General Hospital
George Johnstone CHREE
James CHREE b. 17 JUN 1866 Keig, ABD, SCT d. 3 MAR 1894 Strichen, ABD, SCT
Helen Elizabeth CHREE b. 9 OCT 1867 Keig, ABD, SCT d. 1 APR 1884 Keig, ABD, SCT
Charles CHREE
John Strachan CHREE
Robert Dawson CHREE b. 29 AUG 1871 Keig, ABD, SCT d. 5 FEB 1897 Keig, ABD, SCT
Elizabeth Johnstone CHREE b. 12 JAN 1873 Keig, ABD, SCT d. 30 JAN 1873 Keig, ABD, SCT
Isabella Mary Johnstone CHREE b. 4 APR 1874 Keig, ABD, SCT d. 24 AUG 1941 Southern Aberdeen, ABD, SCT
Ida Lloyd CHREE b. 17 OCT 1875 Keig, ABD, SCT d. 26 MAR 1943 Aberdeen South District, ABD, SCT
Edith Elizabeth CHREE
Hilda Margaret Smith CHREE b. 11 MAY 1881 Keig, ABD, SCT d. 21 OCT 1967 Eastern Aberdeen, ABD, SCT


Alexander Findlater CHREE b. 4 DEC 1834 Sunnybrae, Glenbuchat, ABD, SCT d. 20 MAR 1916 Glenbuchat, ABD, SCT
Parents: Father: William CHRUIE Mother: Mary DAWSON
Marriage:16 DEC 1858 Tambreck, Glenbuchat, ABD, SCT
Spouse: Elizabeth FORBES b. 21 NOV 1836 Glenbuchat, ABD, SCT d. 16 JUN 1922 Gate Lodge, Glenkindie, Towie
Parents: Father: William FORBES Mother: Penelope MELDRUM
Children:

Penelope CHREE
Mary Ann CHREE b. 7 MAR 1861 Balnacraig, Glenbuchat, ABD, SCT d. 16 AUG 1874 Sunnybrae, Glenbuchat, ABD, SCT
Jean CHREE
Catherine CHREE b. 28 OCT 1868 Sunnybrae, Glenbuchat, ABD, SCT d. 29 SEP 1945 Milltown, Glenbuchat, ABD, SCT
Margaret CHREE b. 29 APR 1872 Sunnybrae, Glenbuchat, ABD, SCT d. 18 JAN 1898 Sunnybrae, Glenbuchat, ABD, SCT
Ann CHREE b. 3 FEB 1876 Sunnybrae, Glenbuchat, ABD, SCT d. 23 SEP 1954 Bridgend, Glenkindie
William Alexander CHREE


Tulloch Family Tree

From Family Tree Maker

Peter Tulloch
Birth: 30 MAY 1792 in Glenbucket,
Death: BET 1852 AND 1854 in prob Glenbucket
Census: 1841 Badenyone, Glenbucket,
Census: 1851 Badenyone, Glenbucket,
Christening: 30 MAY 1792 Glenbucket,
Marriage 1
Ann Asher b: ABT 1795 in Cromdale, Inverness,
Married: 24 NOV 1816 in Strathdon,
Children
David Tulloch b: 1 DEC 1817 in Glenbucket
Margaret Tulloch b: 29 OCT 1819 in Glenbucket
Peter Tulloch b: 30 JUL 1821 in Glenbucket
John Tulloch b: 21 SEP 1824 in Glenbucket
Janet Tulloch b: 7 JUL 1826 in Glenbucket
Alexander Tulloch b: 9 MAR 1830 in Glenbucket
Ann Tulloch b: 1 FEB 1833 in Glenbucket
Sophia Tulloch b: 23 JUN 1836 in Glenbucket,

1841 Scotland Census about Peter Tullock
Name:Peter Tullock
Age:45 Estimated Birth Year:abt 1796
Gender:Male
Where born:Aberdeenshire, Scotland
Civil parish:Glenbuchat County:Aberdeenshire
Address:Badenyon
Occupation:Farmer
Parish Number:200
Household Members:NameAge
Peter Tullock45
Ann Tullock45
David Tullock20
Margaret Tullock20
Peter Tullock15
Alex Tullock10
Ann Tullock7
Sophia Tullock4

Ann Asher
Born: 1795 in Cromdale, Inverness-Shire,
Died: 13 Mar 1862 in Badenyone Glenbucket,
Marriage: 24 Nov 1816 in Strathdon, Aberdeenshire, Scotland



David Tulloch
Birth: 1 DEC 1817 in Glenbucket
Death: 16 APR 1863 in Badenyone, Glenbucket
Census: 1841 Badenyone, Glenbucket
Census: 1851 Badenyone, Glenbucket5
Christening: 1 DEC 1817 Glenbucket
Residence: 1859 Badenyone, Glenbucket1
Residence: 1862 Badenyone, Glenbucket
Father: Peter Tulloch b: 30 MAY 1792 in Glenbucket
Mother: Ann Asher b: ABT 1795 in Cromdale, Inverness,
Marriage
Jean Ross b: 14 MAY 1824 in Glenbucket d.20 Mar 1859
Married: 16 AUG 1856 in Glenbucket
Children
Male Tulloch b: 23 JUN 1857 in Badenyone, Glenbucket,
James Tulloch b: 23 JUN 1857 in Glenbucket
James Tulloch b: 14 MAR 1859 in Glenbucket,



Male Tulloch
Birth: 23 JUN 1857 in Badenyone, Glenbucket
Death: 23 JUN 1857 in Badenyone, Glenbucket
Burial: AFT 23 JUN 1857 Glenbucket Churchyard,

James Tulloch
Birth: 23 JUN 1857 in Glenbucket
Death: 2 JUL 1857 in Badenyone, Glenbucket
Burial: AFT 2 JUL 1857 Glenbucket Churchyard,
Father: David Tulloch b: 1 DEC 1817 in Glenbucket
Mother: Jean Ross b: 14 MAY 1824 in Glenbucket,

James Tulloch 1859 -
Birth 14 Mar 1859 Glenbucket
Father David Tulloch, b. 01 Dec 1817, Glenbucket
Mother Jean Ross, b. 14 May 1824, Glenbucket
Histories census
1861 enumerated @ Badenyon, Glenbucket with father (widower), grandmother (widow) and aunt Sophia Tulloch
1871 enumerated @ Ballochduie, Glenbucket with uncle William Ross/Elspet Michie and cousins Elizabeth, William and John Ross



Margaret Tulloch
Birth: 29 OCT 1819 in Glenbucket
Christening: 29 OCT 1819 Glenbucket
Census: 1841 Badenyone, Glenbucket
Census: 1851 Badenyone, Glenbucket
Child
Duncan Gordon Tulloch
Birth Abt 1869
Died 26 Aug 1871

Peter Tulloch
Birth: 30 JUL 1821 in Glenbucket
Death: AFT 1881 in prob Glenbucket
Christening: 30 JUL 1821 Glenbucket
Census: 1841 Badenyone, Glenbucket
Census: 1881 Badenyone, Glenbucket
Residence: 1863 Badenyone, Glenbucket

John Tulloch
Birth: 21 SEP 1824 in Glenbucket
Christening: 21 SEP 1824 Glenbucket

Janet Tulloch
Birth: 7 JUL 1826 in Glenbucket
Christening: 7 JUL 1826 Glenbucket

Alexander Tulloch
Birth: 9 MAR 1830 in Glenbucket
Christening: 15 MAR 1830 Glenbucket
Census: 1841 Badenyone, Glenbucket

Ann Tulloch
Birth: 1 FEB 1833 in Glenbucket
Census: 1841 Badenyone, Glenbucket
Census: 1851 Badenyone, Glenbucket

Sophia Tulloch
Birth: 23 JUN 1836 in Glenbucket
Christening: 4 JUL 1836 Glenbucket
Census: 1841 Badenyone, Glenbucket
Census: 1851 Badenyone, Glenbucket
Father: Peter Tulloch b: 30 MAY 1792 in Glenbucket
Mother: Ann Asher b: ABT 1795 in Cromdale, Inverness,
Child
Male Tulloch Birth: 23 JUN 1857



Male Tulloch
Birth: 23 JUN 1857 in Badenyone, Glenbucket,
Death: 23 JUN 1857 in Badenyone, Glenbucket,
Burial: AFT 23 JUN 1857 Glenbucket Churchyard



1861 Scotland Census about Sophia Gullach
Name:Sophia Gullach [Sophia Tulloch]
Age:26 Estimated Birth Year:abt 1835
Relationship:Sister
Gender:Female
Where born:Glenbucket, Aberdeenshire
Registration Number:200
Registration district:Glenbucket
Civil parish:Glenbucket County:Aberdeenshire
Address: Badenyone
Occupation:Domestic Servt
Household schedule number:21 Line:7 Roll:CSSCT1861_29
Household Members:NameAge
David Gullach43
James Gullach2
Ann Gullach68
Sophia Gullach26




Deaths
From Strathdon Vital Records

Duncan Gordon Tulloch (single) Illegitimate
1871 August twenty-sixth 6h 30m PM Badenyone, Glenbucket M: 20 months
Parents: [father blank] Margaret Tulloch, Domestic Servant
Cause: Congestion of Brain, 24 hours; Eczema (general).
As certified by Alexr Robb MD Inverkindie
Informant: Peter Tulloch, Grandfather (present)
1871 Septr 1st at Glenbucket. John Callam, Registrar

Tulloch, --- (Single)
1857 June twenty-third 5h 10m AM Badenyon, Glenbucket, Aberdeenshire M: 10 min
Parents: David Tulloch, Farmer & Jean Tulloch ms Ross
Cause: Weakness (not certified)
Buried: Churchyard of Glenbucket, as certified by David Tulloch, Father
Informant: David Tulloch, Father, present
1857 June 29 at Glenbt, Wm Reid Registrar

Tulloch, James (Single)
1857 July Second 9h 30m PM Badenyon, Glenbucket, Aberdeenshire M: 10 days
Parents: David Tulloch, Farmer & Jean Tulloch ms Ross
Cause: Bowel Complaint (not certified)
Buried: Churchyard of Glenbucket, as certified by David Tulloch, Father
Informant: David Tulloch, Father, present
1857 July 6th at Glenbucket, William Reid Registrar

Tulloch, Jean (married) wife of a farmer (David)
1859 March twentieth 2h 20m AM Badenyon Glenbucket Aberdeenshire F: 34 years
Parents: James Ross, farmer & Jean Ross ms Michie
Cause: Sudden after 7th day of delivery of second child. Labour natural a few minutes.
As certified by Alexr Robb MD&c Inverkindie who saw deceased March 19th
Buried: Churchyard of Glenbucket as certified by John Kellas gravedigger
Informant: David Tulloch, husband (present)
1859 March 21st at Glenbucket. William Reid Registrar



Picture added on 29 March 2010 at 22:26
Comments: