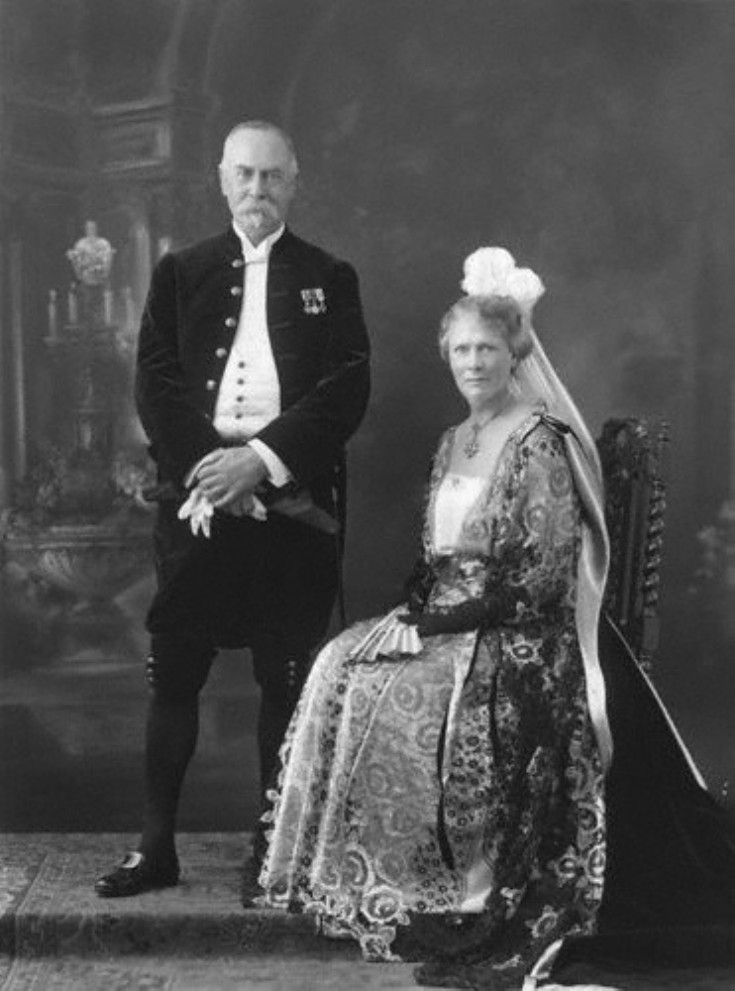 The Glenbuchat Image Library
57 Henry Burra (picture of daughter above)
The Glenbuchat estate has changed hands over the years. One of the lesser-known Landowners was
Mr Henry Burra
a Banker from Sussex.
1883 Mr. Henry Burra purchased the estate from the
Duff family.
The family only had the estate for 18 years. Henry Burra died in 1886, and it passed to his trustees. In 1891 his trustees let the shooting to Mr. Percy Hargreaves. From them it was purchased by Henry Curtis Burra, who sold it in 1901 to James William Barclay.
There is no picture that I can find of Mr Burra, but the picture above (from the National Portrait Gallery) is of his daughter Lady Frances Bloomfield (née Burra) and his son in law Sir Reginald Bloomfield (See below) a famous architect and who prepared plans for the renovation of Glenbuchat Castle, although they were never carried out.
Little is known about Mr Henry Burra, what is available is shown below:
Henry Burra Esquire was a banker and is described as living in Playden, Ashford, Kent, although Playden is actually near Rye, Sussex.
He owned land in the parishes of Glenbuchat and Strathdon in Aberdeenshire.
Henry Burra was born on 15 Sep 1835.
He died on 26 Feb 1886.
He married Frances Curteis on 3 Mar 1864.
Marriage announcement:
"March 3 At Thorney, Notts, Henry Burra esq of Rye Sussex, late of the Bombay CS second surviving son of W Burra esq of Ash ford Kent, to Frances second daughter of Major Curteis of Leasain Rye Sussex"
Frances Curteis died on 16 Jun 1870.
They had the following known children:
Henry Curteis Burra (Henry Curteis Burra was a barrister and his wife Ermentrude Anne Robertson-Luxford.)
Elizabeth Margaret Burra (see below)
Anne Frances May Burra.
In 1886 Sir Reginald Theodore Blomfield (20 December 1856 – 27 December 1942) married the daughter of Henry Burra of Rye. He was one of the most prolific and distinguished British architects, garden designers and authors of the Edwardian period. He designed several houses, including his own, the very informal Point Hill, Playden, where his family still live. One he let to the American novelist Henry James. The same year, Blomfield and the printer T.J. Cobden Sanderson (1840-1922) built themselves a pair of pretty houses in Frognal, Hampstead, Middlesex; 51 Frognal remained Blomfield's London home and he died there.
Elizabeth Margaret Burra was born on 29 Jul 1866 in Springfield, Rye.
She died on 15 Mar 1897 in Benenden, Kent.
She married Major Herbert Neve on 17 Apr 1890 in Rye, Sussex.
They had the following children:
Elizabeth Frances Neve
Richard Burra Neve
After the Second World War the Burra estates were gradually sold off.
Burra and Glenbuchat
Henry Burra and his family only had the estate for 18 years
In 1886 Mr Burra applied for plans for restoration of the castle prepared by his son-in-law Sir Reginald Blomfield. Unfortunately the restoration was not carried out
Click for picture of proposed restoration
"Name: Glenbuchat Castle
The following date-based events are associated with this building:
1886 Proposed restoration
The following individuals or organisations have carried out design/construction work. (Sir) Reginald Theodore Blomfield Architect"
Picture added on 26 March 2010 at 15:32