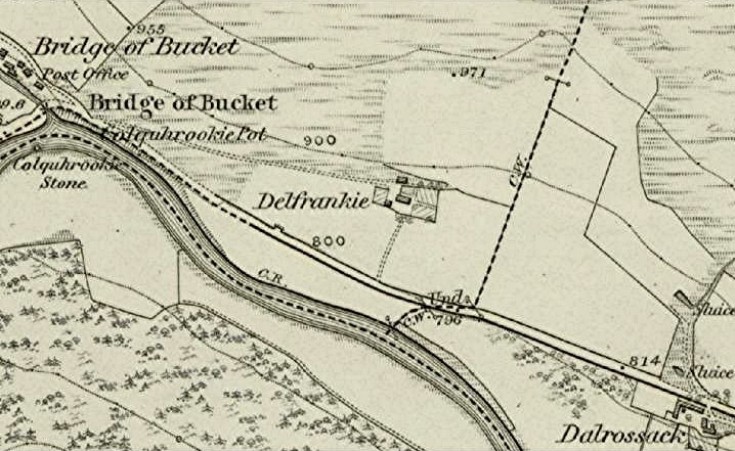 The Glenbuchat Image Library
31 Delfrankie 1865Del FrankieFrom 'The land of the lost' by Robert Smith and others
Off the main Strathdon road, less than a mile east of the Bridge of Buchat, is all that is left of the Croft of Delfrankie, which is said to have stood on the old route into Glenbuchat, past a small clachan at Easter Buchat and up the dusty road to Badenyon. Ann in at Delfrankie served travellers on their way up the Glen or heading west to Corgarff and the notorious Lecht Past.
Delfrankie can be seen on the Ordinance Survey map of Strathdon published in 1869. The croft and Mill of Delfrankie are shown in the valuation Roll of 1884-85, but another entry indicates that part of it had been taken over by the Mains of Glenbucket. Today the ruined building on the brae is the only sign that it ever existed. There is little doubt that it goes back to the days of John Gordon, the fiery Jacobite laird known as Old Glenbucket. One theory is that it came from Dail Frangaich, meaning Frenchman's field, and that it was a name given by a follower of a Strathdon laird who was in France with his master. Another is that the name means 'Frankie's field.
Archaeological Notes
(Location cited as NJ 4055 1480).
All that can now be seen of the farmstead of Delfrankie are the remains of a building, most likely a cottage, and an enclosure situated on a steep SW-facing slope about 400m NW of Dalrossach steading (NJ41SW 152). The building measures 11m from ESE to WNW by 5.6m transversely over grass-grown stone wall-footings, and has an entrance in its SSW side. It is set within the NE corner of the enclosure, which is roughly square and has an entrance in its W side.
The cottage can probably be equated with the central of three roofed buildings depicted on the 1st edition of the OS 6-inch map (Aberdeenshire 1870, sheet lxi), and the north-easterly of the two buildings that are depicted as unroofed on the 2nd edition of the map (1902, sheet lxi.NW). No visible remains of either of the other two buildings were noted on the date of visit.
According to Barclay, writing in 1906 and cited by Simpson, 'a public house now in ruins' stood at 'Delfrankie'. The 1st edition of the OS map does not annotate any of the three buildings as an Inn or Public House, and the Name Book (Aberdeenshire, No. 38, p. 58) describes Delfrankie as 'a small farm with dwelling house, garden and offices attached', it is possible that one of the buildings may have seen use as some form of hostelry before it was abandoned in the late 19th century.
Visited by RCAHMS (JRS, ARG) 1 October 1998.
1841 census, Delfrankie
Alexander Riach 40 Mason
Eliza do 40
Margaret do 40
Charles Riddel 12
1851 census
Delfrankie, John, husband, 30, Master Tailor, Strathdon.
Delfrankie, Isobel Hay, wife, 37, Glenbucket.
Delfrankie, John, son, 7, Scholar, Glenbucket.
Delfrankie, James, son, 6, Scholar, Glenbucket.
Delfrankie, Mary, dau., 4, Glenbucket.
From NORTHERN NOTES AND QUERIES.
John and Alexander Brodie, Potters, Newcastle.
In November, 1905, I inserted the undernoted query in the Scottish Notes and Queries, and up to time of writing no reply has come to hand.
The above Brodies were the sons of William Brodie, born 1693, died 1776, who was implicated in the 1745 rebellion. This Wm. Brodie married in 1730 either a Miss Forbes or Farquharson. He was tenant of Delfranky, Strathdon, Aberdeenshire, and annually treated Lord Fife to a glass of whisky on the occasion of his passing to Braemar.
His sons mentioned above went to Newcastle and started a pottery business. They may have only been workmen, but a pedigree in my possession states that they owned a business. It appears that they corresponded with Glenbucket relations (now spelt Glenbuchart, the old form) till about 1830. I wish to have further particulars regarding them. Were they married? How long were they in business? Any particulars will be appreciated. They had some sisters. What were their names?
From the Brodie family Website
William Brodie; Jacobite Commander, Survivor of the Battle of Culloden.
Paragraph from My First Detachment
and a description of the Glenbucket Inn
I led my jaded beast towards it we had won the Inn at Glenbucket. The Inn at Glenbucket, like the establishment at the Clachan of Aberfoil, had its guests although there was no wand stuck up at the door to warn off travellers from the only house of entertainment, as Bailie Nicol Jarvie had it for miles round. The apartment I made my way into, too, like the one at Aberfoil, had its sleepers and its revellers at the same time; closets like the berths in a steam boat, being cut in the wall, which were occupied at the same moment that three or four persons were enjoying themselves at a table in the midst. Two of them were armed to the teeth, but there all similitude to Aberfoil ended, for there was neither a Galbraith, with "more brandy than brains in his head," a Highland militiaman with trews and singed pladdie, nor a shock headed Dougald creature in kilt targe and claymore. The armed men wore blue with black belt, cutlass, pistols and fusee. They were sailors belonging to a cutter and stationed amongst the hills for the same purpose that I myself had been sent, so far namely to look after smugglers. Mine hostess and family were also of the party and the assemblages were at that moment about to commence their tea delightful task. There could be nothing more fragrant than the odour of that herb to the nostrils of a man, cold and wearied with travel. Ever while you live remember to call for tea at a Highland inn it is a perfect feast. There was bread, and bannocks, eggs and finnon haddies, mutton collops, marmalade and a dozen things beside. But more than this, than these than all, there was another Highland welcome. It might reasonably have been supposed that having undergone this inclement ride, I should now be delighted to take mine ease in mine inn, but no I felt restless and miserable. The party had dispersed and I sat alone watching the embers on the hearth. Distant scenes were brought to my recollection and as I mused on past times. I grew more discontented with my present situation. Now and then came a prolonged snore from the sleepers, bitter thoughts intruded. I philosophised upon life. What was it, after all, but (as some man somewhere says) a stone shied into a horsepond. There was a terrible run upon the cigars that evening and yet I could not get mine own content. Why had I been thus sent to eat the bitter bread of banishment at Corgarff? Tis the curse of service, I again philosophised aloud, preferment goes by letter and affection. Like all young soldiers, I thought myself aggrieved at what I ought to have rejoiced. I shall never look upon my northern friends again, said I mournfully, and having satisfactorily made up my mind to believe so, I arose and went to look upon my horse. The snowstorm had ceased, the sky had somewhat brightened and the frost was more intense. I felt I could never in my present state of mind remain where I was. Corgarff, I said, once more philosophising, I ll find thee out this night.
Note Colquhrookie Stone at Bridge of Buchat (for Clach Coill Chnocain). Stone of the hill of the hillock. ' Clach, stone (translated) ; coill, hill; chnocain, gen. asp. of cnocain, dim. of cnoc, hill. The last part had been added to explain the second. Quit represents ch, noc has become rook, and ain has become ie. See Cnoc.
Cnoc. Hill. In Aberdeen and Kincardine cnoc has sometimes become Cload, Cloak, Clock, Clod, Cloud, Clog, Coch, Cock, Cook, Crock, Crook, Cruick, Goak, Gook, Gowk, Knox, Knock.
Picture added on 21 February 2010 at 21:08