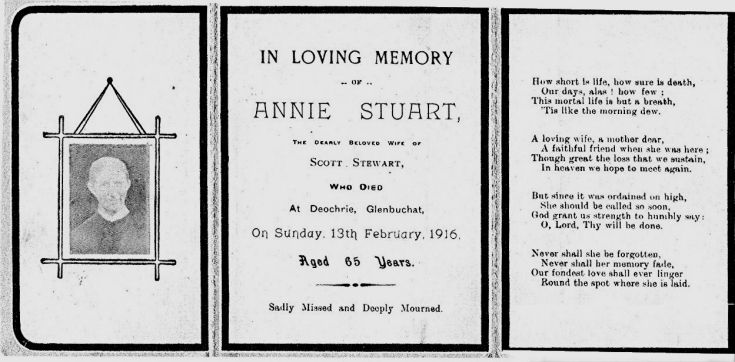 The Glenbuchat Image Library
115 Funeral card Annie StewartFuneral Cards
FUNERAL CARDS are sometimes found amongst family papers. These cards were printed and distributed amongst family, friends and neighbours, often to provide information about the date and time of the funeral, others were simply to inform of a death and can be termed MEMORIAL CARDS - these cards were used as a symbol of remembrance, sometimes a solitary reminder of a relation or friend. The information they provide for furthering family research may be limited but can provide useful information, particularly as to the place of interment.
As well as funeral and memorial cards other means were used to celebrate the lives of the departed. OBITUARY PAMPHLETS were hastily printed, often with a poem, and made available at the funeral and distributed in the locality. There may be anniversary events commemorating the passing of a well-respected individual, sometimes a church service, at other times a commemorative Dinner
Funeral cards have a long history–with social customs attached. These cards were to be distributed to family members, friends, and the surrounding community in a timely manner to alert invitees to the date and time of the funeral. Recipients of a funeral card were expected to attend the funeral or risk offending family members. Conversely, those who did not receive an invitation would have been insulted, whether it was intentional or an oversight.1
The History of Funeral Cards
If you attended a funeral, you may have received a card – similar to a bookmark or the size of a playing card – that commemorated the deceased. Although these cards became popular in the 1880s, today they most often are issued by a funeral home or church. You may be surprised, however, that the history of these cards dates back to the invention of lithography in the 1700s, when the Catholic Church began to print and issue Holy Cards.
Holy Cards typically depicted a religious scene, such as the one shown here, or a saint in an image about the size of a playing card or a collectible baseball card. On the reverse side of the image, a prayer with a promise of an indulgence for the recitation of the prayer was printed. Some Holy Cards later were embellished with lace surrounding the borders, and they were known as dévotes dentelles by the French. The cards known as dévotes dentelles or Andachtsbilden (German origin) were carefully crafted of paper or parchment with paper cuts of saints, borders, and the like.
Lithography allowed a wider circulation of these Holy Cards, and the reach was broadened by card especially made for distribution at funerals. These funeral cards were known as "memorial cards" and carried details of the deceased with a photograph as well as prayers printed on the reverse side. By the end of the nineteenth century, Protestants began to print their own images, known as Bible Cards or Sunday school cards with images of Bible stories and parables, modern scenes of religious life and a printed sermonette instead of a prayer. Not to be left behind, the Protestants also began to print funeral cards for their deceased.
Some companies would pay a penny an obituary to women from all over the United States who would collect the notices from local newspapers and mail them to him. The women were recruited with small ads in dozens of small-town newspapers. Based on the information obtained from the obituary, a card would be printed on speculation and sent with a catalogue and other promotional material.
View Large Version
Picture added on 21 December 2009 at 21:28
This picture is in the following groups
people
Comments: