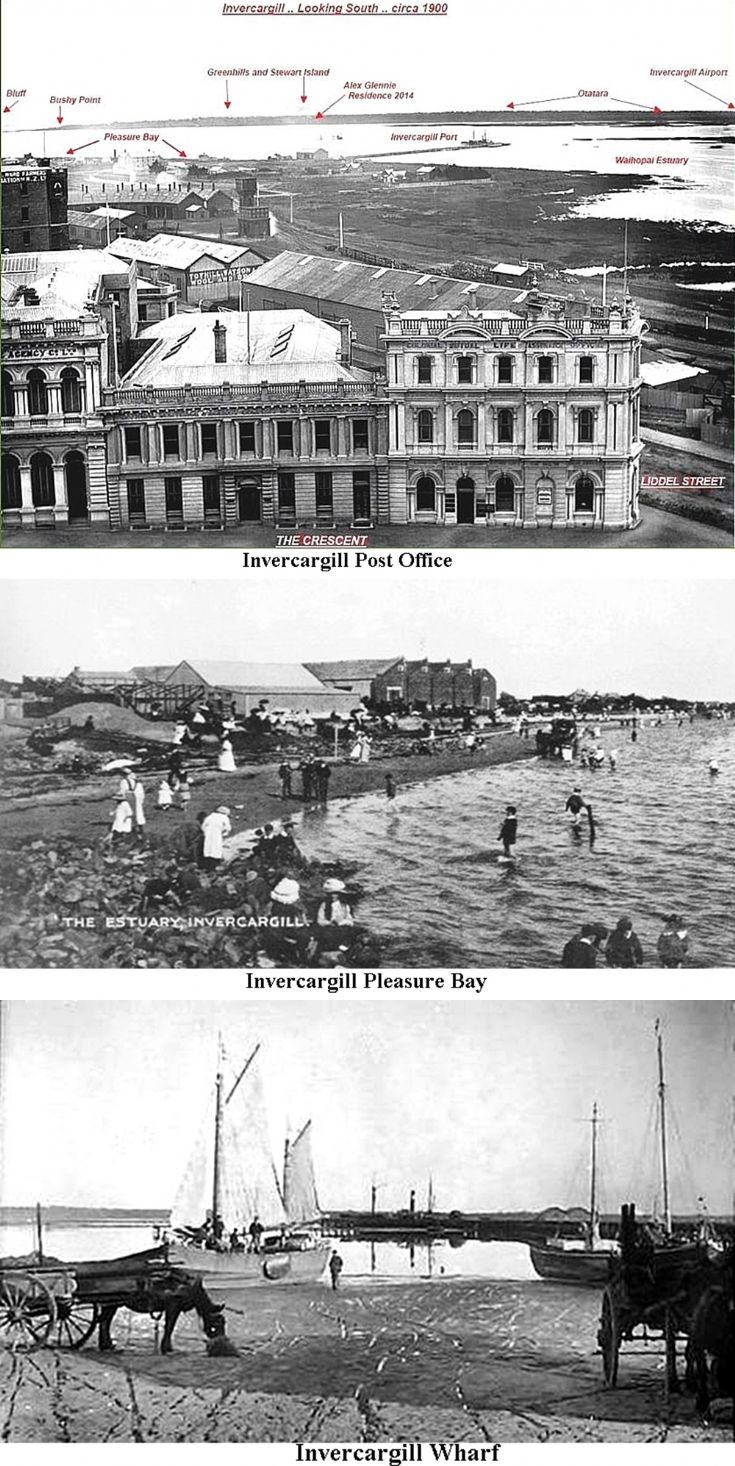 The Glenbuchat Image Library
5 Glennies in New Zealand 1Glennies in New ZealandClick for introduction page
During this period of colonial history news would be arriving of gold strikes and rushes in Australia and New Zealand and many were emigrating from Scotland. James Glennie's older brother Alexander did so in the late 1850's. He was married on 9.2.1864 at Balmoral, Hurunui River. No doubt letters were received from him in New Zealand where the gold fever was at its height.
Anyway we know that James emigrated as well in 1865 when he would have been aged 24, causing great displeasure to his family which persisted over the years. Possibly Alexander had caused a similar upset and if so then James's desertion would have had a two-fold effect. James was the youngest son and the only one who had not left home. That he was always held in high regard is evident because although he never returned to Scotland, indeed could not as his commitments developed, the family went to the expense of sending out a tombstone from home for him when he died in 1903.
We do not know what ship he sailed in or where he arrived, but in the case of James I think it must have been Dunedin. He does not appear in ships' passenger lists for Bluff, Lyttleton, Nelson or Dunedin. At that period immigration was on such a scale that complete records were not made.
In 2011 a passenger list for the vessel SV Tornado was found. The ship under the command of Capt James Aitken sailed from Liverpool on 10.06.1859 and arrived in Auckland on 26.09.1859. Travelling in steerage class was one, Alexander Glennie. If this Alexander Glennie was our family member how he arrived in the South Island, Hororata, Nelson and Queenstown can now be surmised.
The voyage by the SV Tornado was a new service by the White Star Line, direct from Liverpool to Auckland and Wellington, the only two ports of call in New Zealand. Alexander would have departed the vessel in Wellington from where the South Island across Cook Strait would have been a simple exercise. This perhaps explains why no other record for internal travel in New Zealand can be found which for that time would only have been by sea.
At the time of his passing in 1916 Alexander's death certificate stated he had been in New Zealand 57 years. This meant he arrived in 1859 which of course coincides with the arrival of the SV Tornado in Auckland and Wellington. While nothing is absolutely certain in the absence of any other records it is reasonable to assume this could be our family member (See newspaper report of arrival of Tornado at end of page)
Marlene Collins great granddaughter of Alexander relates that as a child and in later years her father Christian Glennie and others of her family were aware that when Alexander emigrated to New Zealand he first landed in Auckland but they never knew the date or details of the ship.
For Alexander, the Glennie family and all that was to follow over the next 150 years the voyage from Liverpool might have met with disaster on any number of occasions. It is recorded in a passenger's letter that on the night of 15th July the alarm was given (at an un-specified location) when "breakers on the coast were sighted glittering in the moonlight". The coast of South America was sighted twice and it was Cape St Rogue on the Brazilian coast that was narrowly avoided. On the 4th August at about 4.00 pm Martin Vas Rocks off the Island of Trinadada were sighted on the starboard bow. They should have been on the larboard bow (port). Errors in navigation were admitted by Capt Aitken in whom it seems the passengers and crew had lost all confidence. The Tornado reached Auckland after a voyage of 108 days
Now turning to James again, briefly. Family information indicates that James arrived in New Zealand aged 24 years in 1865 (James turned 25 years on 20.12.1865) which in turn was supported by reports in The Aberdeen Journal newspaper on the 24th August 1864 for the Glenkindie Highland Games and on the 31st August 1864 for the annual Lonach Highland Games. Also worthy of consideration is information from an experienced researcher in Scotland who said that farm workers like James did not get paid weekly but received the majority of their wages every six months on the 28th of May and the 28th November so he would not have departed Scotland before the end of November at least.
This means that James must have left Scotland possibility in December 1864 but likely in 1865 sometime (given it would be his last Christmas in Scotland with his family) and then arrived in New Zealand before the 20.12.1865.
In the Strathdon churchyard my correspondent located graves of Wattie's, Glennie's, Ross's, Kellas's and made the following notes :-
John Glennie, farmer at Cot Town, in memory of his beloved and affectionate wife Jane Bremner, who died 25 Nov. 1862, aged 56.
The above-named John Glennie, who was upwards of 40 years and an elder of the church in this parish, died at Cot Town 27 April 1873 aged 75 years.
Also of their children interred at Kildrummy, Jane died 8 Sept. 1842 aged 2 months and John died 27 Sept. 1848 aged 16 years.
James Glennie younger brother of Alexander engaged in goldseeking on the Arrow and Shotover Rivers and at Switzers (Waikaia). It seems that like thousands of others he covered a lot of ground and did a lot of work without getting all that rich. My father had a tale that he made a good strike somewhere but on the return trip to the place could not relocate it.
(Commercial gold mining ceased at Switzers in 1937 but as reported in the Southland Times newspaper of 29.12.2011 alluvial mining will likely start again on the Waikaia River flats in 2012).
Harriet Green lived with her family at Queenstown after their arrival in New Zealand in January 1875. She and James were married on 03.01.1876, he being just 35 and she about to turn 21. The ceremony was at the Registrar's Office in Queenstown. His occupation was given as ploughman and Harriet's as servant. James's brother Alexander with his young family would probably have been there at the time because his son Gordon was born at Queenstown later in 1876. At the time of marriage James had resided in Queenstown for 4 years and Harriet 12 months.
They remained in Queenstown, or Wakatipu, where their first daughter Agnes was born in 1876, their first son James Frederick in 1877 and second son John Walker in 1879. They then moved to Invercargill where James set up as a contractor, roadbuilder, etc. and my father Alexander, the fourth child, was born on 24.04.1880.
James is listed in the NZPO Directory of 1885/86 as contractor, Liddel Street, Invercargill. He was located where the Post Office Lines Branch now is (in 2008 owned by Works Infrastructure Ltd) and it is odd that in the course of my work I passed over the same spot many times with no knowledge of it when I came to Invercargill in 1946.
Great grandson Alexander Charles Glennie also worked for the NZ Post Office at the same location when he left school in 1965 likewise unaware of this history some 80 years previously.
With only four shown on James's side of the block it is possible that he occupied about an acre of land and kept his horses there with his contracting implements. In a 1918 directory there were 9 occupiers on his side of Liddel Street and 10 on the other side. These would be residential properties and were numbered 151/181. In the 1980s there are a few surviving houses of about the 1930 era in Liddel Street, including a couple in James's block and a couple opposite him, while the area is zoned commercial and houses are being demolished and commercial buildings taking their places. Around the block behind James on Annan Street no residents or occupiers are shown so his section would doubtless extend right across the block.
Within a stone's throw was Pleasure Bay at the head of the Invercargill Estuary (see below). This was in early days a resort spot with swimming, a picnic area, boating and other activities in walking distance of most of South Invercargill. It was also the place where gravel was unloaded from barges bringing it up from further down the estuary. This perhaps has something to do with why James as a contractor shingling roads located himself where he did. During the 1960/80's Pleasure Bay and the entire upper estuary shoreline was engulfed and reclaimed by the tip, with quite a bit of newspaper publicity from time to time.
A couple of blocks away brother Alexander was listed in 1889 (Stone's Directory) living on the corner of Clyde and Earn Streets, the first residence on the right in Earn Street where the Securitas Building stands in 1985. It is not clear whether they were actually neighbours or not as James and family moved from Invercargill in 1886.
Discussing activities at Pleasure Bay with older Invercargill identities that lived from childhood in the vicinity I learned that it was in early days a busy area, now of course completely changed. One street now gone altogether was Ayr Street that was off Mersey Street where the Port Craig Timber Co. building now stands. There were several Railway houses and fresh water baths over near the Invercargill Jetty. Shipping came regularly up the estuary to Invercargill in early days. Right up to the 1920's gravel barges or lighters were still being unloaded at Pleasure Bay on to drays driven alongside with the horses up to their bellies in the water. The gravel was brought up the estuary from Sandy Point and the lower Oreti River then shovelled off the lighter, one cubic yard being a load for one dray. Two horses were used to pull the dray out of the water and up the beach, one then being unhitched while the other went on the journey. All this kind of work would be superseded with the development of roads and motor transport.
Arrival of Ship Tornado with Alex Glennie on passenger list
Daily Southern Cross, 27 September 1859, Page 3
We have to report the arrival of three English vessels since our last issue, — the Matoaka, Mary Ann, and
Tornado.
The former (the Matoaka) was last from Wellington, which she left on the 17th inst. Off Castle Point she experienced a heavy gale from N. to N.W., splitting foresail, for-topmast-staysail, and 'mizzen-topsail, and was hove-to under close-reefed main topsail for nearly 12 hours. The same evening (Sunday, 18th) she snipped a sea which stove in the main hatch and lee bulwarks. The East Cape was sighted on the 21st, when, the wind veered to W. till midnight of the 22nd, when it went round to the S.E. At 1 o'clock on Saturday the ship was between Cape Colville and the Barrier, and the pilot was on board, off Rangitoto, at 9 o'clock on Saturday morning. The Matoaka sailed for Wellington from Gravesend on the 15th June, leaving her pilot at the "Wight" on the 17th. She beat down the Channel with light westerly winds ; ran inside the Canaries ; crossed the Equator on the 17th July in 29 ° W.; the meridian of the Cape, in 42 ° S., on the 9th August ; and ran down her easting in about the 48th parallel. Her first landfall was the "Snares" on the 10th ; and she made Wellington on the 13th inst., where she landed about 100 passengers. She is a fine vessel, North American built, and has arrived in a most excellent condition. The passengers were healthy though five deaths, two of children, occurred during $he voyage; there were three births likewise.
The Tornado, the pioneer ship of the White Star Line of Liverpool clippers, arrived in our harbour on Saturday, after a favourable passage from Liverpool. The Tornado left that port punctually on the day fixed by the proprietors of the line, viz., the 10th of June; cast off the steamer on the morning of the 11th, and made sail immediately. She encountered light and variable weather to the line, and thence to the meridian of the Cape light winds and fine weather. From the Cape to New Zealand the ship made some very rapid runs in the twenty-four hours, frequently logging 14 and 15 knots. The Tornado brings 35 saloon, 40 second cabin, and 210 in the intermediate and steerage. The Tornado is an iron Clyde-built ship of 1100 tons register, classed 12 years Al at Lloyds, and constructed especially for the conveyance of passengers. The between decks are wholly devoted to the use of intermediate and steerage passengers, and are fitted up with every regard to their comfort, and are very lofty, well lighted and ventilated. The saloon is an extensive apartment, with berths for 35 passengers, and is tastefully painted and decorated. In all respects the Tornado is well worthy of inspection by nautical connoisseurs.
Shipping Intelligence. Port Of Auckland.
Entered Inwards. September 26 — Tornado, ship, 1100 tons, Aitken, from Liverpool. Passengers:
Cabin : Mr. & Mrs. Mansford; Alfred, Aug., and S. H. Mansford; Mr. and Mrs. Croker and 4 children, H. Durell, Mr. and Mrs. Graham, Mr. and Mrs. Knight, John Knight, Frank and Philip Duke, John Hughes, Mr. and Mrs. Leroy ; Henry, William, and Fanny Leroy ; Wm. Stewart, Deborah James; Mr., Mrs,, and Miss Carr; Rev. Mr. and Mrs. Foster and 2 children. O. R. Strickland and Co., agents.
Steerage :
J. Glenfield,
Wm. Brown
Thos. S. Reed
J. Smith
Alexander Glennie
…
Next Page
Picture added on 15 January 2017 at 16:31
This picture is in the following groups
people