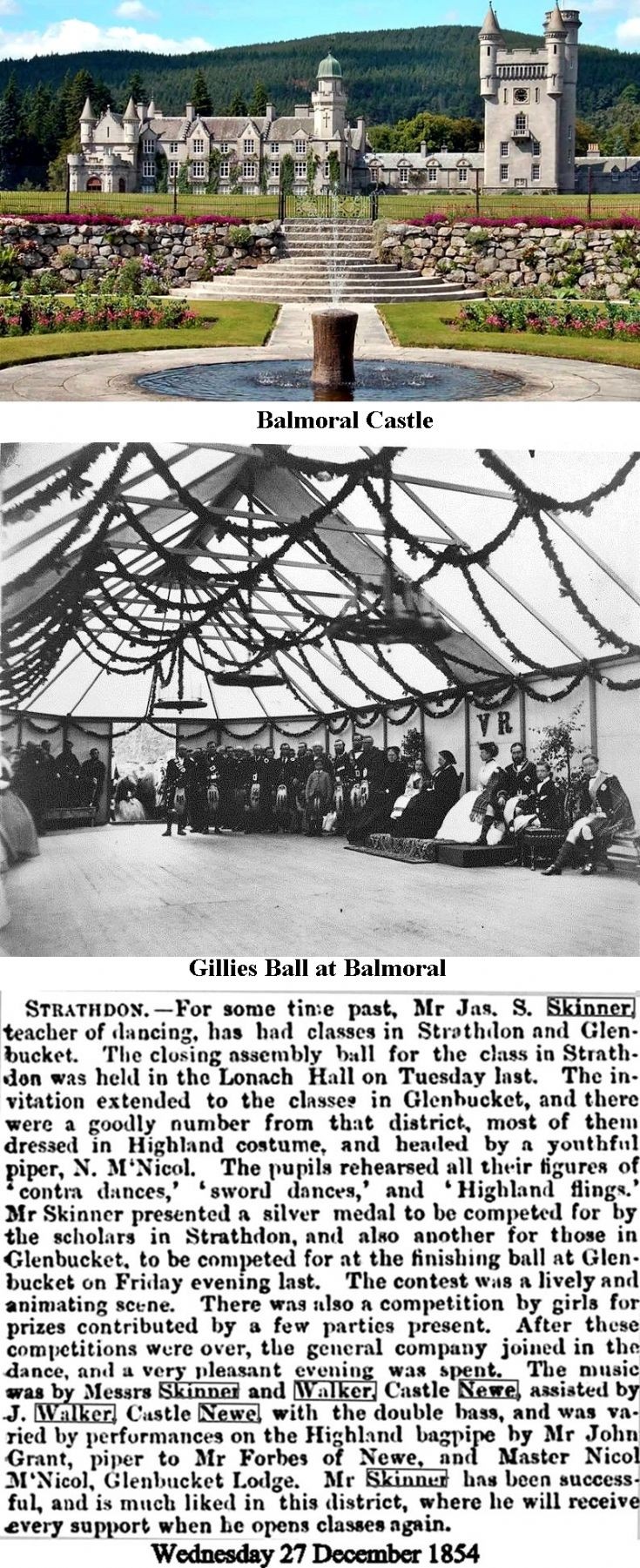 The Glenbuchat Image Library
8 Alexander Walker and the Balmoral Orchestra Click for Alexander Walker Introduction
As well as the Newe Band Alexander was also invited to join the Balmoral Orchestra. Balmoral Castle (picture above) was purchased by Queen Victoria and Prince Albert in 1852. It became a favourite home for them both, and after Albert's death on 1861 Victoria retreated from London Society and spent a long time at Balmoral. As such, Prime ministers, Emperors and Tsars had to journey there if they wished to see her.
Queen Victoria was enthusiastic about Scottish Music, Bagpipes and Scottish dancing.
As well as the Balmoral band which played for Balls, she had her personal Piper who played every morning at Balmoral. She also arranged for Scottish dancing lessons for her children.(picture of Ghillies Ball above)
One such dancing master was Joseph Low and another was the famous fiddler James Scott Skinner who started as a dancing master and also taught dancing at Balmoral. (See tune 'Mr. J. S. Skinner)
"A New Most Excellent Dancing Master, 1992. A Journal of Joseph Lowe's visits to Balmoral and Windsor (1852-1860_) to teach dance to the family of Queen Victoria."
"We do learn though, in an account which is a treasure of musical literature of Lowe's feelings as a professional musician assisting in a very poor band engaged for the Ball in September 1857. We see through Lowe`s eyes, in the Kitchen, the Great Hall and the Dining Room, the awe-inspiring sight of the gold plate, tapestries and other treasures of the Castle, and the Christmas Tree that was to become established as a popular custom throughout the English speaking world. Lowe enjoys the celebrity concerns and theatricals which were features of the New Year festivities at Court at this time. And he is a participant in the comprehensive educational programme set up by Queen Victoria and Prince Albert for the needs of their large family.

Although Lowe has the full confidence of the Queen during this important decade, others of Scotland's finest dance and music exponents are also employed at various times in Victoria's enthusiasm for the Scottish dance—— Andrew Thomson teaches at Balmoral in 1849-1851, James Scott Skinner teaches the Tenantry on the Queen's Estate. Alexander Walker and Willie Blair play in the bands."
James Scott Skinner was a dancer and fiddle player from Banchory in Aberdeenshire. He was also a noted composer of Fiddle music. Skinner's mother had come from Strathdon. Alexander Walker collaborated with Scott Skinner and the young Skinner may well have been influenced by Walker. In 1862 he became a professional dancing-master. He held his first classes at Strathdon, Aberdeenshire. His growing reputation eventually led to work at Balmoral Castle, Queen Victoria's Scottish retreat, where he taught dancing to more than 100 tenants and children. He later became probably Scotland's best known fiddler of the time.
Skinner taught dancing at the Lonach Hall in Strathdon and was often accompanied by Alexander as shown in the newspaper article above.
Alexander was also involved with the poets in the area. Aberdeen University have:
"Small collection of broadsheets containing printed songs and poems of John Milne of Glenlivet, late 19th c; a list of his poems, numbered 1 - 173, n.d.; and a small collection of letters, with manuscript poems, sent from him to Alexander Walker, 1865 - 1871."
In 1861 Robert Ogg, Alexander's father, is noted in the census returns as staying in Midwood Enzie
At the same time in 1861 Alexander is staying at Newe Cottage at Castle Newe
1861 Scotland Census about Alexr Walker
Name: Alexr Walker
Age: 42 Estimated Birth Year: abt 1819
Relationship: Head
Spouse's name : Jane Walker
Gender: Male
Where born: Rhynie, Aberdeenshire
Civil parish: Strathdon County:
Aberdeenshire Address: Newe Cottage
Occupation: Gardener Employing 2 Labourers & One Apprentie
Household Members: Name Age
Alexr Walker 42
Jane Walker 31
Caroline L F Walker 3
Margt S Walker 2
William Strachan 18
Jessie Shaw 17
9. The Lonach Highland Society, The Alexander Walker Collection
Picture added on 11 July 2016 at 15:38
This picture is in the following groups
people