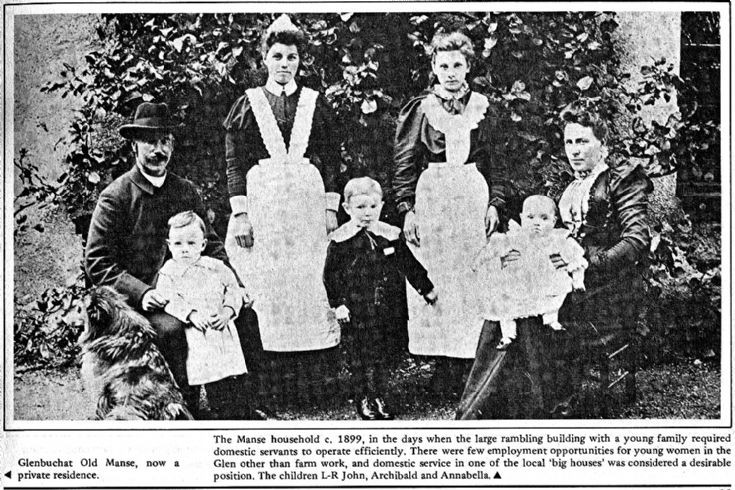 The Glenbuchat Image Library
9 The Manse household in 1900 The Manse household in 1900 with Janet Henderson and the Ogg connections
Click for Henderson Family Introduction
This picture dated about 1900 is of the family of the Rev Arthur Spark at Glenbuchat Manse.
The Picture shows:
The Revd William Arthur Spark, minister of Glenbuchat
John Alexander Spark
Janet Henderson Domestic Servant
Archebald Charles Spark
Annie Isabella Ogg 15 General Serv (domestic)
Annabella Mary Spark
Isabella Spark his wife nee Ogg from Baltimore Farm
This picture also shows the interconnections with the Henderson, and Ogg families.
Ann Isabella Ogg is the daughter of John Ogg, brother of Charles Ogg and both sons of Charles Ogg Senior. Isabella Ogg wife of Rev Spark was also sister to John and Charles Junior and therefore aunt to Ann Isobel.
Janet or Jessie Henderson the maid on the left, was probably married at this time to William Ritchie and lived at the Kirkton which was the farm just next to the manse.
Charles Ogg Junior the nephew of Isabella Spark was married to Elizabeth Forbes from Tombreck and later lived at Baltimore Farm the family home of Isobel.
In the next page there is a
letter from Elizabeth Ogg
nee Forbes and wife of Charles Ogg Jnr to Jessie Ritchie nee Henderson on the death of her mother Jane Murdoch in 1925.
Picture added on 26 October 2015 at 21:41
This picture is in the following groups
people