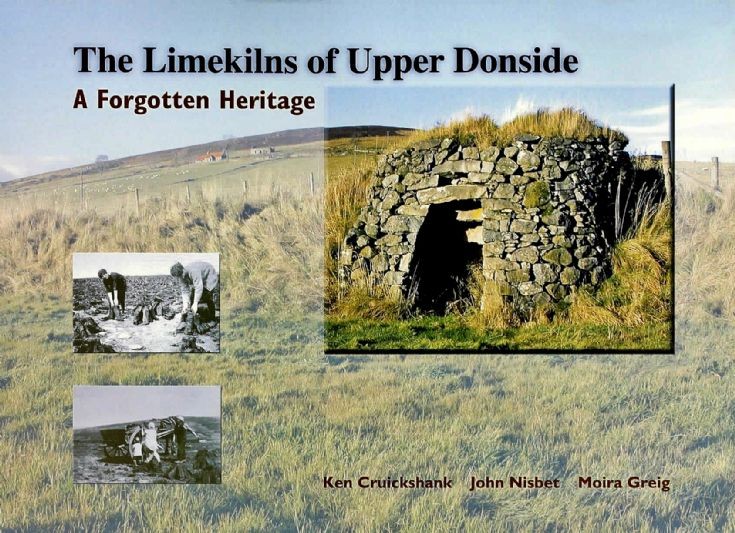 The Glenbuchat Image Library
1 Limekilns of Upper DonsideIntroduction
Above is the front cover of a book by Ken Cruickshank and Moira Nisbet on the
Limekilns of Upper Donside.
I am grateful to Ken Cruickshank for giving permission to reproduce most of the book.
If you wish to see a scan of the whole book which includes a gazetteer of all the kilns surveyed click the link below.
(Scanned version of the whole book)
The book is important to those interested in Glenbuchat, not only because it highlights the history and use of important structures in the Glen i.e. the lime kilns but it also gives a very useful insight into the organisation of agriculture and life in the glen in the past.
The Limekilns of Upper Donside
A Forgotten Heritage
'A survey of the old farm Limekiln, and review of lime production and its importance in the development of agriculture in an upland area of Aberdeenshire in the 18th and 19th centuries.'
Ken Cruickshank john Nisbet Moira Greig
Acknowledgements
Thanks are due to the staff of Aberdeen University Library and Aberdeen City Library for access to the original Ordnance Survey Maps and other historical material. And to the owner of the Duff House/Montcoffer Papers for permission to quote extracts from these unique records.
Aberdeenshire Council Environmental Services Department gave valuable assistance in the preparation and publication of this booklet, with a special thank you to Morag Lawrence, Graphic Technician.
We are also grateful to local farmers and residents who helped in locating the old kilns and who were keen to talk to us about them.
CONTENTS
1. Section 1
The Limekilns - a brief history of farm limekilns and local lime production and the role it played in the development of 'improved agriculture' on Upper Donside.

Part 1
Introduction
Agriculture before 'improvement'
Part 2
Limestone Deposits and Quarries
Part 3
The Peat Mosses
Transport Problems
Lime for Building Work
Part 4
New Holdings
Part 5
Estate Reorganisation
Part 6
Limekilns and Lime Burning
Early kilns
Draw Kilns
'Burning' Limestone.
Applying Lime to the Land
Overliming
When were the Lime kilns built?
Part 7
The Decline of Lime Burning
Improved Communications Agricultural Depression
Rural Depopulation
Neglect of Liming the Land
Conclusion

2. Section 2.
The Survey
A survey of the old limekilns of the area with photographs and reports on their condition.

The Limekilns - some observations
Design
Wall support
Air-Vents
Lost Kilns

3. Gazetteer
List and pictures of kilns surveyed. Available only in the
Scanned copy of the whole book

4. Appendices.
Extracts from the estate papers of Glenbuchat Estate (Duff House/Montcoffer Papers), which throw light on the limestone quarrying and burning activities in the Glen in the late 18th and early 19th centuries.
5. Sources and References
Disclaimer: We have tried to trace all the limekilns in the area from the records available. This is not meant to be a definitive account of them, or of their construction and operation. There is much we don't know and we would welcome feedback from anyone with local or specialist knowledge, which may add to our understanding of these structures.
Ken Cruickshank john Nisbet Moira Greig
Picture added on 06 August 2015 at 17:15
This picture is in the following groups
Kilns