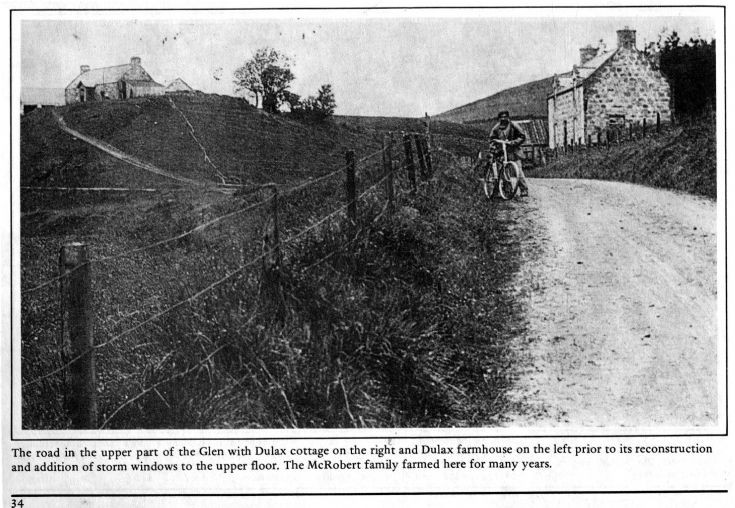 The Glenbuchat Image Library
34 Dulax
Organisation The Royal Commission on the Ancient and Historical Monuments of Scotland
Alternative Name(s)
Canmore ID 126648
Site Type FARMHOUSE, FARMSTEAD, HORSE ENGINE HOUSE
County ABERDEENSHIRE
Parish GLENBUCHAT
Council ABERDEENSHIRE
NGR NJ 3524 1804
Latitude, Longitude 57.248444N, 3.074842W
Images 0
Archaeological Notes
NJ31NE 58.00 3524 1804
NJ31NE 58.01 3537 1802 Dulax Cottage (Dulax School)
The farmsteading of Dulax is no longer in use and is in danger of falling derelict. The buildings appear to be those depicted on the 1st and 2nd editions of the OS 6-inch map (Aberdeenshire 1869 and 1903, sheet l) and comprise a one-and-a-half storey farmhouse accompanied on the NW by an L-plan steading with a horse-engine platform to the rear.
The principal living room of the house contains what appears to be a large arched fireplace 2.65m in width by 1.4m in height and 0.25m in depth, but its detail is obscured by the timber lining of the walls of the room. Two of the bedrooms contain box-beds, and a cheese-press has been built into the exterior of the W gable of the house.
Visited by RCAHMS (PC, JRS), 12 November 1998.
Picture added on 18 December 2009 at 22:48
This picture is in the following groups
buildings